Haley Dagan (Doloboff) (LHS '09)
Horizon Editor-in-Chiefs: Where Are They Now?
We checked in to see what former Horizon editors-in-chief over the past 10 years remember most about their time at LHS and also on what they are up to now. Here is what Haley Dagan (Doloboff) (LHS '09) had to say:
Q: What's your favorite Horizon memory?
A: I was part of Horizon for all four years of high school from contributor to news editor to editor-in-chief, so it's really tough to choose just one memory! I'll never forget one of my first stories was about ceiling leaks in the school hallways; it was quite a groundbreaking investigative piece. I'd probably have to say my best memories were all the late evenings spent in the Horizon Office with my staff, especially one of my best friends Lindsey Klein, and of course, Mrs. Sanders. I think by the end, Mrs. Sanders knew more than she ever wanted to about our senior class!
Q: Deadlines. Reaction?
A: Deadlines – bring them on! I am all about my to-do lists, spreadsheets and calendars. Though I appreciate a bit of spontaneity as well, my deadline-driven habits of high school have definitely stuck with me.
Q: What college did you attend? What was your major?
A: I majored in public relations at the beautiful University of Florida. Leveraging the AP credits I had taken at LHS, I was able to enter into a dual degree program, which allowed me to complete my bachelor's degree in public relations and master's degree in business management within four years. Though I didn't major in journalism, I contributed to our school and local newspapers as well as a few blogs, so writing remained a large part of my college experience.
Q: What are you doing now?
A: After graduating college, I moved down to the Sunshine State, where I've been working in travel and hospitality marketing. I currently work for W Fort Lauderdale and truly have what I like to call the fun job of the hotel. My responsibilities include managing social media, designing guest-facing and internal marketing materials with Photoshop and InDesign, crafting property descriptions and content for hotel award submissions, hosting press and influencer stays, creating and executing major branded events and fostering partnerships with various organizations focused on art, fashion and music within the community. among others. Some of my favorite projects have been working with ABC on filming an episode of this season of The Bachelor on our property, collaborating with Sex and the City's famous costume designer Patricia Field at Art Basel and executing the first-ever hotel Drone Race for Marriott International that streamed live to 8+ million viewers. When I'm not at work, I'm maximizing my vacation time to travel the world with my college sweetheart (now husband). In 2017, I launched a blog and Instagram account called Love 'N' Luggage (@lovenluggage) to document our incredible travels. This past year we went to Europe twice, enjoyed two Caribbean vacations, had a once-in-a-lifetime honeymoon in Bora Bora and explored many cities within the U.S. I feel so lucky to be able to wake up every single day and do what I love, both at work and in my free time.
Q: What do you remember most about LHS?
A: What I remember most about LHS are the people. Most of my best friends from high school have stayed my best friends through today, and no matter how much time passes or what happens in our lives, our friendship is truly unwavering. Aside from those I do stay in touch with, it's amazing to see how much even those I have lost touch with still impacted me as a person. Though it felt big at the time, moving not only away from home, but to a totally different state, thousands of miles away, really showed me what a small yet strong community we had. Everyone knows each other and supports each other. The teachers also taught me so much about who I was and who I wanted to be. They really fostered my love of learning new things, which has followed me long after graduation.
Q: If you could go back and talk to your high school self, what would you say?
A: If I could go back and talk to my high school self, I would tell myself to slow down and soak in every moment no matter how big or small. When it's all said and done, you look back and realize just how quickly time goes. While I did fully enjoy my high school experience, I was always looking to the next thing whether it was the next edition of Horizon, Kick line competition, school concert, standardized test, or even the next grade, I see now how much I was rushing to get to my future, rather than enjoying all the beauty of the present. I just read a quote recently that said, "If you don't think every day is a good day, just try missing one."
About the Writer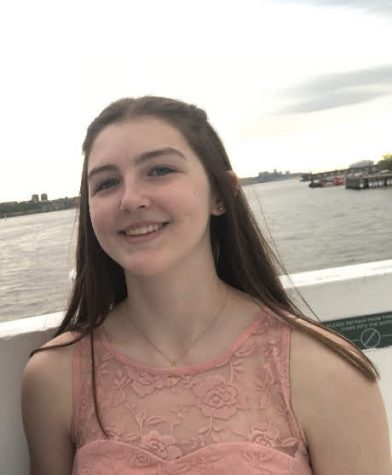 Emily Bergin, Online Editor-in-Chief
I am the editor-in-chief for Horizon.com and a member of the Class of 2021 at Lynbrook High School.  In my free time, I like to swim, run, and play music.