Danny Kramer (LHS '11)
We checked in to see what former Horizon editors-in-chief over the past 10 years remember most about their time at LHS and also on what they are up to now. Here is what Danny Kramer (LHS '11) had to say:
Q: What's your favorite Horizon memory?
A: My favorite Horizon memory is from the fall of 2010, my senior year. In the same month the drama club had its big musical and the football team won the county championship, we had to figure out the right layout to give everybody coverage. It was a good problem to have–lots of cool stories at the same time.
Q: Deadlines. Reaction?
A: I have a love-hate relationship with deadlines. We're like T-Swift and Kanye. (Is that still a thing?) On the one hand, deadlines are necessary and keep everyone on schedule. On the other hand, they're super stressful when they're coming up and you don't have the story done.
Q: What college did you attend? What was your major?
A: I graduated from Harvard College in 2015 and I majored in chemical biology. It's like biochem but apparently "chem bio" is the cooler name now. I'm not sure why or who decides these things.
Q: What are you doing now?
A: Currently, I'm a medical student at Cornell and a PhD student in genetics at The Rockefeller University, both in New York City. It's a joint program for those interested in medical research. I'm a few months into my PhD at Rockefeller. The lab I work in focuses on obesity and metabolism. There are actually several subtypes of body fat tissue- some good, some bad, and some neutral. We're using genetic tools to make the "bad" fat act more like the good one.
Q: What do you remember most about LHS?
A: What I remember most about LHS is the people. I was very lucky to share classrooms with great friends and excellent teachers. I got to college and realized how well-prepared I was. This is not just because LHS teachers taught me important things, which they did, but because I had so much fun in class, and I was able to bring that excitement to any class even after graduation. I appreciate them every day.
Q: If you could go back and talk to your high school self, what would you say?
A: I would thank my high school self for trying so hard in gym class, despite the fact that I once dove for the puck in field hockey and missed getting a hockey stick to the nose by about five centimeters. My lab studies exercise too, and it's amazing how important regular exercise is from an early age. Big shout out to Mrs. Kramer! (No relation, though my siblings and I always appreciated her treating us like family). True fact–aerobic exercise (jogging, biking, etc.) from an early age significantly reduces your risk of getting cancer, heart disease, and Alzheimer's as an adult! That's a hat-trick anyone can pull off.
About the Writer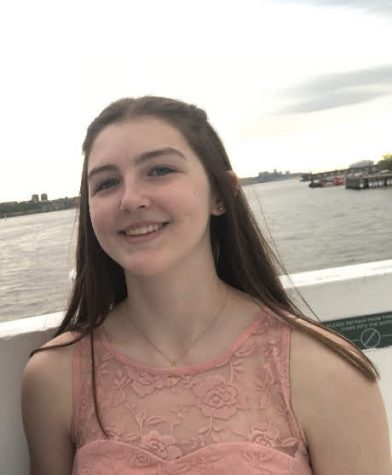 Emily Bergin, Online Editor-in-Chief
I am the editor-in-chief for Horizon.com and a member of the Class of 2021 at Lynbrook High School.  In my free time, I like to swim, run, and play music.