Taylor Swift: The Struggles and Success of a Young Artist 
My final assignment for Writing Lab class was to research and present information on an individual who I am inspired by. Without hesitation, the first person who came to mind was Taylor Swift. Aside from her being my favorite music artist, Swift's strength and perseverance is such an inspiration to me and so many other young people who have big dreams. Beginning by singing the National Anthem at local basketball games at age 11, she continuously worked towards her passion, eventually making herself the music icon she is today. 
Junior Olivia Lanteri is a huge Swift fan. She views her as a role model, and not just because of her music: "Taylor inspires me to work hard, never give up, and to be honest and optimistic." 
From a young age, Swift knew she had a particular interest in singing and songwriting. With the help of her parents, who sold their farm when she was just 13, she uprooted the country life she knew to pursue a career in music. In 2006, when she was 16, Swift released her first single, "Tim McGraw," followed by her debut album, Taylor Swift. She was awarded Best New Artist from the Country Music Association (CMA) that November. 
As her career progressed, Swift began to shift from the country star she was into a pop sensation. While still upholding her country roots, her albums following Taylor Swift, including Fearless, 1989, and Red had a new blend of country and pop that had fans falling in love with her music. She was rapidly gaining popularity with her sold-out tours, performances, and Academy Awards. 
"My favorite Taylor Swift album is Speak Now because it is just so upbeat and always puts me in a good mood. The songs are catchy with relatable lyrics," says sophomore Jayla Corley, about Swift's third studio album. 
Although her success is unmatched, Swift has not always had it easy, and has fought many difficult battles throughout the years. Her 2020 documentary, Miss Americana, dives into the struggles the singer-songwriter has faced, and the story behind her one-year disappearance from the public eye in 2016. In the film, Swift discusses with the audience her struggles with mental health, including her eating disorders and insecurities, and her mother's cancer. It also touches upon the lawsuit she won against a radio host for "inappropriate touching." Although she has faced obstacles, Swift has determination that is truly inspirational, ending her documentary saying, "Pop music isn't yet ready to see the end of Taylor Swift's success." 
"She always pushes past what people say about her, and even uses them bringing her down to build herself up," says junior Kerry Kullen, a die-hard Taylor Swift fan. "It's super cool to see someone who just doesn't let anything get to them." 
In recent years, Swift has gone public about her political views, the most prominent being when she asked followers not to vote for Republican Marsha Blackburn for senator because, among many other reasons, her anti-LGBTQ remarks. Although unsuccessful, she continues to fight for equality among all humans. She displays her feminist side in her song "The Man" from her album Lover where she addresses the struggles of being a woman in the music industry. Singing, "I'm so sick of running as fast as I can, wondering if I'd get there quicker if I was a man," she is explaining the unfair double standards of men to women, and how as a woman she is not taken as seriously as she would be if she were a man.  
Swift's new music has taken a unique turn, and before the release of her latest record-breaking album, Midnights, which dropped in October of 2022, she has re-recorded two of her previous albums after the originals were sold to "abusive manipulator" Scooter Braun. Determined to have the rights to the music she wrote, Swift has announced that she will be re-releasing her first six studio albums, the first two being Red (Taylor's Version) and Fearless (Taylor's Version).  
Fans were ecstatic to learn about Midnights, and just a week after being released, 1.3 million albums were sold. Swift also became the first artist to simultaneously hold the first 10 slots on the chart of hits. Midnights is a unique album because unlike much of her previous music, which is more relationship and love based, the songs are more opinionated, and address society, mental health issues, and growing up. "Anti-hero," a record-breaking song on the album, which was number one on the Billboard Hot 100 for eight consecutive weeks, confronts the difficulties behind her internal and external battles. She opens up to listeners about her past depression, self-esteem issues, and insecurities. Track five was another fan favorite. Titled, "You're on Your Own, Kid," it is a vulnerable song about self-reflection and the dangers of societal beauty standards. She reflects on friendships, relationships, and growing up, and how in the end, she must accept herself for who she is. 
"I think Midnights is one of her best albums. It's such a diverse-sounding album, showcasing her range and songwriting expertise," Lanteri says about the new album. "I also love it for all its earworms and the songs put me in so many different vibes. She better get three more Grammys this year!!" she exclaims. 
Beginning in a small country town and working her way to the top, Swift has created a legacy for herself in the music industry. She has broken records, won Academy Awards, and even directed her own short film. Her 10 studio albums contain both country and pop aspects and display her different "eras": Reputation her dark side, Lover her lighthearted side, and folklore and evermore a more acoustic twist. The perseverance she possesses has allowed her to overcome challenges, insecurities, and controversies. Her success is a true inspiration to anyone with far-reaching goals.  
About the Contributor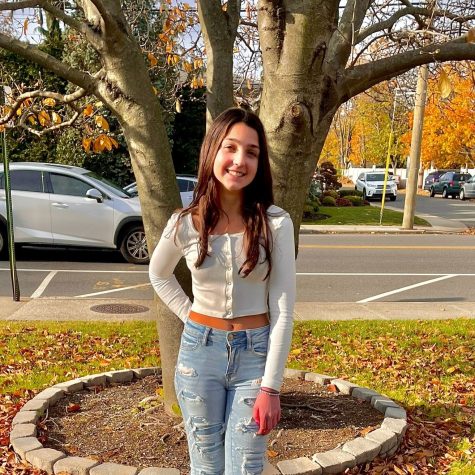 Emily Franklin, Editor
My name is Emily Franklin, and I am a member of the Class of 2025 and an editor for Horizon. I am part of the Key Club, Birthday Wishes Club, and Mathletes....