Tri-M Honor Society Celebrates New Inductees
The Tri-M Music Honor Society held its annual induction ceremony for members of Chapter 3160 on Mar. 23. Unlike the past two years, which were hosted virtually, the ceremony was held in-person in the newly renovated John F. Branciforte auditorium. 
The night began with a short speech from Lynbrook's Fine and Performing Arts Director Adrianna Schaefer, followed by a performance from the brass ensemble. After the new inductees recited the induction pledge, they received a certificate of membership, pin, and membership card. Following this was the recognition of continuing members, as well as performances from the LHS string quintet and chorus. By the end of the night, a total of 37 members had been recognized, 13 of which were new to the honor society. 
Tri-M, which stands for "Modern Music Masters," is an honor society for students who excel both academically and musically. In order to gain admittance, students must exhibit qualities in four categories: scholarship, character, leadership, and service. 
"Scholarship represents scholastic achievement, and character emphasizes a devotion to high ideals and recognizes no barriers between people of diverse backgrounds," said Tri-M Vice President and senior Connor Rogan at the induction. "Leadership guides us to greater undertakings, and service encourages assistance and kindness to others," he added.
Specifically, in order to be inducted, students must be a current member of a band, orchestra, or chorus. They must also receive a minimum NYSSMA score of 22 for level four, or 90 for levels five and above, in previous years. Once inducted, students must continue to participate in NYSSMA each year. Additionally, Tri-M members' academic averages must remain at 85 or higher, and averages for music classes must be a 90 or higher. 
In order to maintain membership in the honor society, members must acquire a certain number of points by the end of the school year. Points can be earned through performances at school concerts, participation in extracurricular ensembles, community service, and more. 
Throughout the school year, Tri-M hosts multiple performances for the Lynbrook community. One especially popular event is Cabaret Night, essentially a musical talent show, which occurred in January this year. Students must prepare an act and audition in front of the Tri-M board in order to be able to perform, and if they are accepted, they have a week to polish their acts before the big day. 
Another way that the club gives back to the community is through its free tutoring service that is available to all Lynbrook students. At the beginning of each school year, a list of Tri-M members who wish to become tutors is compiled, and these members are matched with students who are in need of a tutor. Tutoring sessions typically last around 30 to 45 minutes, and they are a great way for inductees to earn points and community service. At the induction ceremony, the Tri-M board recognized a total of nine members who volunteered their time as tutors, five of which held over 10 lessons with their tutees. 
"Tutoring has become an essential resource for the district's elementary and middle school students," said senior Manaka Ogura, recording secretary of Tri-M, at the induction. She added that the tutoring program is helpful "especially as tutees prepare for the annual NYSSMA Solo Festival."
Tri-M advisor Timothy Waldvogel ended the night with a message to the inductees. "You are now in the unique position of being able to pass on the 'torch of your musical knowledge' to colleagues and future beneficiaries of musical arts," Waldvogel said. "May you represent Tri-M with pride and dignity as you continue to demonstrate the value of music in your life and share your gift with your school and community."
About the Contributor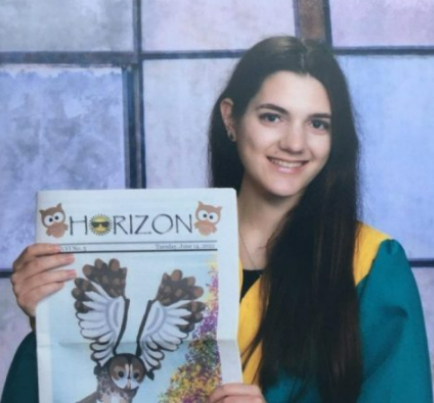 Kate Chiulli, Print Editor-in-Chief
I am a member of the Class of 2023 as well as one of the editors-in-chief of the print edition of Horizon. I enjoy reading, playing the violin, and using...