Mathew Sarosy Named Next Principal of LHS
Superintendent Dr. Melissa Burak recently announced that Assistant Principal Matthew Sarosy has been selected to become the next principal of Lynbrook High School, following current Principal Joseph Rainis' retirement this coming June. The Board of Education anticipates appointing Sarosy to the position at a business meeting on Apr. 26, where he will be formally introduced and approved for the role. Sarosy has been an assistant principal at LHS since 2012, and he will become the tenth principal of LHS since its founding in the early 20th century.
"Mr. Sarosy has the experience, intelligence, character, and ability to take on the role of principal of LHS," said Rainis. "He is an excellent communicator, he is balanced in his thinking, he always puts students first, and he understands the long-standing culture of both the building and the community. I wish him the very best as he takes on his new role," Rainis added.
Although Sarosy grew up in Franklin Square, his ties to the Lynbrook community run deep. His mother is an LHS alumnus, and he recalled fond memories of visiting his grandparents' home in Lynbrook. After graduating from H. Frank Carey High School in 2000, Sarosy earned his bachelor of arts degree in history, with a concentration in secondary education, at St. John's University. At St. John's, Sarosy said, is where he realized he wanted to pursue a career in education, partly inspired by his sister Christine, who is a fourth grade teacher at Marion Street Elementary school. Sarosy went on to earn his masters degree in adult education from SUNY Buffalo State College, and later, his administrative degree at C.W. Post.
Sarosy's first teaching job was at The Mary Louis Academy (TMLA), an all-girls Catholic school in Queens, where he taught ninth and tenth grade global history. After one year at TMLA, Sarosy was hired to teach eighth grade American history at Lynbrook North Middle School. With seven years of teaching under his belt and a new administrative degree, Sarosy decided to submit an application for the assistant principal position at LHS, which became available the same year he graduated from C.W. Post. To his surprise, he was offered the position. 
"I put in my application thinking I didn't have a chance," Sarosy laughed. "I thought 'It's now or never,' so I took a leap of faith, and it turned out to be the best decision I've ever made. I believe if something is meant for you, it won't pass you by," he said.
As assistant principal of grades nine and ten – Salvatore Brescia being assistant principal for grades eleven and twelve – Sarosy's primary responsibilities are "attendance and discipline." This means overseeing the day-to-day operations of the LHS building, monitoring student attendance, coordinating with the maintenance department, and leading safety and security measures. Sarosy has also been integral in organizing the annual LHS prom and graduation.
Over the past nine years as assistant principal, Sarosy has earned the nickname "Mr. Class Night" for his role in organizing the annual Class Night event where students from all four grades perform skits, dances, and create artwork for the community to enjoy, ultimately competing for the first-place trophy. "The Master of Ceremonies," as Rainis calls Sarosy, is in charge of ensuring the event is school appropriate, and this has meant working closely with students. Sarosy said he believes Class Night is a shining example of what makes Lynbrook so special, it being a unique student-run activity that promotes unity, dedication, and teamwork. 
The first lesson Sarosy learned as assistant principal, he said, turned out to be the most influential in his career: "Relationships are everything." And, he has put this mantra to good use, as noted by his colleagues and LHS students.
"Mr. Sarosy will make a great principal because the students all have a great connection with him," said Student Government Association (SGA) President Emma Leighley. "Everyone knows who he is and has such a high level of respect for him. What I admire most about Mr. Sarosy is that he always puts the students first."
Burak expressed a similar sentiment. "Mr. Sarosy has a calming manner that makes him approachable by students, parents, and staff alike," she said. "His leadership style will be supportive, collaborative, and build upon strengths LHS offers, and work on improving that which needs to be strengthened."
Last year, Sarosy took on the role of interim principal of Lynbrook South Middle School while Principal Kaitlin GaNun was out on maternity leave. He said that his three months in the position – during which he oversaw a return to in-person instruction after the COVID-19 pandemic – were an extremely helpful preparation for the role he is about to take on, and that he has learned the importance of providing stability and quality education for the families of Lynbrook, even through the most difficult times.
Sarosy was elected for the role of principal by a hiring committee composed of administrators, teachers, parents, and students. He was also interviewed separately by the BOE. His responsibilities, as he shifts from assistant principal to principal, will be broadened from day-to-day operations to a more holistic planning role as curriculum leader. 
"I think Mr. Sarosy is a great choice for principal," said BOE President William Belmont, who has worked with Sarosy throughout his time on the Board. "He has the right character, personality, and vision to keep us moving forward, and I've always been impressed by him. He is both professional and empathetic, and he understands the needs of all the students and the staff, as well as the culture of the school," Belmont said.
Sarosy's first goal as principal is to oversee an official return to pre-pandemic norms while taking advantage of the newly renovated LHS building. He hopes that new rooms, including the "Innovation Center," will provide for an expansion of educational opportunities for LHS students. In order to best serve the students, Sarosy said he will place an emphasis on student input, with whom he will have "honest conversations" to improve the school where improvements are needed.
"It is an honor to be named principal, and I am incredibly grateful for the opportunity to represent this district that is so rich in history," Sarosy said. "I know that I am following two Lynbrook legends, Mr. Rainis and Dr. Barbarino. I have learned so much from them, but above all, that community matters. Continuing that sense of community and belonging here is everything. That is what I hope will be my legacy," Sarosy added.
About the Contributor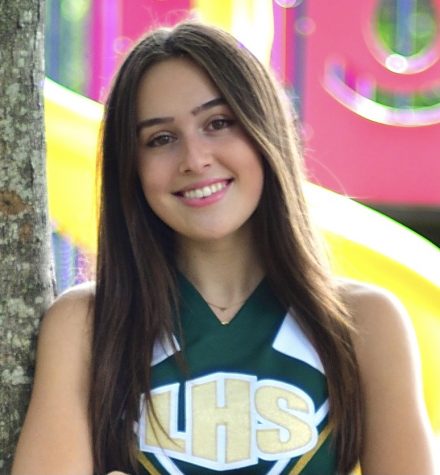 Julia Swerdin, Editor-in-Chief
I am the editor-in-chief of the Horizon newspaper and a member of the Class of 2022. I am also the captain of the LHS Speech, Debate, and Model Congress...