LHS' Heartfelt Return to Live Music
     Lynbrook's Fine and Performing Arts Department hosted its first in-person music recital in almost a year and a half on Thursday, May 20. The concert was hosted in the high school gymnasium and featured three of the school's five music ensembles: the orchestra, concert choir, and wind ensemble. The mixed chorus and symphonic band were not able to perform due to Covid-19 social distancing limitations.
     While the pandemic posed challenges to nearly every aspect of American life, so was the performing arts industry greatly impacted. It seemed for many months, explained Fine and Performing Arts Director Joseph Pallotta, that a 2020-21 school-year concert would be impossible, even inconceivable. "If you had asked me a month ago, we didn't think this concert could ever happen," Pallotta said prior to the concert. "Now, I'm just looking at it with total optimism and gratitude. I can't wait for the event," he added,
     For music teachers and students, the possibility of cancelling yet another school concert was disheartening; so, when it was finally announced in February that the spring concert could take place, many spirits were lifted, and the music department sprung to life. "It just feels amazing to be working toward a goal again and to know we can share our talents publicly," said chorus teacher Barry Wyner. "This concert revitalized us," Wyner added. 
     Orchestra teacher Alyssa White and band teacher Brian White, her husband, shared similar jubilation. "I am just so happy for these students to have a chance to perform together, to experience the magic of working towards a big goal and having it come to a culmination," Alyssa said. "It has been a breath of fresh air to be able to work towards a concert," Brian added. "Being together and making beautiful music is what it's all about," he said.
     Due to the fact that a concert was not plausible until February, students and staff had but two months to prepare for the event. In addition to the quick turn-around time, music teachers explained that it was a struggle to practice with many ensemble-members missing each day, whether it was due to remote learning or contact tracing. 
     Alyssa White said that the orchestra did not perform with every member present until the actual concert event, an unusual and discerning circumstance. However, all ensemble group's performances ran smoothly, despite the hiccups in the weeks leading up. "I have to give credit to students and teachers because they prepared extraordinarily quickly, even without this concert originally being part of the endgame," said Pallotta. "All three groups are truly incredible. I'm so proud of them," he added.
     As per Department of Health guidelines, performers in the band and chorus were spaced at a six-foot distance, while members of the orchestra sat three feet apart. All performers were required to wear a face covering, and band members played their instruments through a hole in their mask. Only two guests per student were permitted, and while proof of vaccination was not a necessary measure, guests were required to fill out a health questionnaire prior to the event. 
     Additionally, the concert layout differed greatly from that of years prior. At a typical concert event, students perform from the stage or on risers in front of the stage, and audience members spectate from the floor below. This year, positions were reversed: the audience viewed the show from a raised position on the bleachers, while performers were spread flat across the gym
floor. Also — with the intention of eliminating transition time between performances — all three ensembles were visible throughout the entirety of the concert, rather than one group physically replacing another at the conclusion of a repertoire. 
     The concert began at 7:30 p.m. and was live-streamed on Youtube; the link for a recording of the event can be accessed on the high school's page of the Lynbrook School District website. The orchestra was the first ensemble to go on, and they performed six pop-focused pieces: "Tomorrow" from Annie, Tchaikovsky's "Romeo and Juliet," the theme song from Willy Wonka and the Chocolate Factory, "Nessun Dorma," "Ashokan Farewell," and a medley from Jersey Boys the musical.
     Next, the concert choir gave an emotional performance, which Wyner said he devoted to the graduating class. "I gave a lot of thought to the songs for this concert because I adore the senior class and feel a lot of sadness for all that they've been deprived of this year," Wyner said. "I wanted to pick songs that would speak to them and speak to their experiences," he added. The six-song program included "One Day More" from Les Miserables, a Mamma Mia medley, "To Sir, with Love," "7 Years" by Lukas Graham, "The Prayer" by Andrea Bocelli, and "You Learn" by Alanis Morrisette. 
     "To Sir, with Love" was a tribute piece for the revered Pallotta, as this was his last Lynbrook music concert as acting director of the arts department. Before the performance, Wyner gave a short speech thanking Pallotta for all that he has contributed to the district, and towards the end of the piece, seniors Marissa Hickey and Tori Donovan presented Pallotta with a bouquet of flowers on behalf of the entire concert choir.
     Pallotta announced his retirement earlier this year, and though he is sad to leave the district, he is grateful he could organize one final concert for the students and staff whom he has grown close with over his 18 years in Lynbrook, he said. "This concert is definitely bittersweet, but it's not about me," Pallotta added. "I'm just thrilled that the students and teachers, who have lost so much in the arts, have a live performance to finish the year."
     Following the chorus, the wind ensemble performed five pieces, including a multi-movement, classical piece called "Longford Legend," music from the films Black Panther and Avengers Endgame, a medley of songs by George Gershwin, and a medley of classic Disney songs, including "It's A Small World" and "Zippity Doo-Dah." "Langford Legend" was actually split into two pieces, performed at both the beginning and end of the wind ensemble's set. 
     "I hope everyone can see that music and the arts are still alive in our school, and that these students will take any opportunity they can to bring it back," said Alyssa White. "The Lynbrook community has been so supportive of our department all along, so to be able to perform for them in person is our way of returning our gratitude."
About the Contributor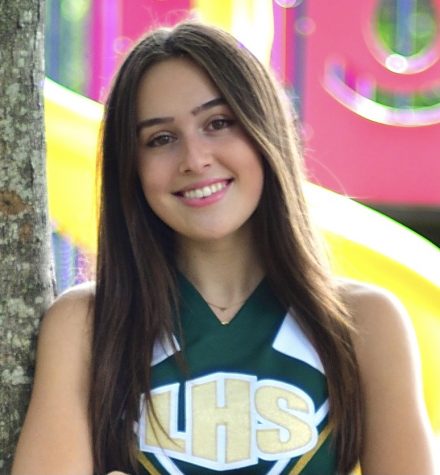 Julia Swerdin, Editor-in-Chief
I am the editor-in-chief of the Horizon newspaper and a member of the Class of 2022. I am also the captain of the LHS Speech, Debate, and Model Congress...