Lynbrook Honors Twentieth Anniversary of 9/11
Saturday, September 11, 2021, marked the twentieth anniversary of a day that shook America to its core. The terrorist attacks on 9/11 left a lasting impact on the Lynbrook community, which continues to honor the memory of those who passed and vows to never forget the evil that transpired.
The Lynbrook Schools commemorated the twentieth anniversary of 9/11 at the first varsity football game of the season, played at Marion Street Elementary School against Valley Stream South High School. Lynbrook won the game with a final score of 41-6. "Having our first game of the 2021 season at home on September 11 was very special and memorable," said Head Coach and History Teacher Stephen Locicero.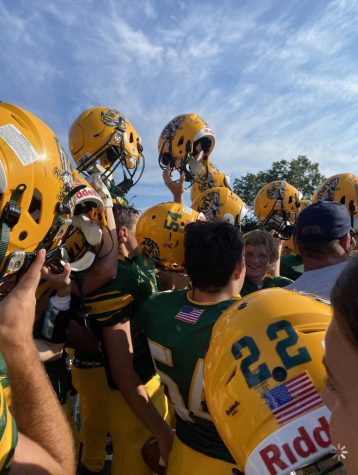 The night before the game, coaches shared their personal accounts of 9/11 with the team. At the game, coaches wore hats in support of the NYPD and FDNY, as well as t-shirts with the words "Lynbrook Never Forgets" that were created and distributed by the Lynbrook High School (LHS) Student Government Association (SGA).
In total, the SGA sold more than 500 shirts and raised over $2,500. All profits were donated to the Tunnels to Towers Foundation, a charity that honors military and first responders. The foundation has committed more than $250 million to its various programs, including a 9/11 educational exhibit, building mortgage-free homes for injured veterans and first responders, and ensuring stability and security for families of fallen officers.
"We wanted to create a sense of unity among our Lynbrook families," said SGA Advisor Mary Kirby.
Superintendent Dr. Melissa Burak expressed a similar sentiment at the September 1 Board of Education meeting."We take pride in the fact that the Lynbrook School District is a community," Burak said. "We want to use that strength… and make it a special event for those who suffered as a result of 9/11."
Senior Jaden Harvin performed the national anthem at the start of the game, which he said was "an incredible honor." Players then ran onto the field with American flags in a display of patriotic spirit. At halftime, members of the SGA Slate delivered a poignant speech honoring all who perished on 9/11 and read the names of fallen Lynbrook alumni and residents.
"Among those who lost their lives were five LHS alumni," read SGA President Emma Leighley. "Dennis Buckley, class of 1981; Morty Frank, class of 1988; Aram Iskendarian, class of 1978; Patrick O'Keefe, class of 1975; Glen Wall, class of 1980." Players and spectators then stood and joined in a moment of silence.
The Lynbrook Varsity Kickline (LVK) team also performed a special halftime routine to "Proud to Be an American" by Lee Greenwood, choreographed by senior Karoline Ryf and junior Alexandra Spector. The dancers dressed in shirts proudly sporting the American flag.
"LVK never forgets the sacrifices our service members made that day, as well as the people who, unfortunately, lost their lives," said Coach Danielle Goodwin. "We want everyone to know how proud we are to be part of such a special, tight-knit community," added Coach Stacy Benson.
Lynbrook gives special thanks to the Demonte and Gilmartin families for helping to organize the 9/11 tribute.
About the Contributor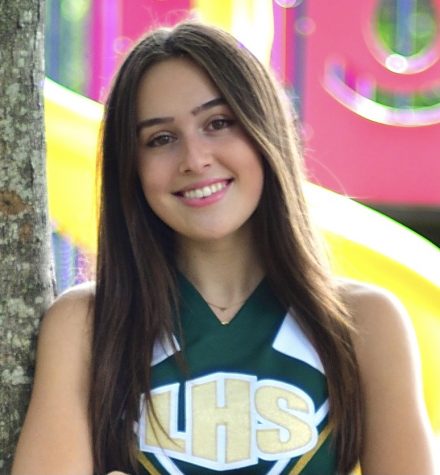 Julia Swerdin, Editor-in-Chief
I am the editor-in-chief of the Horizon newspaper and a member of the Class of 2022. I am also the captain of the LHS Speech, Debate, and Model Congress...