Derek Chauvin Trial Ends in Guilty Verdict
Almost a year after the death of George Floyd, the trial of the policeman accused of killing him began. After the police were called on him for allegedly using counterfeit money at a Cup Foods store, George Floyd was confronted by police officers and died on May 25, 2020. Videos emerged of Minneapolis police officer Derek Chauvin kneeling on Floyd's neck as he cried out "I can't breathe." Protests spread throughout the country, and the Black Lives Matter movement grew as other instances of police brutality were shared globally on social media, on the radio, and on television. However, the cause of Floyd's death was still in question. Some argued that underlying conditions and use of drugs had killed Floyd. Others, backed by the Black Lives Matter movement and protesters around the country, argued Chauvin had murdered Floyd. It was not until Apr. 20, 2021, after a three-week trial, that Chauvin was convicted of second-degree unintentional murder, third-degree murder, and second-degree manslaughter.
Lynbrook Police Department Chief Brian Paladino voiced his opinion on the ruling, referencing the descriptions of each charge in Minnesota given on FindLaw. He explained, "I believe Murder 2 to be an improper charge because this is to be charged when murder results to the victim when the defendant is committing another felonious crime. I don't believe this was proven by the Prosecution. Further, Murder 3 is a better charge, because it is charged when murder occurs unintentionally and with the defendant having a 'depraved heart.' Although the video we were all shown by the media leads us to believe this was true, the prosecution did not do well explaining that Chauvin actually caused the death of George Floyd. That opinion, coupled with the fact that Chauvin's defense did a good job displaying how Floyd most likely died from his ingestion of a large dose of lethal drugs, not Chauvin's actions, should have put that charge in jeopardy of conviction. Which leaves us with Manslaughter 2, which was properly charged and properly convicted upon. However, I believe the […] section of Manslaughter in the 1st degree should have been charged and rightly convicted upon." 
The trial was watched by millions of Americans. Chauvin, who has only publicly spoken about the death of Floyd once, did not testify. His defense was led by attorney Eric Nelson. After discussing Floyd's strong physique, he argued that Floyd was not "particularly vulnerable," and Chauvin had "no reason" to "suspect" that he was. In his closing arguments, he stated the jury should not make its decision based on the video clip shared around the world, but they should instead consider "the previous 16 minutes and 59 seconds" before Floyd died. He urged them to "put the evidence in its proper context."
Barry Brodd, a police officer and use-of-force expert, delivered a testimony defending Chauvin. Brodd claimed Chauvin's methods were "justified" and further explained: "I felt that Officer Chauvin's interactions with Mr. Floyd were following his training, following current practices in policing, and objectively reasonable" (usatoday.com). Nelson also called current and former police officers, a retired paramedic, an eyewitness, an officer who leads the department's emergency medical response training, and a former medical examiner to the stand. 
Challenging the belief that Floyd died because Chauvin was kneeling on his neck, Dr. David Fowler, a retired forensic pathologist, claimed the reason for Floyd's death was "undetermined" and could have been caused by a "sudden cardiac arrhythmia." Others, including the chief medical examiner, discussed the possibility of "Floyd's underlying heath issues and drug use" being a reason for his death. 
During rebuttal testimony, Dr. Martin Tobin, a pulmonologist, rebuked Dr. Fowler's claim. He argued the claims of large amounts of carbon monoxide being in Floyd's blood were "simply wrong" (cnn.com). While Dr. Tobin was allowed to make these claims, Judge Peter Cahill did not allow Dr. Tobin to present findings from new test results of Floyd's blood-oxygen levels. Additionally, the medical examiner for the case, Dr. Andrew Baker, reportedly did not find fragments of pills in Floyd's stomach. He did mention, however, that the force used on Floyd was "just more than Mr. Floyd could take by virtue of [Floyd's underlying] heart conditions" (nytimes.com). 
Shawanda Hill, Floyd's ex-girlfriend, also testified. She claimed that after running into Floyd at the Cup Foods, she had trouble waking him up after he fell asleep in a car. This supported the defense's claim that there were underlying causes to Floyd's death. 
The prosecution was led by Minnesota prosecutor Steve Schleicher. The prosecution presented videos and told the jury to "Use your common sense. Believe your eyes. What you saw, you saw" in order to make their case. Schleicher clarified that his case was not aimed at condemning police; he stated, "What the defendant did was not policing. What the defendant did was an assault" (nytimes.com).  Schleicher also discussed Floyd's family and his life, including his struggle drug addiction. 
Minneapolis Police Chief Medaria Arradondo argued the tactics used by Chauvin after Floyd was already unresponsive were "in no way, shape or form, by policy" (bbc.com). Sergeant Jody Stiger, a member of the LA Police Department, stated Chauvin used  "deadly force" on Floyd, who was "not attempting to assault" the policeman (nytimes.com).
Throughout his closing argument, Schleicher referenced the length of time Chauvin kneeled on Floyd's neck for — nine minutes and 29 seconds — in order to support his case. After being presented with evidence and testimonies from both sides, the jury had to make a final decision. The jurors' ages ranged in age from their 20s to their 60s; four of the jurors were black, six were white, and two were multiracial. Brandon Mitchell, one of the jurors, explained that the jurors watched videos of Floyd's death, recounted the testimonies and evidence presented to them, and created a timeline. He revealed that all jurors believed Chauvin was guilty of all charges "by lunchtime" (nytimes.com). 
Government Teacher John Cornicello discussed the ruling: "I think this conviction occurred because of the amount of evidence that was present. I think public opinion may have played a role in the conviction, although it is almost impossible for me to be sure about this. Perhaps this conviction will lead to more accountability in our society, although only time will tell."
The state issued the memo confirming Chauvin's conviction. Attorney General Matthew Frank explained the state convicted Chauvin because Floyd was "vulnerable" as he was "not breathing, unconscious, and without a pulse — during a substantial portion of Defendant's criminal conduct." This conviction may influence others in years to come. Due to controversy surrounding a resurfaced photo of a juror wearing a Black Lives Matter shirt, a retrial may occur.  
About the Contributors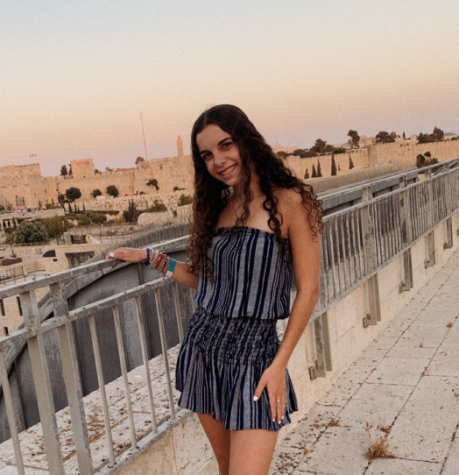 Emma Ward, Editor
I am Emma Ward, and I am the News and Opinions online editor for Horizon. In my free time, I enjoy playing tennis, working out, and hanging out with my...