A Rush of Blood to the Key Club
The LHS Key Club hosted its third and final blood drive of the year in the large gym on Saturday, May 1. The event was a tremendous success, as many students, faculty members, parents, and Lynbrook residents eagerly signed up to save lives and support the Key Club.
Due to Covid-19 restrictions on social gatherings, Key Club meetings were forced to be conducted virtually via Cisco WebEx throughout the year. With the many challenges facing them, the Key Club's board members were unsure if conducting a blood drive—one of their most popular events—was even a possibility; however, the club has managed to save a grand total of 651 lives this year alone through their three blood drives, the first two of which were held at Lynbrook's Knights of Columbus Hall to accommodate for social distancing.
Dr. Benedict Tieniber, Virtual Enterprise teacher and Key Club advisor, was elated to bring the Blood Drive back to LHS. Senior and Key Club Co-President Carly Tucker expressed that the event was bittersweet for her: "I'm really sad it's my last one, but I'm glad about this turnout, and [I'm] really glad a lot of people are able to donate."
When the large gym doors opened at 8AM on Saturday, Key Club members were ready to check in blood donors and send them to complete health screenings and fill out personal health questionnaires. After filling out the questionnaires, donors were directed to have their blood pressure taken to ensure they were physically well enough to donate blood. Once donors were approved, they were sent to the middle of the gym–where folding chairs were placed six feet apart–to have a seat until the next apheresis machine was available.
In the past, the blood drive was held during school hours, which would allow student donors who were at least 16 years of age to miss a few class periods. Since the blood drive was now scheduled to be during the weekend, the club was unsure of how much of the student body would sign up and advocate to friends and family members about the event. However, Dr. Tieniber was pleasantly surprised by the community's overwhelming support, especially in a time where blood donations are in high demand: "It's amazing to see how families and students on a Saturday are coming in to donate." Junior Liam Becker, who donated whole blood at the drive, was also optimistic about this highly anticipated event: "The fact that we're able to do it says something, especially in the time of a health crisis; it's very important."
After donating a pint of blood through the apheresis or ALYX machines, which separate the pint of blood into different components to be utilized for certain medical purposes and/or needs, donors needed to refuel. Juice, water bottles, bags of pretzels, and other refreshments were stored on the gym stage to be distributed to donors. After having his fill of snacks and drinks, junior Julio Torres commented, "I think this is a very good thing [that the Key Club is doing]. I think people should [definitely] donate!" This was Torres' second time donating via the ALYX Machine.
Although donating blood is a very rewarding experience and a vital act of service to those in need, many people are hesitant to donate, whether it be for medical purposes, overall physical health, a fear of needles, or of blood itself. Despite this, Becker believes that the Blood Drive "is a good community event that the Key Club hosts, and people should definitely chip in and help." Tucker enthusiastically expressed, "[Donors] are saving three lives, and what's better than that?" 
About the Contributor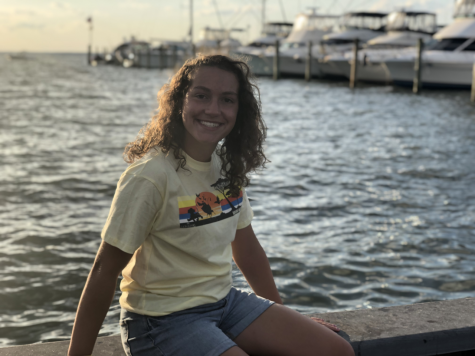 Alyssa Inserra, Editor
I am a member of the Class of 2023 and the section editor of Arts and Entertainment and Driftstone for the print edition. I enjoy spending quality time...