A Very Hamilton Human Relations Day
Nothing, not even a pandemic, was going to stop Student Government Association (SGA) advisor Mary Kirby and her band of 60 highly determined students from holding LHS's annual Human Relations Day (HRD). The SGA organized the event with Kirby's help for the first time ever in a virtual format via Cisco Webex. The guest list featured a repertoire of high-profile speakers, including Senator Mitt Romney's campaign advisor, Kevin Madden; The Bachelor's Julia Rae; radio-host Craig Carton; and Impractical Joker's Joe Gatto. 
Chosen for its uplifting message of determination and hard work, the hit Broadway show Hamilton was the theme for this year's HRD. Hashtags of "#We'll Be Back" and "#No one else was in the room where it happened" paid homage to the show's catchy lyrics, while simultaneously portraying the reality of hosting an event amidst a pandemic, where all speakers presented through a computer screen, and really, no one was in the room where it happened.
The concert choir prepared a promotional video for the day, where students danced and rapped to a parody version of the show's opening song, "Alexander Hamilton," lyrics written by chorus teacher Barry Wyner. "I believe strongly in the SGA and the good work they do for our school, so I'm always eager to help," said Wyner. "Recording the song and video was a blast," he added.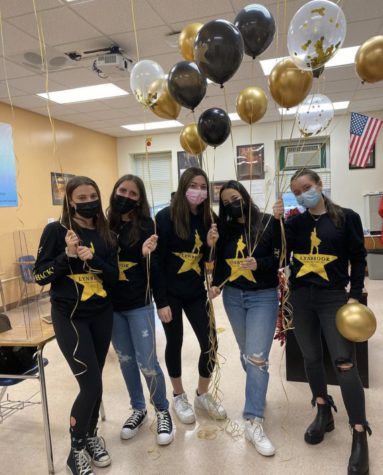 While there was initially some doubt over whether the tradition would be upheld this year, Kirby and members of the SGA worked for months to ensure that the day would happen, and that it would run seamlessly. "What better time to put forth these messages of resilience and hope than now?" Kirby said. "In the hallways, I heard our students speaking with excitement for the first time all year. It was the first day for all of us where we had a true sense of normalcy, and it felt, finally, like Lynbrook High School again. I'm so happy we could bring that to the students," added Kirby.
The SGA also followed its HRD tradition of giving back to LHS students and staff who they feel exhibit exceptional kindness every day of the year. Ten "Random Acts of Kindness" recipients were each awarded a gift card to a local store or restaurant, including Burger Shack, Savino's, or Doughology. "I was pleasantly surprised to receive a gift for 'Random Acts of Kindness,'" said recipient and junior Rachel Edelstein. "It is very much appreciated and a great example of how a small gesture can uplift someone. I think it's an important tradition since everyone, now more than ever, needs kindness," added Edelstein.
Kirby expressed that this year's star-studded guest list may have been one of LHS' greatest, including the aforementioned celebrity speakers as well as many other inspiring presenters, including a second-generation Holocaust survivor, LHS alumnus Jeff Sklar, the Rockville Center Coalition, the Feal Good Foundation, the Henry Viscardi School for students with physical disabilities, and Camp Anchor. 
Waverly Park physical education teacher Brian Donaldson and beloved former LHS history teacher and lacrosse coach Larry Glenz also gave heartwarming presentations on love and loss. This was Donaldson's third year speaking at HRD, where he told the story of his brother Thomas and his life and battle with glioblastoma brain cancer. "It means the world to talk about Thomas," Donaldson said, "to share his story and his ability to appreciate what he did have and not let cancer affect his positive outlook on life. The fact that I get to present in Lynbrook, where we grew up, makes it even more special."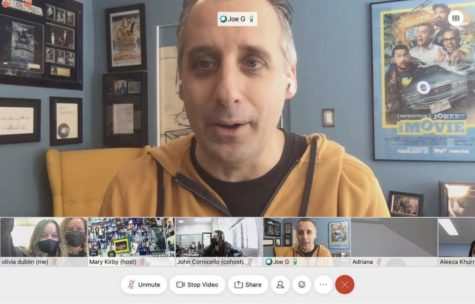 Smiling eyes of his former coworkers filled the computer screen as Glenz joined the Webex meeting to begin his presentation. Glenz's son Kevin, an all-American, three-sport athlete, and LHS graduate, passed away in 2010, at the age of 27, from a heroin overdose. Glenz has devoted his life since to spreading awareness of drug addiction and speaking in schools across the country. He also authored an autobiography, Forgiving Kevin: A Son's Addiction Becomes a Father's Greatest Teacher, detailing his relationship with his son and Kevin's seven-year battle with addiction, recovery, and relapse.
Glenz taught and coached in Lynbrook for 36 years, during which time his son began struggling with addiction. "The other coaches like Locicero, Leighley, Rainis — they were my sounding board," Glenz said." I didn't tell a lot of people about Kevin's addiction, but those boys were right by my side." He choked up. "I want to tell you how much I appreciate that." Glenz said that he wrote Forgiving Kevin to heal himself and to try to help others who are going through the same struggle."I feel Kevin's arm around me," he said. "I know he's with me. His spirit stays with me all the time and strengthens me." There was not a dry eye in the house.
Craig Carton, once America's most listened-to talk show radio host, discussed with students his downward spiral into gambling addiction. After spending 20 years to build his career in sports radio and making millions on WFAN's Boomer and Carton Show, he was arrested by the FBI in 2017 for his involvement in a ticket-fraud scheme, misappropriating more than $5.6 million on personal expenses and gambling. 
"I risked it all," Carton said. "I threw it into the garbage because I allowed gambling to become more important to me than anything else in my life: family, fame, money. It was the life I'd always wanted and the life I worked so hard to achieve. And I threw it away." After serving a year in prison, Carton swore off gamgling and has now been clean for three years; he continues to rebuild his life and career, rejoining WFAN with co-host Evan Roberts on an afternoon radio show. He warned LHS students of the dangers of gambling and losing sight of what is important in life.
Kevin Madden was Romney's senior campaign advisor, the deputy director of public affairs and national spokesman for the Department of Justice, and a communications strategist in the Office of the House Majority Leader. Madden spoke to LHS students about his early exposure to politics as a newspaper delivery boy and his work as a teenager on local community campaigns, learning skills of voter outreach and working together with a team to secure support for a candidate.
Madden, then, discussed the evolution of politics from the beginning of his career to now, specifically the rising prominence of social media and young voter populations in political campaigning. "It doesn't feel like a job," said Madden. "Waking up every day knowing that my work will shape public debate and that everyone's talking about the thing I'm working on is exhilarating. It's very fulfilling." He now appears regularly on CNN as a political analyst and continues to work as an advocacy and communications strategist.
Although most fans recognize Julia Rae from her time on The Bachelor: Listen To Your Heart, a love-and-talent crossover reality television show, she has a deeper history unknown to many. She recounted stories of her experience with the chronic, congenital disease cystic fibrosis (CF). While her condition certainly posed obstacles throughout her life, she never gave up on her dream of becoming a singer and helping others with CF to also achieve happiness.
Last year, Rae joined the debut season of Listen To Your Heart. The reality show, however, was not the dream she had envisioned; producers manipulated footage to portray her as a villain, which opened doors to cyberbullying and Internet threats over social media. Now, though, she is back and better than ever, continuing her philanthropic work with her 501(c)(3) nonprofit organization Singing at the Top of My Lungs, which funds music therapy programs in children's hospitals, and recording her own original songs with revitalized optimism. "I realized that life has continually showed me that no matter what obstacles you face, if you focus on what you know to be true about yourself and you work hard and let go of fear, your path will continue to unfold," Rae said.
Students, staff, and administration expressed appreciation for both the presenters and the SGA's hard work to organize HRD during such a difficult time. "This event was such a success," said Principal Joseph Rainis. "It was well-planned, well-coordinated, and our members of SGA did a fabulous job of moderating the Webex calls. The speakers' incredible experiences and lessons on life are invaluable."
About the Writer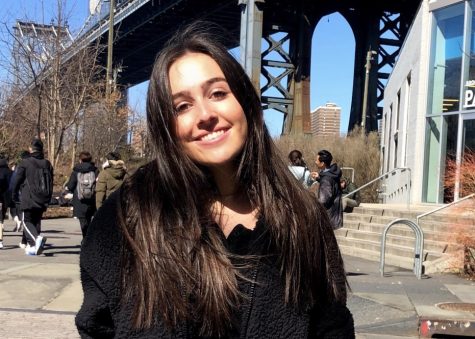 Julia Swerdin, Print Editor-in-Chief
I am the editor-in-chief of the Horizon print edition and the managing editor of our online features section. I'm a member of the Class of 2022, and I...