Tri-M Hosts its 20th Annual Cabaret Night
COVID-19 has caused the suspension of many in-person events that regularly happen at LHS, and this year's Cabaret Night was no different. What is usually an evening of music and performances of all kinds by LHS's talented student body did not happen in person this year. 
Cabaret Night, which is usually held in the high school cafeteria, went virtual on Feb. 26 this year with a live stream on YouTube of all performances. Music Honor Society (Tri-M) President Ricki Rizzo initially did not think this event would be possible this year. "I never thought that we were going to host our main Cabaret Night," said Rizzo. However, the night was ultimately a success, and many members of the community tuned in to watch students share their performances remotely.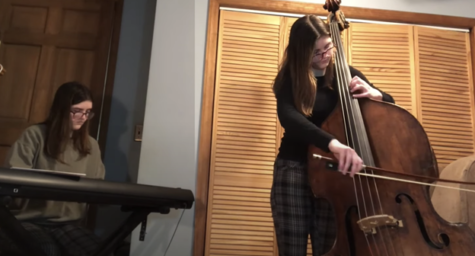 While the evening performance is the final product of Cabaret Night, all the other details that go into its production were also radically changed this year. Students typically must go through an audition process to have their act featured in Cabaret Night. This is an important step as it teaches  students who are involved and interested in the arts what an  audition process is really like. In an attempt to keep Cabaret Night as true to its nature as possible, the Tri-M board had all interested candidates submit audition videos for review prior to the event. Rizzo explained, "We had students submit audition videos so they still got the feeling of how to prepare for an audition."
Group performances are also typical for Cabaret Night, and that created an additional challenge for the Tri-M board. Traditionally, many students perform group acts, which was not as plausible this year. A remote audition and presentation gave students the ability to perform in groups over video and still have a cabaret experience that was as close to normal as permitted by coronavirus restrictions. Rizzo also shared, "Given that many people perform for the main Cabaret Night in groups, we thought that pre-recorded videos would work best for this year's event."
After all the audition videos were evaluated and the Tri-M board decided which acts would be featured in the official Cabaret Night video, senior Tess Rechtweg did the film editing for the completed video. Rechtweg took all of the final videos of the performances sent in by the participants and created the final version that would be presented via YouTube livestream. Rechtweg said, "Putting the video together was hard work, but it was extremely rewarding. I put my all into it, and I feel like the video came out exactly how I wanted, and I'm glad people enjoyed it." 
For many seniors, this was their last Cabaret Night at LHS. Tori Donovan, a senior, has experienced the traditional Cabaret Night in the past, and she shared her feelings about the modified way the event was done this year: "It was much harder to convey emotion and sing with the masks on, but I really love that I am able to go back and watch the show whenever I want."  Rechtweg remarked, "I was excited that I was able to share Cabaret Night with my family who doesn't live on Long Island. I have a lot of family who live upstate who were able to watch it, and they loved that they had the access to view it for  once."
This is not the first time this school year that the music department has taken to YouTube to share their talents. The Concert Choir released its performance of "The Sun Is Going to Shine Again," on YouTube two months ago. Tri-M also hosted a virtual Holiday Cabaret Night concert in December.
Overall, this year's Cabaret Night was a virtual success. Even better, it is on YouTube, and students and members of the community will have the chance to look back on it for years to come.