Class of '21 Valedictorian and Salutatorian Are Announced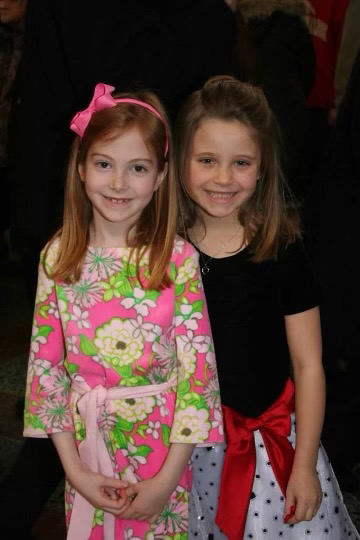 Ashley Roth and Kathryn Postiglione may seem just like two typical childhood friends from a glance, but with a closer examination, one can see that they are far from an ordinary pair. From academics, to sports, to community service, they have made quite an impressive impact on the Lynbrook community at large. Roth and Postiglione were announced valedictorian and salutatorian of the Class of 2021, respectively, on Friday, Feb. 12.
"The Room 35 Achievers," as their second grade teacher Mrs. Flannery fittingly coined them, have always welcomed an academic challenge and worked to maintain collaborative, rather than competitive, relationships in their personal lives. "Watching Kathryn do something really great pushes me and inspires me, but not in a competitive nature," Roth said. "We love to watch each other and everyone in our class succeed," affirmed Postiglione.
Valedictorian Roth has always had an exceptional work ethic, whether it be applied in her competitive ballet studio, her work in science research, or her late-night study sessions to survive her dense honors and AP coursework. As a passionate woman in STEM, Roth has participated in the science research program, mathletes, and Science Olympiad competition for the past several years. She has also been recognized as an AP Scholar with Distinction.
This year, Roth's peers elected her Science National Honor Society and National Honor Society president, which she considers her greatest accomplishment and most gratifying recognition. "Being elected to these positions really let me know that my peers recognize me as someone who can lead," she said. "It's so important for me to know that they realize I'm always here to lend a helping hand, and if they text me at 2 a.m. because they're having trouble with math homework, I'll be there to help." 
As president, Roth has devoted her time to exploring creative ways to maintain the traditions of the honor societies, as the coronavirus pandemic has posed quite a roadblock to fundraising and community service opportunities. Thus far, she has organized socially-distanced honor society inductions, a toy drive, and remote tutoring sessions. "It has been hard, but such a fun challenge," Roth said.
Roth always goes above and beyond. For the past two years, she has volunteered at BackYard Players and Friends, a 501 (c)(3) non-profit organization based in Rockville Center that provides art classes, dance lessons, and other creative activities to young adults with special needs. She said that her time as a volunteer has been an extremely rewarding experience, and being able to give back to the community holds a special place in her heart.
Combining her love for science and passion for helping those in need, Roth plans to study biology or neuroscience in college in the hopes of later attending medical school and becoming a neurosurgeon. She said that her greatest motivation for entering such a male-dominated field has been Katherine Johnson, one of the first female African American mathematicians to work at NASA. "Her role in breaking barriers for women and people of color inspires me to live at the forefront and continually push forward, beyond what anyone expects me to achieve," Roth said.
Salutatorian Kathryn Postiglione also has a strong passion for STEM, and she has devoted much of her high school career to fulfilling her love for science research. She is a member of the mathletes team, science research class, Women in STEM club, Science Olympiad, and Science National Honor Society. She has balanced these extracurriculars with her unyielding commitment to her classes, most of which have been honors and AP courses, and for which she, too, has been recognized as an AP Scholar with Distinction.
LHS's science research program has been a great medium for Postiglione's interests as well as a place to form strong bonds with teachers and classmates. "Science research is a really special class," she said. "We have a community like nothing else in the high school." Postiglione said that her greatest mentor throughout high school has been Research Teacher Chuck Vessalico. "His support and advice has followed me throughout my research experience, and I couldn't be more grateful for that," said Postiglione.
Postiglione has been a competitive soccer player throughout much of her life, participating in school and travel teams for years. She has also committed herself to her studies year-round. Last summer, she attended virtual classes through the Yale summer program in astrophysics, where she was granted remote control access to a telescope at Yale's Leitner Observatory and collected data on Star Cluster Messier 39. She used this experience to then write a paper in her science research class titled "Analyzing the Photometry of Star Cluster Messier 39: Creation of Color Magnitude Diagram, Age Calculation, and Distance Measurement."
The year prior, Postiglione spent the summer as an intern in the Wilson Lab at the University of Massachusetts Amherst. There, she wrote code in Python to analyze the thermal networks and improve the detector fitting algorithm for the TolTEC camera. Her work has greatly advanced TolTEC's capabilities and will enable the camera to soon be installed at the Large Millimeter Telescope.
Postiglione's greatest accomplishment thus far has been the awards bestowed on her at science fairs. Two years in a row, she has been recognized as a semi-finalist at the Junior Science and Humanities Symposium for science research; she was chosen to advance to the final round, where she then placed second for two separate research projects. "It is so fulfilling to do original work and see that someone recognizes all of your hard work," she said.
Postiglione also has a strong passion for philanthropy and has put her talents to good use by helping those in need. She is one of 20,000 volunteers in over 100 countries for an organization called e-NABLE, which creates prosthetic hands with 3D-printed parts. Postilgione's job has been to assemble the parts, which are then delivered to children and adults in need, specifically those in underserved communities with lack of access to medical care. She hopes to one day apply these engineering skills to the field of electrical engineering or computer science.
When asked what piece of advice they would like to impart on incoming high school freshmen, both Roth and Postiglione answered with similar sentiment: to do what makes you happy and to not let others bring you down. "No matter how many people say 'Why are you studying so much?' and 'You should stop working so hard,' keep doing what you're passionate about, and don't let anyone get in the way of that," Roth said. "Staying confident and surrounding yourself with people who support you is the key to success," Postiglione added.
Roth and Postiglione express great gratitude for their teachers and peers throughout their years at LHS. "The school itself, and all of the people in it, have made high school so special," Postiglione said. "I am so grateful for the opportunity to have had a high school education in Lynbrook and to have met every teacher and student; they made it worthwhile," added Postiglione.
"My teachers, from a young age, have always pushed me to be my best self," Roth said. "They've all had an amazing and immense impact on me and have helped me get to the end of this journey. I'm grateful for every experience I've had in Lynbrook," added Roth.
The LHS family is equally appreciative of these two stellar students. "Congratulations to each of you on this wonderful accomplishment," said Principal Joseph Rainis. "You make us all very proud!"
About the Writer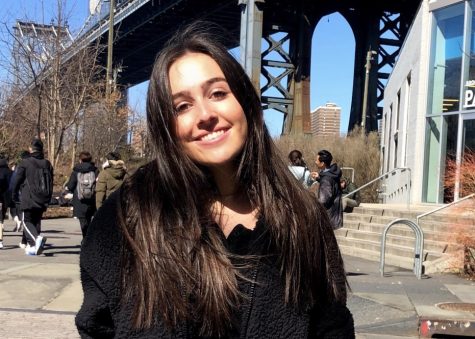 Julia Swerdin, Print Editor-in-Chief
I am the editor-in-chief of the Horizon print edition and the managing editor of our online features section. I'm a member of the Class of 2022, and I...