Let's Face It: We're Scared
Gallows erected; Confederate flags flown; Neo-Nazi propaganda sported.
As a far-right extremist mob stormed the United States Capitol Building, Americans across the country stood witness, in horror, to the image of men in shirts emblazoned with the words "Camp Auschwitz," "Arbeit macht frei," and "Six Million Wasn't Enough." These phrases reference one of the most profound genocides in modern history, the Holocaust, where more than 11 million people died and more than six million Jews were killed. It has become clear that the Capitol storming on Jan. 6 was more than just a doomed effort to keep Donald Trump in power: it was a call to arms. And as a Jewish-American girl, I'm scared.
The Anti-Defamation League revealed last May that rates of anti-Semitism are soaring, and that there were more attacks against the Jewish faith in 2019 than in any year over the past four decades. News stories continue to report atrocious cases of harassment, assault, vandalism, and Neo-Nazi propaganda, similar to the shirts worn and the words spit on the steps of the Capitol. Now, however, the removal of Trump from the Oval Office has spurred an even greater wave of hate, as white supremacist groups rise from the gutters and proudly flock to spread their messages of violence and evil.
QAnon, a conspiracy group which claims that "the world is run by a cabal of Satan-worshiping pedophiles who are plotting against Mr. Trump," has regularly targeted Jewish people, retweeting cartoon images of Jews holding knives, standing knee-deep in the blood of Russians, Poles, Hungarians, and Ukrainians and asking with feigned innocence, "Why do they persecute me so?" This image of Jews, often marked with exaggerated hooked noses and sharp teeth, was a largely popular method of propaganda in Nazi Germany and played a key role in turning the European people against Jews, inciting violence and murder. The very same strategies of demonization are being seen at play today. 
"I am a proud American Jew," declared senior Shoshana Markowitz. Anyone who knows Markowitz will recognize her strong passion for the Jewish religion and culture. She is the vice president of her synagogue's youth group, a common face at online Israeli fellowships, and an eight-year Jewish summer camp attendee and enthusiast. After graduating, she plans to take a gap year in Israel to explore and learn more about Judaism before attending college.
"About a year ago, I, along with many other Jewish-Americans, had the amazing opportunity to visit the Capitol Building and sit in the seats of the House of Representatives, proudly and openly as Jews," she recalled. "Judaism is such an important part of my identity and culture, that when it is criticized and attacked, it not only saddens me but also frightens me. The recent anti-Semitic attacks in the Capitol Building were devastating, but not surprising." 
Markowitz shared that she has received stereotypical insults on the size of her nose and has been called an "Arab colonizer" for simply supporting Israel and practicing Judaism. "Ignorance is the only diagnosis for such hateful comments," Markowitz said. "The reality is scary for American Jews; however, pride must triumph over fear. I am proud to be Jewish and am aware that my fight against hate is far from over. Following my religion and confronting ignorance is a small contribution I can make towards a bigger cause."
Another white supremacist group present in Washington was the Proud Boys. Kyle Chapman, the gang's leader, recently promised to "confront the Zionist criminals who wish to destroy our civilization." Anti-Zionism is an ideology which denies Israel as the ancestral homeland of the Jewish people. The Boycott, Divestment, Sanctions (BDS) movement is the most popular manifestation of anti-Zionism, seeking to replace the current Jewish state with a single, Palestinian-majority one. The movement's co-founder, Omar Barghouti, said, "Jews are not a people." Anti-Israel rhetoric has moved beyond criticism of the country's policies and crossed the line into vilification, such as declaring Israel a racist state or comparing Israel and the Nazi regime.
While he has never experienced anti-Semitism firsthand, senior Josh Santoro's grandfather has survived his fair share of it. Maurice Wolpowitz was raised in a Jewish family in 20th century England. At the age of 16, he and his family were forced to change their surname because stores refused services to Jewish customers. "He lived the rest of his life under a different name, Maurice Kendal," said Santoro. "When I see the anti-Semitism at the Capitol, I am reminded of how many people still have a hatred for Jews and how important it is to be proud of my religion. As a Jewish community, we must never settle for unfair treatment, and we must continue educating people until all religions, races, and cultures are treated equally."
Senior Emma Guttman has been a member of the B'nai B'rith Youth Organization (BBYO), America's leading Jewish youth group, throughout high school, which she said has opened her eyes to the "inevitability" of anti-Semitism. "As I watched the domestic terrorist attacks that took place at the Capitol Building, I was absolutely disgusted and disappointed in the way these so-called 'Americans' failed to adhere to the democratic system that the U.S. has upheld for so long. This was a completely intentional act of anti-Semitism and an embarrassment to America. As a society, we need to do better and promote equality for all; people who cannot respect that basic idea need to be punished. Today and every day, I am proud to be a Jew."
Anti-Semitism is notoriously overlooked in countries around the world, including America. Findings from a recent survey of 11,000 Americans aged 18-39 found that 11% believed Jews caused the Holocaust and blamed them for it, 12% had never heard the word "Holocaust" before, and 10% believed the Holocaust did not happen. There is not enough acknowledgement or adequate education on the topic of anti-Semitism, and, thus, there is a mysticism and ignorance surrounding it, culminating in violent outbursts of hate such as those seen at the Capitol. 
I will continue to wear my shining Star of David necklace, hand-picked in Jerusalem, like armor around my neck. I will practice my religion, attend temple, and sing Hebrew loudly and with pride. I will recognize hate when hate is spewed, and make sure that others can, too. And, with this, the rest is out of my hands.
"It started with words, and it ended in terrible places," said Auschwitz survivor Max Eisen. "We know where it ended."
About the Contributors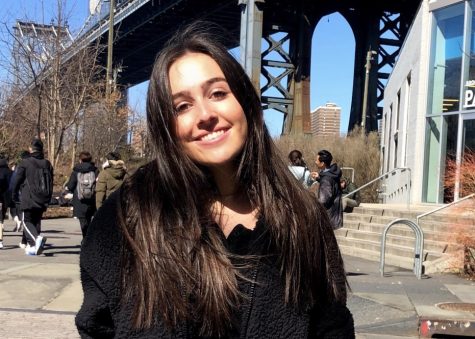 Julia Swerdin, Print Editor-in-Chief
I am the editor-in-chief of the Horizon print edition and the managing editor of our online features section. I'm a member of the Class of 2022, and I...