20 Ways You Can Open Up Your Small Space
Most have seen it all over the Internet: Pinterest-grade rooms with perfectly and meticulously placed décor and furniture. It's possible to scroll for hours dreaming about your own perfect space. You might then go onto YouTube, only to find more room makeover and tour videos. That settles it. You go onto Amazon or Ikea to plan to the room of your dreams. However, there is only one issue: your room is not big enough to fit all that furniture and décor. You may be disappointed and think there is nothing that can be done about it. However, there are so many ways you can open up a small space to make it look and feel so much bigger. Living on Long Island, homes tend to be smaller on average. It is easy, however, to convert a typically smaller room into something that feels so much bigger. Here are some tips from Architectural Digest (architecturaldigest.com), Apartment Therapy (apartmenttherapy.com), and HGTV (hgtv.com) for to make a smaller space feel larger.
Keep it simple and organized. One of the big hoarders of space is furniture, so try picking out furniture that will fit your space while still allowing you to have room for any other items you want in your room.

Contrary to popular belief, the paint colors you choose do not have an overall effect on the way the room looks. Small rooms painted a bright white look just about the same size as small rooms painted midnight black, so go with the color you love instead of making decisions based off how the room's size would be affected.
Colorful accents can really add a pop to your room and make it look more open. This goes the same way with open light sources; a room is going to look livelier and more open when there is a lot of light coming into it.
A great way to make your room look larger is to create the illusion of space. One great way to do so, according to Clever, is to hang drapery up on your ceiling so it draws the eyes upwards.
Make like Marie Kondo and start decluttering. There are so many things in everyone's rooms that just sit there and collect dust all day without a single use. In order to get more space out of your room, you need to use all the space you have positively and fill it with things that you like and that compliment your room. After decluttering, donate some of the items you do not want/need, and maybe your trash will indeed become someone else's treasure.
Mounted items will always work to largen your small space. Take a hanging plant or lamp, for example. They take up a small amount of space, letting you use each available square foot more productively.
Stacking upwards is a very smart decision. Tall bookshelves and desks can always store the most items, and they make it look like you have lots of space to fill. These tall furniture items are always good for when you do not have a set place for something.
Speaking of storage, it is KEY to having a small space. Invest in a wheeling three-tiered cart (such as this one from IKEA) so that you can put a multitude of items in it and put it wherever you want. Get a bed with lots of storage space, and use the space in your closet wisely.
Plants are an amazing decoration and can liven up any space. If you have a black thumb, fake plants might be the way to go; you can still bring a freshness to your space with the equally-pretty impostors.
Make a daybed formation if your bed is positioned against a wall. Putting the pillows against the wall will make it sort of like a couch. This gives your bed a whole second purpose for the day and gives you a new place to sit.
Make the most of your wall space. Use mirrors, art prints, and shelves galore. It makes your room look full and fun. It also helps give a central theme to your room if you have a certain aesthetic that you want to display.
According to HGTV, you can free up storage space by using your accessories as décor in your room.
If you are crafty and creative, make your own furniture. It is so freeing to be able to have no imaginative boundaries, and you can alter it to fit your exact space and taste.
Install a small shelve as a nightstand so it does not take up as much space.
Getting a surplus of accent items for your room makes it look like you have more space to fill. Plus, it is always cozy to snuggle up under layers of accent blankets and pillows.
Layout is everything. Leaving walking space in your room is key to making it look and feel bigger than it actually is. Make sure to get furniture that does not stick too far out so you are not stubbing your toes every time you walk around.
Use everything (yes, everything!) as way to display your things. Have a window ledge? Put a potted plant there and let it grow. Have a radiator sticking out because your house is old? Use it as a place to put picture frames, like a mantle.
Organized clutter is always a cute look when it comes to small spaces. Just make sure it does not look too messy; you can precariously place items arranging into something quite nice and artsy.
Use the foot of your bed wisely. You could put a chest, bookshelf, or anything else there. It is versatile and a great way to store things you may not want to be front and center.
Add finishing touches that make the room feel like your own personal space. Have a homemade bowl? Put some jewelry in it. Use some old photos to create a memory wall and reminisce on good times every time you look at them.
There are so many more ways to liven and open up a small space. If you have enough creativity and inquisitiveness, you can come up with some seriously cool ideas for your room. Be sure to dream big when it comes to your rooms.
About the Contributor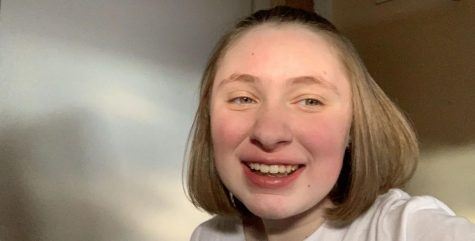 Kerry Cullen, Managing Editor
I am a member of the Class of 2024 as well as a managing editor for Horizon. I like to write, read, sing, and act. One fun fact about me is that I love...