"Tuesdays with Morrie": A LifeChanging Story
Books have the amazing capability of captivating the mind, changing the heart, and leading their readers to a better life, filled with clarity. One can walk away from reading a book filled with wisdom, sadness, contentment, or a greater appreciation for the little things in life. Certain books, however, can offer more than just a feeling: They can offer alternative ways to live life, and live it to the fullest. They emphasize the importance of things like love, family, death, emotion, forgiveness, and so much more. In short, books can be life changing. One such memoir that was recommended to me amid a very challenging time proved to be just that: it changed my life. 
Tuesdays with Morrie, written by Mitch Albom, is the true story of how Mitch himself reconnects with his favorite college professor Morrie Schwartz when he finds that Morrie is dying from ALS, also known as Lou Gehrig's disease. In the exposition, the plot is laid out for the reader like a description of a course of study: One professor and one student; the class takes place on Tuesdays; the topics are discussions about love, marriage, death, and forgiveness, among many others. There are no exams, but the course ends with a funeral, and the final paper is the book itself. What I loved about this setup is it makes the story more unique to Morrie and Mitch's relationship as teacher and student. Moreover, throughout the memoir the connection between them deepens and becomes so much more special. 
Mitch had a successful career as a sportswriter for the Detroit Free Press, but like so many people today, he could not escape the monotonous world of the media that was persistently demanding more of him when he had little left to give. So, when he hears about Morrie one night while watching television, he is immediately taken back to when he was in college at Brandeis University in Boston, Massachusetts. There are multiple flashbacks throughout the memoir to Mitch's college years with Morrie that illustrate their unique camaraderie. I personally believe that a relationship with a teacher, or any educator for that matter, is so incredibly special because teachers are not only there for one to learn about a subject; like Morrie, they coach their students about life in the real world from their own experiences, and they are always willing to help one improve. Ironically, one of Mitch's nicknames for Morrie happens to be "Coach." Filled with a desire to see his professor again, Mitch flies to Boston. He does this several times, despite the challenges he faces with his job and family life. The first time Mitch sees Morrie he is filled with sorrow; all he ever knew of Morrie was a selfless, honest, and emotional man. But he was now captive to a large armchair with several pillows to keep him comfortable. 
Although he is restricted by many physical barriers, Morrie always strives to remain like himself, and he does not take dying as an excuse to act differently. One of the things that Mitch admires about Morrie is his incredible lack of self-pity and his desire to help others, instead of having others help him. Morrie has an incredible amount of empathy for every person who visits him, whether it be an old colleague, former student, or family member. His story reaches thousands of people, as he was interviewed three times by renowned journalist Ted Koppel. In these interviews, and every Tuesday he spends with Mitch, he delivers many profound words of wisdom on a plethora of topics. One of his most famous sayings is about love: "The most important thing in life is to learn how to give out love, and to let it come in." I believe that Morrie knew that most people were lacking in love, and were instead turning to substitutes like fame, money, attention, drugs, and alcohol, even though nothing can ever truly take its place. Morrie continues to address the necessity of love in one's life with a simple, yet powerful metaphor: "Without love, we are birds with broken wings." 
Morrie is not like most people; he is not afraid to bring up topics that most people would find uncomfortable. One of these is death. Morrie does not shy away from the fact that he will die sooner rather than later, and he will have to leave his family behind. Yet, this does not limit him in any matter from being the person, and professor, he was to Mitch thirty years prior. He knows his family and close friends will have to cope with his loss, but that does not mean that his influence will be gone because, in his words, "Death ends a life, not a relationship." As humans, we have a time to live, and a time to die, and Morrie truly embraces that fact as his disease progresses: "When you learn how to die, you learn how to live." Since 2020 is such a life changing year, learning how to live is what life is all about: learning how to have a balance, and learning to let that love come in. After reading Tuesdays with Morrie, there was one quotation of Morrie's that stood out to English teacher Roseanne Mitchell: "I love when [Morrie] says that 'Death is the great equalizer' because death is something we're all going to experience, and it's an important message to discuss." 
After Morrie's passing, Mitch compiled all the information he received from his discussions with Morrie and formatted them into his beloved memoir. In the 20th anniversary edition, he included an afterword discussing how the story itself was formatted, where the title came from, but, more importantly, the impact of the memoir. Mitch wants all his readers to understand that they are different people living different lives, but they are all connected by Morrie's story, and they all lived it together. This book truly is a universal gift to anyone who reads it. Whether a reader is young or old, it is filled with such wisdom that implores one to reassess his/her standards and priorities, and to ask the tough question of: "Is this all I want my life to be?"
About the Contributors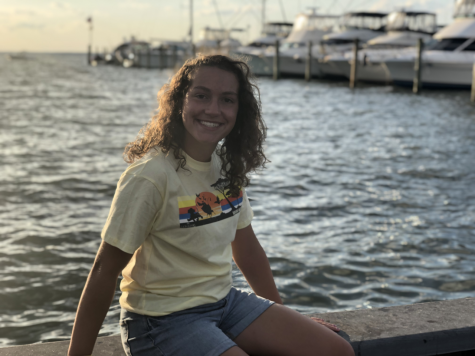 Alyssa Inserra, Editor
I am a member of the Class of 2023 and the section editor of Arts and Entertainment and Driftstone for the print edition. I enjoy spending quality time...