"Bridge and Tunnel" Series Films in Lynbrook
Areas in Lynbrook were sent back to the 1980s throughout the month of October. Ed Burns, a talented American actor, writer, producer, and director, chose to film his new, upcoming series, titled Bridge and Tunnel, in Lynbrook. The six-episode series was filmed on the north side of town on President Street. With vintage cars scattered among the streets, along with cameras and immense lighting equipment, Lynbrook was completely transformed into a set for the television show. 
Stuart Nicolai, the location manager on the set of Bridge and Tunnel, spoke extensively about his role in the project and how members of the project had to adapt to filming in a small town, in addition to adjusting to strict COVID-19 regulations. Nicolai began by describing his personal role. As a location manager, Nicolai is responsible for seeking out locations for television and film sets. Along with simply picking the site, Nicolai and his assistant location managers, Brian Morgan and Audrey Bock, work to secure the logistics of the spot, such as obtaining police, fire, and government permits. Not only do location managers have to conform to the legal aspect of choosing a place to film, they also must cooperate with individuals who live in the area. Nicolai and Morgan spoke about the role of "scouts." Scouts physically search for areas that would be ideal to shoot the project on. Since Bridge and Tunnel is set in the 1980s, Nicolai sent scouts to search for homes that matched the time-period of the project. 
Everyone on set has a specific job. Whether it be designing costumes or fixing hair and makeup, each person has his/her own role; it is vital that one's role is completed in full. In reference to a table covered in camera equipment, Nicolai spoke about the importance of cooperation on set, stating, "I can't even touch the tables!" 
Anu Schwartz, the production designer on the set of Bridge and Tunnel, gave an inside peek at his role in the project. As a production designer, Schwartz creates "the look of the show." When asked if and how the interior of a home was modified to fit the show's needs, Schwartz went on to say, "Yes, although I have to say, it depends on what is found for location. Stuart worked hard to find locations that were already like '1980' on the inside. We worked together. He sent me photos [of locations], and we physically visited locations. What we tried to do on this show was to find locations that already fit in with the 1980s. We rejected locations with modern kitchens and rooms." Schwartz said that he and his department choose color schemes, wallpapers, and other objects to establish certain "feels." Designing the set a certain way can have a great effect on the attitude and tone of a project. 
Ryan Gargiulo, the prop master on set, said that he works closely with Schwartz. Gargiulo commented that "the most important thing is art," and production, costume, and prop design are "core departments." Although everyone is assigned a specific role, overlap and collaboration are needed as well.  
The cast and crew of Bridge and Tunnel had to adapt the project to fit the strict COVID-19 guidelines to keep everyone safe. Crew members are tested up to three times a week. Masks are worn by all constantly, with the exception of the actors and actresses when they are on camera. Nicolai explained that the size of the crew was minimized, with only 50 to 60 people on set at a given time. Burns also had to adapt the script of the show because there were scenes that were meant to be filmed in New York City. Despite the setbacks, the amount of collaboration required to pull off a project like Bridge and Tunnel is astounding. Bridge and Tunnel will be available for streaming on Epix, slated on Jan. 24, 2021.
About the Contributor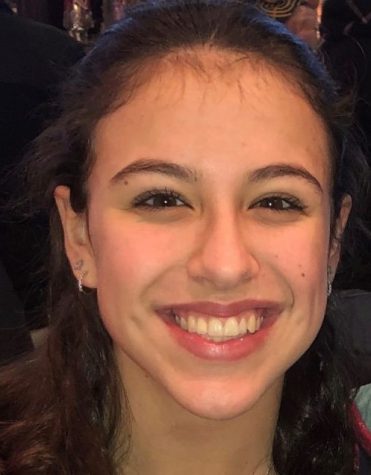 Emily Paladino, Editor
I am the opinions editor for Horizon. I am a member of the Class of 2022. I swim, play the saxophone and piano, and I love to write!