Amy Glanzer (LHS '17) Publishes Scientific Research
Lynbrook's Science Research program is an optional course students can choose to begin their freshman year and continue throughout high school. This is the 19th year Lynbrook's Science Research program has had students work to submit to Regeneron Science Talent Search, with the guidance of Science Research Teachers David Shanker and Charles Vessalico. Nearly 200 seniors have completed the Regeneron project, and close to 30 students from Lynbrook have published their research, with the most recent being class of 2017 graduate, Amy Glanzer.
"I think the Lynbrook Science Research program is really great and extremely helpful. I've only been at college for about six weeks, and in those six weeks I've already had to use certain skills that you aren't usually taught. But I learned those skills through my internship and the research program," said Glanzer. Sophomore and Science Research student Sara Bahri agrees, "The research here at LHS provides so many great opportunities for students interested in science, and I think highly of it. I plan on staying in it for all four years."
"
This experience has allowed me to want to be a chemistry major…without this experience, I may not have chosen this as a possibility. I chose chemistry out of pure luck, and I'm glad I did."
— Amy Glanzer
Regeneron is a long-term research project students begin at the end of their sophomore year. With this project, students select a topic to do research on until the end of their senior year. Students pick their topic independently and do a large amount of the work on their own and during the summer time. Students work with mentors, gaining professional research skills and forming valuable networking connections for the future.
"Some students, like Amy, are more motivated. She knew she wanted to research organic chemistry and worked hard to do so," said Science Research Teacher David Shanker.
Glanzer began by selecting a project in a formal program, Hofstra Summer Science Program. At Hofstra, Glanzer synthesized compounds to produce new drugs to stop influenza virus infection. Glanzer's work covered two summers as she interned at Hofstra during both the summers before both her junior and senior years. Glanzer designed her experiment, and it was later chosen by graduate students with whom she worked to complete it.
Glanzer completed the research and was informed in early July that her mentor, Richard W. Denton, would soon publish an article based on her research, titled "Solvent Effects on the [3+2] Cycloaddition of 2-Furfural Oxime and Ethyl Propiolate: Unexpected Change in Regioselectivity," in the World Journal of Organic Chemistry.
"This experience has allowed me to want to be a chemistry major. Right now, I'm at Hamilton College as a perspective chemistry major, and without this experience, I may not have chosen this as a possibility. I chose chemistry out of pure luck, and I'm glad I did," Glanzer stated. "It really was a great experience, and I would definitely say for all kids in the research program that it is worthwhile to apply for internships and be as involved as you can. It better prepared me for college and changed my interests," Glanzer concluded.
"Labs are a team. Amy was a central part of her team. This greatly contributed to her early publishing," Shanker said proudly. "Many successful students don't even publish. This truly is going above and beyond… this is a major accomplishment and will permanently affect her educational and professional career in positive ways," added Shanker.
About the Contributor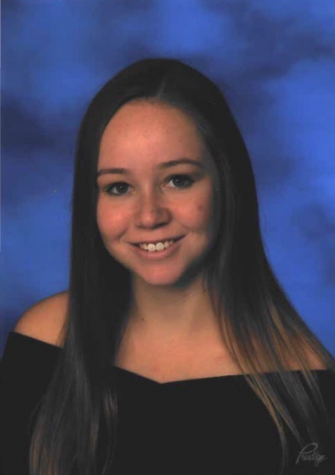 Jane Hoeflinger, Editor-in-Chief
I am a member of the Class of 2020. In my free time, I write articles for Horizon. I am the editor-in-chief for the print edition for 2019-2020.