How are People Going to Celebrate the Most Wonderful Time of the Year?
With the holiday season quickly approaching, many people are worried about how this year's celebration will look amidst the pandemic. Common holiday trends, such as travelling, gift-giving, and gathering in large groups pose the risk of spreading coronavirus, so some people are choosing to stay home for the holidays and celebrate next year instead. 
With the COVID-19 pandemic, one cannot have too many people in his/her house because of the respiratory spread of the virus. Over the summer, warmer weather lent itself to outdoor gatherings, and people could go outside for longer periods of time. However, now that it is cold and windy most of the time, being outside is hard to withstand for hours on end. As stated in an article by The Washington Post, "The fall and winter holidays are homey by nature. Respiratory viruses thrive in dry, warm indoor conditions in which people crowd together. The statistical peak of flu season typically comes close on the heels of Christmas and New Year's. Colder weather is already driving people indoors."
During the December holidays, like Chanukah and Christmas, it is a common tradition to give gifts to loved ones and relatives. However, with the rise in national cases over the past month, people have been questioning whether they should go out and buy gifts or just purchase everything online. People are also starting their gift shopping rather early this year because they are paranoid about the increase in cases. They want to make sure that if there is another spike and stores close again, they are prepared and finished with their shopping list. 
"The holiday shopping season is starting earlier than ever, and Americans are expected to spend record dollars online," as CNBC (cnbc.com) reported in an article titled "Four Ways Shopping for the Holidays is Going to be Different This Year." Moreover, Black Friday is quickly approaching. That will surely pose a problem for social distancing and safety guidelines.
Freshman Grace Loiselle said that for the holidays, she will "probably just spend time with immediate family or with a small group of cousins." Many, like junior Lexi Capitali, are unsure of their holiday plans. "Everything is really up in the air right now," she admitted. Freshman Nawar Aboud said she is going to miss her family's old traditions but has adapted to the new plans. She commented, "We are probably just going to stay home this year, but normally we would go to my grandma's." 
The COVID-19 pandemic has forced many people to adapt to the new circumstances. Hopefully, if everyone stays safe these next few months, the cases will decrease and the holiday season will lend the world a Christmas miracle.
About the Contributor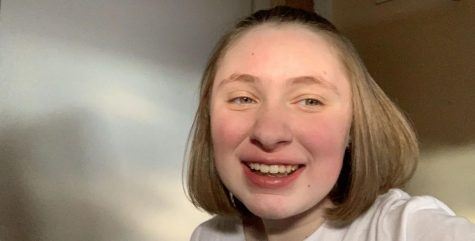 Kerry Cullen, Managing Editor
I am a member of the Class of 2024 as well as a managing editor for Horizon. I like to write, read, sing, and act. One fun fact about me is that I love...