Pop-Culture Phenomena During Quarantine
For the past six months, the world has been subjected to living life on lockdown due to the safety precautions and overwhelming fears associated with COVID-19. While daily life remained on perpetual hold, many people desperately tried to find ways to distract themselves and quell their fears. From tie-dying clothes, to homemade whipped coffee, puzzles, virtual concerts, and TikTok dance challenges, several new trends emerged. Here are the top-ten pop culture trends that occurred during quarantine. 
10: The Tiger King: A true crime docuseries, The Tiger King premiered exclusively on Netflix on Mar. 20. Joe Exotic and Carole Baskin dove paws-first into the crazy world of tigers, zookeepers, bizarre characters, and murder. The docuseries gained instant fame, and it was streamed over 34 million times in its first ten days. It also held the #1 spot for top title on Netflix for fifteen days!
9: Making Music Videos from Home: Musical artists found creative ways to bring fans music videos that were on par with those made on professional film sets. Justin Bieber and Ariana Grande's hit music video for the song "Stuck With U" received 114 million views and raised over $39,000 for the First Responders Children's Foundation. Other homemade music videos included "Toosie Slide" by Drake and "Level of Concern" by Twenty One Pilots.
8: Virtual Concerts: Due to the banning of large gatherings, including concerts, virtual concerts became the new way to perform live music. One notable concert held was the "Global Citizen, 'One World: Together At Home'" virtual festival, which aired on Apr. 18. It featured performances from artists such as Shawn Mendes, Usher, Billie Eilish, and Stevie Wonder. It helped to raise over $127 million for the World Health Organization, essential workers, first responders, and doctors and nurses on the front lines. The Senior Event Planner, Lily Zhang, was asked when she thought the return of concerts might be; she responded, "If a vaccine is released by the end of the year then things won't go back to normal until 2021. I think it will be about 12-18 months until we get back to that 'normal state.'"
7: Taylor Swift's Album Drop: Over the summer, Taylor Swift did the unthinkable: With no warning, she dropped her eighth album, Folklore. Swift is now the first artist in history to be at the top of the Billboard Hot 100 singles chart and the Billboard 200 album chart at the same time. Folklore became the top album in the country on Sept. 27. Swift now holds the record for weeks that a single has been number one on the charts; her song has been at the top of the charts for seven weeks straight. 
6: Disney Family Sing-Along: Disney fans across the country enjoyed this special television sing-along on Apr. 16. Hosted by Ryan Seacrest, it featured musical performances by Disney stars from their own homes. Josh Gad, Christina Aguilera, Joshua Bassett, and many more performed during the hour-long event. Viewers could sing and dance along to their favorite Disney songs at home with their families. It was topped off by a virtual performance of "We're All in This Together" by the original cast of High School Musical.
5: Late-Night Talk Shows from Home: Even late-night television rose to the occasion by putting together broadcasts from their home environments. Jimmy Fallon kept the Broadway mentality of "The show must go on" as he filmed The Jimmy Fallon Show from home. Another producer, Kelly Clarkson, made The Kelly Clarkson Show more authentic by forgoing the professional hair and makeup, and, instead, relied on her own skills. Family members became honorary cameramen and producers, as in the case of Jimmy Kimmel, host of Jimmy Kimmel Live! and Stephen Colbert of Up Late with Stephen Colbert.  
4: VMA'S 2020: Keke Palmer hosted the 37th annual VMA'S from The Big Apple on Aug. 30. With no fans and virtual award presentations, producers took the creative approach of streaming artist's performances from a variety of global locations. The show's repertoire included Lady Gaga, Ariana Grande, Roddy Rich, Doja Cat, The Weekend, and many others. Lady Gaga took home five VMA awards, including "Artist of the Year." Three of her awards were shared with Ariana Grande for their hit song, "Rain on Me" which was streamed over 31 million times. 
3: TikTok Trends: TikTok, a video sharing social media service, gained astronomical fame during quarantine having over two billion downloads! Freshman Raquel Romano, a TikTok user herself, had many positive things to say about the app: "I love using the app! I love the dance trends and enjoy learning them." Many trends emerged, such as the "Blinding Lights" dance challenge, which was inspired by the hit song by The Weekend. Other trends included homemade whipped coffee, tie-dying clothes, and Charli D'Amelio's rise to fame. With many coffee shops being closed, users decided to make their own whipped coffee concoctions. Other TikTok users decided to break out their "DIY-side" and tie-dye their clothes. Sixteen-year-old D'Amelio gained TikTok fame with her creative dance routines to many songs on the app. With almost ninety million followers, D'Amelio is the most followed person on TikTok. 
2: Zoom: While quarantined at home, families, friends, and co-workers tried to find meaningful ways to maintain personal contact with others. Thus, the video conference app Zoom became extremely popular. A relatively simple app to navigate, Zoom was able to bridge the isolation gap for many. In addition to family reunions, the casts of TV shows and movies jumped on the Zoom bandwagon. Entire casts were able to reunite and keep diehard fans entertained. TV shows like Victorious, Parks and Recreation, and This Is Us were able to come together virtually during the heat of the pandemic. Zoom was also able to reunite cast members of epic movies like Lord of the Rings, Splash, and Ghostbusters. 
1: Disney's Hamilton: The shutdown of Broadway did not stop Disney from showcasing its hit musical Hamilton on Disney Plus. The show, written by Lin-Manuel Miranda, is one of the most successful musicals of the modern era. Junior Lexi Capitali, who went to see Hamilton on Broadway, gave her thoughts on the release: "I thought the pro-shot was taped so well. Plus, having the original cast performing in it was so amazing, since I saw it when all of the original Broadway cast had left." Hamilton tells the story of Alexander Hamilton and his lifelong success in the writing industry during the American Revolution entirely through modern singing, rap, and choreography. Released the night before the Fourth of July, it was the perfect touch for Americans celebrating independence. 
About the Contributor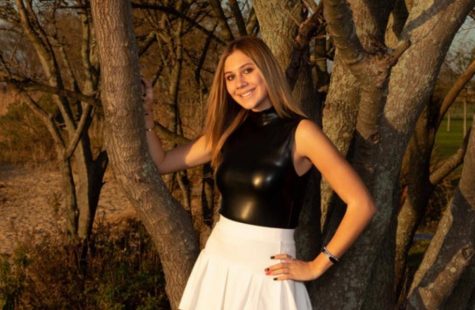 Alexis Raynor, Editor
Hi! My name is Alexis Raynor, and I am a member of the Class of 2024 and an assistant editor for Horizon. I love to dance and hang out with my friends....