"Quaran-Teen Idol": LHS's Singing Competition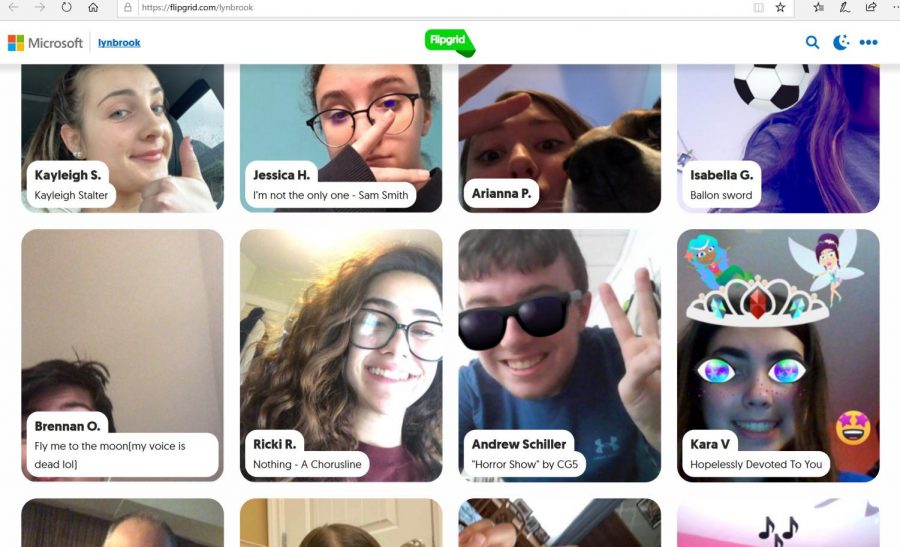 The rapid spread of the COVID-19 virus has left many schools closed and has forced students to learn online. On Mar. 16, it was announced that schools across Long Island would close until further notice due to the outbreak. From Mar. 19 on, Lynbrook students began online learning. For many classes, teachers were able to teach remotely using OneNote and many other school provided applications. For music, art, and other elective classes, replicating normal function seemed to be a bit harder to do. The online learning process has forced every teacher to get creative when it came to assignments, which could be challenging, but for chorus teachers Barry Wyner and Timothy Waldvogel, this proved to be no challenge at all.
This past week, Wyner announced news of a singing competition titled "Quaran-Teen Idol" via email to his and Waldvogel's chorus students. Wyner explained that if students were to submit an entry for the competition, they would be exempt from all other chorus assignments for the rest of the week. The competition allowed students to upload a video of themselves singing (which was preferred), but any form of entertainment was allowed. Students had until Friday, Apr. 3, at 3:00 PM to submit their videos. A total of 28 students participated, and voting is open until noon on Tuesday, Apr. 14.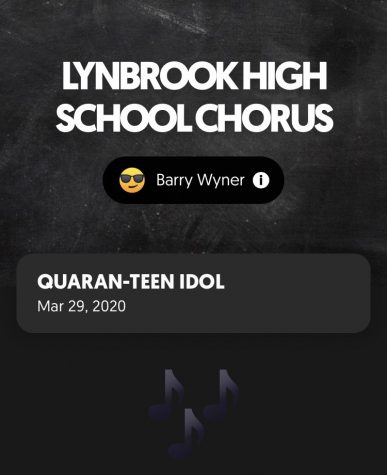 Wyner and Waldvogel are two teachers who are known to be creative when it comes to their chorus classes. Wyner has multiple creative traditions; his most famous one being "performance Friday." Every Friday, a student will come into all or most of his chorus classes to perform a song. Many students love this tradition and look forward to it every week. Some students had plans to perform in the upcoming weeks, but due to the closing of school, they had to cancel those plans. So, when the opportunity of the competition arose, 28 chorus students jumped at the opportunity to showcase their talents. Senior Kara Vito explained, "I think that the competition was really fun and a great way to stimulate performance Friday while everyone is stuck at home."
The competition had great feedback from students, staff, and their families. Junior Maeve Mooney stated, "I think Mr. Wyner and Mr. Waldvogel alike have always been insanely creative during regular schooling, but I enjoy how creative they both have been during online schooling as well. Their ideas are fun and educational. I really enjoyed the Quaran-Teen Idol that was set up."
Chorus members were also thankful for the opportunity to be able to sing to an audience, since they are not able to perform in school. Junior Marisa Hickey commented, "I thought the competition was so nice of Mr. Wyner and Mr. Waldvogel to do. I have missed singing and I've missed performance Friday." The competition gave chorus students a chance to be seen (and heard) by the rest of the Lynbrook choral community.
Each video submitted to the Quaran-Teen Idol competition displayed truly outstanding talent. Every participant who sang sounded amazing, and the other entertainment videos were very entertaining to watch as well. Songs ranged from soft and solemn (such as Billie Ellish's "Everything I Wanted"– sung by sophomore Rachel Edelstein and by senior Ariana Paxinos) to upbeat and uplifting (like A Chorus Line's "Nothing"– sung by junior Ricki Rizzo) and showed a wide array of talent. So, if you haven't already, head to flipgrid.com/Lynbrook to watch these outstanding performances and cast a vote for the Quaran-Teen Idol of LHS.