I Loved It 3,000: 'Avengers: Endgame' Review
There is no other way to put it: I entered the Regal 13 theater absolutely terrified. It was Friday, Apr. 26, the day I had been waiting for since I saw Avengers: Infinity War last year, when I thought my life had ended. My heart was racing, my whole body was shaking, and I was on the verge of tears. I knew it was just pure adrenaline coursing through my veins, but the tears still came flowing like a river. Over the span of three hours and two minutes, my entire view on life had changed. Avengers: Endgame was a truly extraordinary experience that I would not give back for the world.
Avengers: Endgame details the fallout of Thanos' decimation, otherwise known as "the snap," while the remaining Avengers try to figure out a way to retrieve those they had lost. All I will give away about the film is that the most important character is a rat. Yes, a rat! Honestly, I am afraid I will get attacked for providing spoilers if I say any more. Trust me, it is a movie that everyone should see; it is amazing.
I have been patiently waiting to see this movie since Saturday, May 12, 2018, when I sat in the theater next to one of my closest friends, Marisa Hickey, and she endured me screaming very loudly at the movie screen at the end of Avengers: Infinity War. We were both inconsolable after seeing all of our favorite characters, especially Spider-Man, die. I wondered what was next for the Marvel Cinematic Universe because all of the main characters of the franchise had died in that one moment. I was so desperate to find out what transpired that when tickets went on sale in late March for Avengers: Endgame, I had secured my seats within twenty-four hours.
Sophomore Caleb Strull said, "I couldn't believe what happened in Infinity War; it was almost like I was missing something if I didn't see Endgame."
The "marvel" of Endgame is the way that the writers and directors portray the natural instinct of humanity to connect to the people we care about, or, in this case, bring them back from the dead. There was no fan service, which is when writers add scenes that may not actually contribute anything to the film just to please fans, and it did not feel like it was three hours long. With the addition of Captain Marvel, Rocket, Nebula, and Ant-Man to the main Avengers team, it felt like a gift sent from heaven. Each moment gave a new anxiety and a new thrill. I left the theater in awe of what the directors, Anthony and Joe Russo, were capable of creatively. They created a film that will leave an indelible mark on this generation. The Russo Brothers are no rookies, though. They have demonstrated their skills through other Marvel films, including Endgame's predecessor, Infinity War.
"I thought the movie was produced in a perfect way to continue the events that occurred in Infinity War. It's absolutely stunning," said sophomore Andrew Moscheni. Moscheni also saw the film with us, and while Hickey and I did not expect him to cry at the end, he said he was on the verge of tears. The way in which every one of my movie buddies and I were affected by this masterpiece is ineffable.
What truly shined through in the movie were the portrayals of Tony Stark/Iron Man played by Robert Downey Jr., Steve Rogers/Captain America played by Chris Evans, and Nebula played by Karen Gillan. Evans deftly portrayed the desperation that Captain America had in connecting to those who had faded away into nothingness as a result of Thanos' snap. While Captain America was desperate, the audience sees a lighter side of Downey Jr.'s Stark in this film. Characteristic to the depth of Iron Man's character development, there were heart-warming moments like those shown in previous films with Peter Parker/Spider-Man, but there were also devastating moments. However, the true MVP was Gillan. She successfully portrayed a whole new side of Nebula that was vulnerable and capable of a depth of emotion that one would not have expected from her character. It was something I had never seen in Nebula in previous movies, and it changed my perspective on her as a character.
Endgame has also decimated (pun intended) box-office records. In the first five days alone, the film grossed 1.2 billion dollars worldwide, something that was previously thought to be impossible. Experts expected it to gross about 900 million dollars opening weekend; however, it surpassed the estimates by 300 million dollars. It crushed the previous record held by Infinity War, which grossed 640 million dollars in its opening weekend. Eleven days after opening, it became the fastest film to gross two billion dollars, shattering Avatar's old record of grossing two billion dollars in 47 days. It also took over as the second-highest grossing film of all time in the second weekend, and the ninth-highest grossing film of all time, adjusted for inflation.
The best part about this movie was the fact that it made me think. It made me think of all the hypothetical situations that could occur if, in the snap of a finger, half of the lives in the galaxy were extinguished. Avengers: Endgame led me to come up with close to 14,000,605 situations that could result – intriguingly, none which included a rat. What if this happened in real life? How could humans handle the loss of half of the people who are important to them? In the movie, one can see how devastated everyone was after Thanos succeeded, the grief of the Avengers at their personal losses, and the range of emotions that were felt by those who were spared. Last year, after Infinity War, I had Thanos-related nightmares once or twice a month, and frankly, they scared me. The characters' experiences also helped me to process and think about sacrifices made during war. This is the power of this movie, cementing its role as a pivotable film in cinema history and the most ambitious crossover ever that made even grown men cry.
"I was sobbing! I get attached to characters/people easily," said Health Teacher Jennifer Kramer. "I felt disappointed, but only because I was sad that it was over. I look forward to these movies and wish there were more!" Kramer was just as devastated as everyone else.
Most importantly, the film made me feel. It made me feel many things. My mother always told me that when you feel something, you know it is special. Being a crybaby, I thought everything was special, but this cinematic masterpiece was different. I cried in the theater. I cried during the car ride home. I was emotional for at least twenty-four hours. I have cried every day since. I broke down at one in the morning after I watched the movie for the second time. I never thought a single phoneme of a word could make me so emotionally scarred and devastated. What I realized in all of this emotion is the inter-connectivity and depth of humanity. It is so powerful that even our superheroes feel its influence. This movie helped me to realize that it is okay to have that sense of connectivity to others, and to feel love and profound loss. Importantly, it taught me that feeling is what you do to overcome loss, and what you do to honor those who you have lost. And when you cry, that is how you know something is really special.
Avengers: Endgame was a truly amazing cinematic experience. I do not think a movie has ever made me feel so many emotions over such a short period of time and made me feel so truly happy in the end. The end of the 'Infinity Saga' of the Marvel Cinematic Universe is truly something special, and I loved that I was able to see its rightful end in theaters. The Russo Brothers created an amazing finale to the first three phases of the universe. Though I discovered that the end is inevitable and that I was more emotionally impacted than I had expected to be, every moment of Endgame was amazing.
Thank you, Marvel Studios, Kevin Feige, and Anthony and Joe Russo. I loved it 3,000!
About the Contributor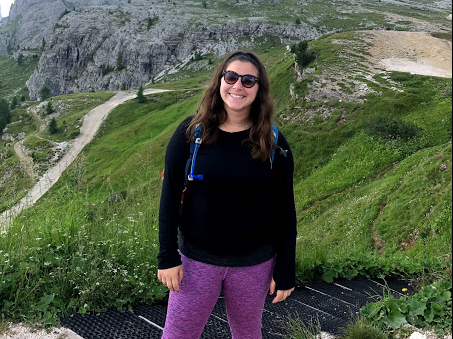 Tess Rechtweg, Photography/Graphics
Hi! My name is Tess Rechtweg. I love photography and film, and I hope to pursue this in the future.