Goodbye, Lynbrook Diner
After serving as a staple for the Lynbrook community for 90 years, the Lynbrook Diner unexpectedly closed its doors for the final time on Mar. 12. As former owner Nick Mavromihalis— whose family has owned the diner since 1985—briefly explained in a message posted to Facebook, the diner was forced to close due to "unforeseen factors." According to Newsday, the diner was sold to Vemen Management Corp, based in  Astoria, Queens, for $750,000 during chapter 11 bankruptcy proceedings. It is still unclear what the company plans to do with the space.
The Lynbrook Diner is remembered as one of the island's oldest and was recognized for its 'old-fashioned' décor: "I enjoyed the diner very much; I always liked the atmosphere. The bright red booths and 1950s theme always caught my eye…I will definitely miss the Lynbrook diner very much," commented junior Rachel Campanile.
After briefly closing after a fire in January of 2014, the diner reopened with a retro 1950s theme that featured glossy red and white booths and a revamped extensive menu. In addition to its tasty food, the retro theme was a defining feature of the diner.
The sudden and unanticipated closure of the long-lived diner (which first started business in 1929) garnered shocked reactions from former customers. Junior and diner-frequenter Kaylin Tephly stated, "I made a lot of really great memories at the diner. It was the hop of the town man. I'm really going to miss it." Likewise, Lynbrook resident and U.S. History Teacher John Cornicello is "just devastated" by the diner's unexpected closure.
In his Facebook message, Mavromihalis described Lynbrook as his "second home" and explained that "letting go of Lynbrook Diner is like losing a family member." Certainly, many regular customers feel exactly the same way: losing the Lynbrook Diner is like losing a part of Lynbrook.
On Facebook Mavromihalis said "Thank[s to]each of you for your loyalty and support over the past 34 years." Mavromihalis, however, still leaves a glimmer of hope in his message for long-time diner fans:"perhaps [the diner and myself] will one day meet again."
About the Contributor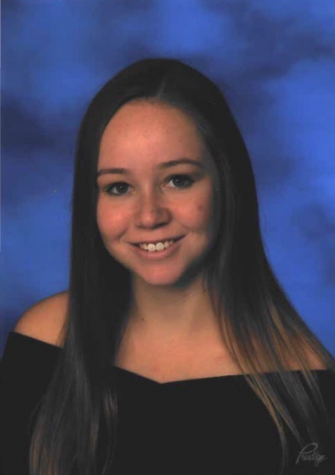 Jane Hoeflinger, Editor-in-Chief
I am a member of the Class of 2020. In my free time, I write articles for Horizon. I am the editor-in-chief for the print edition for 2019-2020.