Are Students Looking at Colleges Too Early
Every year, the college application process becomes increasingly difficult; in fact, students looking to attend college after high school are beginning their college search process earlier and earlier. While in years past the college search process typically began in junior year, many now begin browsing in their sophomore year. Although some will still choose to continue starting the search process in their junior year, sophomore year into early junior year is really the perfect time to start looking at colleges.
Junior Parker Sloan began his college search process in his sophomore year. "[I was] just checking them out [but] not going on official tours," he said. Nonetheless, starting early helped decrease the stress load surrounding the college application process. "I wouldn't know what I was doing at all if I didn't put in the early effort," Sloan reflected. 
The LHS Guidance Department offers many resources to aid students in their college search and application process, but ultimately, students are the ones who must take initiative. "Students begin speaking about the college application process at all different times: a few as soon as they begin high school while others wait," said Guidance Counselor Melissa Marr. When she meets with her students for the first time, she asks a variety of questions in order to get to know them. "Often, I ask if they have an idea of what they wish to do in their future. Many times, this question brings about questions of post-secondary plans," Marr shared. 
Guidance Counselor Andrew Rosenberg similarly expressed that while the college application and search process often begins to "feel real" during junior year, students come to him at all times. "We meet with students all the time who want to gain some exposure to this process and ensure they are in the right classes. Some will even start attending college fairs and visiting campuses," Rosenberg said. 
In most cases, students who begin to look at colleges earlier do so with the goal of feeling less stressed and more prepared. Throughout his junior year, Sloan began embarking on college tours: "I've looked at over 10 colleges and have seen all the ones in the areas around New York and the Boston area." Doing so has helped him tremendously in feeling "on track" with the college search and application process. "I have more of an idea of what I want in a school than most of my friends do. I believe that now that I know the colleges to apply to, it's easier to make that list [of schools]," Sloan shared. 
Some students may not have the means, facilities, or time to be able to visit colleges throughout the year, but there are still methods for students to look at colleges from the comfort of their own homes. "Looking into colleges begins with visiting the school's website or its profile page through Naviance or any other college informational platform. Since COVID, schools have added virtual tours to their websites. This has helped with research!" Marr exclaimed. Nonetheless, she still believes that students should physically tour a school before deciding to commit, preferably while students are on campus. 
When students are looking at colleges early, or at any time for that matter, what should they be looking for on a school's website or on a tour? Rosenberg advises students to look for study abroad opportunities, majors offered, housing, athletics, admissions, internship opportunities, and job placement after graduation. Additionally, while on a tour, one should ask tour guides to describe the academic climate of the college, special programs, campus security, dining facilities, social life, and unique school traditions. 
While the college application process can be daunting, the keys are to not start too early or too late, along with having good time-management skills. "College applications are busy work…Time management (i.e., setting the time aside to complete them) helps tremendously in balancing the stress of the process," Marr said. Ultimately, the goal of looking at colleges is to find a school that best fits the student applying. Sloan is looking for a college that represents who he is and that also provides both a strong music and academic program. For students feeling lost about looking at colleges, Marr had advice: "Try not to get stuck on the idea of only one college/university being the only option for you. There is an option for everyone!"
About the Contributor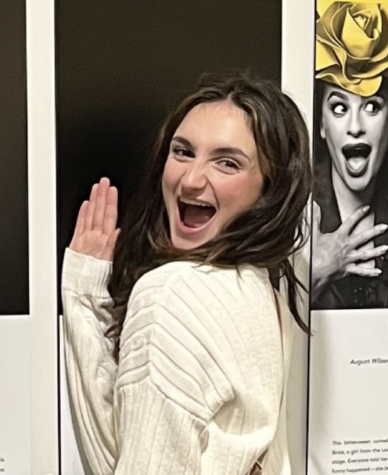 Gianna Longo, Managing Editor
Hey there! My name's Gianna, and I'm a member of the Class of 2025, along with many clubs here at LHS. In my spare time, you can find me on the stage,...