"Purple": A Poem
I see them staring at me, two by two.
One red with envy, the other cold
and blue.
I remember the pain they shared, the suffering they endured.
But it was for the better, now I'm
purple and cured.
How strange it is that something so harrowing and hollow
Can be the one thing that makes you feel happy and whole again.
She works in strange ways, life.
We focus on the primary so much 
that we seldom realize the secondary surprises she creates.
But first, allow me a second to interject: 
Do people realize life as they're living it?
Do they stare into the mirror 
and see their younger selves smiling back at them?
Or are they caught up in the cage 
of the immediate, the pressing, the monotony, the ordinary?
Do they miss the extraordinary moments granted to them each and every breath they take?
I guess it's the job of saints and poets to help them remember, 
to pick their brains in prayer or pentameter; 
to help them see the beauty and power within them; 
to help them realize life.
I'm no saint, nor a laureate.
But I want to help people—
the winless and victorious—
realize that their life is full of purple.
Realize that they are full of purple.
About the Contributor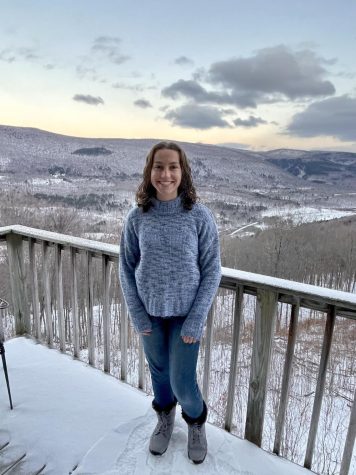 Alyssa Inserra, Driftstone Editor-in-Chief
I am a member of the Class of 2023 and the Driftstone editor-in-chief. Along with creative writing, I enjoy spending time with family and friends, getting...