¡Hola! Ciao! Bonjour! LHS Celebrates National Foreign Language Week
The LHS community is filled with a variety of ethnicities and cultures; National Foreign Language Week is a time to recognize this. Taking place from March 5-11 this year, National Foreign Language Week is dedicated to celebrating and spreading the importance of studying foreign languages. This year's theme was "Boost Your Brain with Languages," and the foreign language department incorporated this central idea into planned class activities.
Lenny Bruno, chairperson of the foreign language department, expanded the various activities the classes conducted. Teachers had their students create posters that encompass this year's theme. Sophomore Abril Trejo Rocha particularly enjoyed creating the posters. "I loved doing research on how different countries say hello," she commented. Classes also listened to songs in various languages and created menus in their course languages. Some classes also brought in special treats to feast on with their classmates. Bruno, who teaches Italian and French classes, spoke of his admiration for learning different languages. "Through languages we are more united to people, and the ability to speak the languages brings us closer to one another. Being able to speak languages and being able to appreciate the culture of the countries, including their morals and customs, is most important in today's interdependent global world," he expressed.
Along with in-class festivities, Bruno selected bilingual students to speak in foreign languages over the morning announcements. The languages spoken included Italian, Spanish, French, Urdu, Greek, Russian, Arabic, Albanian, Korean, and Chinese. Senior Sean Krivitsky, who spoke Russian over the announcements, explained, "I was excited to be given the opportunity to show others my heritage and culture. Recognizing Foreign Language Week helps broaden the horizons of those who may not have been exposed to many different cultures. It gives them a chance to experience cultures they would not otherwise get a chance to learn about."
Senior Aleeza Khurram spoke over the morning announcements in Urdu. " I was happy to speak in Urdu over the announcements and be able to show others the beauty of my mother tongue," she related. "My family and I regularly speak in Urdu at home, and it had been my first language, so to be able to show my peers my origins and where I come from was really special." 
LHS's foreign language department is filled with a variety of Regents- and honors-level classes designed to satisfy the intellectual goals of the student body. Taking the time to highlight a week dedicated to fostering diversity and cultural exchange is essential to establishing a sense of community within LHS, as well as outside in the Lynbrook community. Foreign language teachers will continue to encourage students to share their cultural identities with their schoolmates beyond just one week out of the year.
About the Contributor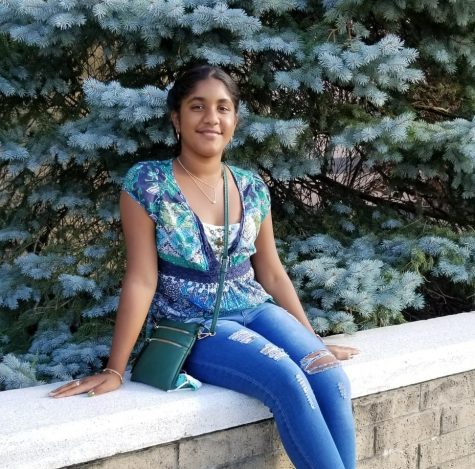 Miranda Mangru, Assistant Editor
Hi! My name is Miranda N. Mangru. I am a member of the Class of 2025 and an assistant editor for the Horizon newspaper. I take pleasure in listening to...