Inflation's Impact on Lynbrook Lunches
When it comes to finding delicious food to eat, Lynbrook has no shortage of sit-down and take-out options for meals and snacks. However, as the country creeps closer to an economic recession, this nationwide problem has begun to have an effect on many of the well-known lunch options around LHS. These problems have been felt directly by students and their families, as many restaurants have increased their prices.
One of the most prevalent examples of prices on the rise around LHS is at the popular restaurant Burger Shack. Burger Shack, whose menu consists of several different types of burgers, fries, and milkshakes, as well as the option to create your own burger, was never particularly known for having low prices. However, last year, the restaurant offered an $8.00 "student special" that came with a choice of chicken tenders, a grilled cheese sandwich, or a plain burger. The meal also came with an order of fries and a small drink. Given that this order is valued at about $14 for non-students, the $8.00 price tag was considered a steal by students. However, the student special was increased to $10.00 this year, making it significantly less of a deal. It is also cash-only, which takes away many students' abilities to even consider purchasing the student special, as more and more students are beginning to opt for cashless options like Greenlight cards and Apple Pay. 
This rise in costs does not only apply to the student special. Many of the restaurant's "signature burgers" experienced a rise in price as well. All burgers that were $6.00 last year are now $6.50; all burgers that were $7.00 are now $7.50; and, all signature burgers that were $7.50 are now a whopping $8.00. Granted, the burgers are increasingly more filling as the price increases, but $8.00 for a burger, no fries, and no drink is very high in comparison to many other food options around LHS.
Even the places around LHS that people can trust to have low prices have felt the effects of this nationwide economic crisis, as the brands that they carry have made their items more expensive. One notable example of this phenomenon has occurred at Union Bagels, one of the most popular food places among students and staff. Over the summer, Union made a much-needed change by adding newer card readers to their registers, which resulted in the removal of their $20 minimum in order to pay with a card, as well as adding contactless payments such as Apple Pay and Google Pay. 
While the cost of bagels at Union has not undergone much noticeable change, many of the drink brands they carry have seen an increase in price. For example, AriZona, which is one of the most popular drinks at LHS, is famous for only costing $0.99. Since Union is directly next to LHS, spending a dollar on an AriZona became one of the easiest and most popular ways for students to quench their thirst. One day, however, a detrimental change was made. The famous "GREAT BUY! 99¢" decal was replaced, and all AriZona drinks were increased to $1.25. This change came only a few months after AriZona CEO Don Vultaggio vowed to keep the price at $0.99 despite rising costs. The $1.25 price tag only stayed for a few weeks, and Union has since returned to selling the popular beverage for $0.99, but it has now been seen that no business is safe from global inflation.
This does not mean, however, that it is impossible to find a cheap place to eat around LHS. One of the highest-value places to visit for students is The Gallery Four on Broadway. Unlike its across-the-street neighbor Burger Shack, its student discount is available for both cash and card-paying consumers. Gallery Four also sports extremely low fountain drink prices in comparison to most of their competitors, which is helpful on hot days, especially since it is one of the furthest food options from LHS. 
Similar to Gallery Four, SaVino's pizzeria also has a significant student discount that applies to cash and card users. It has the cheapest price for a single regular slice slice in comparison to the other pizza places around, such as Angelina's, Gino's, and Vincent's; after recently lowering the price, a cheese slice at SaVino's costs $2.50 for cash customers and $2.66 for card users. While inflation continues to take its toll on the country and the community, there are still plenty of ways to get a bang for your buck when looking for a place to eat.
About the Contributor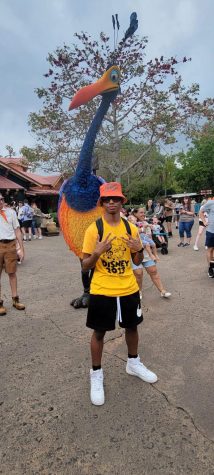 Justin Williams, Managing Editor
Hello there! I'm a member of the Class of 2025 and sports editor for Horizon. I love playing, watching, and writing about all things sports. My favorite...