Varsity Kickline Kicks Its Way to the Top
To kick off 2023, Lynbrook varsity kickline emerged victorious from its first competition with a first-place trophy, and JV kickline with third place. After preparing for almost four months, competition season is in full swing, and after this weekend, the girls took second at their second competition.
The 2023 kickline season began earlier than usual in May of 2022. Tryouts were held Memorial Day weekend to ensure the teams were ultimately prepared for the beginning of the school year. The girls attended a two-day summer camp where they perfected their dance technique and learned choreography for the upcoming football season. Then to start off the school year, they performed at the Lynbrook football 2022 kickoff game during week one of football season. After performing each Saturday at halftime, the football season concluded, and basketball season began. The kickline team transitioned from performing on the football field to the LHS gymnasium, or the "Barn", to accompany Lynbrook JV and varsity basketball. Basketball games mean new choreography and more intense practices as competition is right around the corner and this will begin the transition. 
"Competition season is more serious and rigorous than football season. The choreography is more difficult, and attendance is important. Football season is fun, builds team spirit and bonding. We then take it all on to the competition floor with the motivation to win," varsity kickline coach Danielle Goodwin describes. 
JV and varsity kickline attended their first competition in the beginning of January and attended their second competition this past weekend. They are scheduled to attend one more competition to end the season. Both teams performed high-energy routines with jumps, turns, and most importantly, lots of kicks. These routines are different from past years as they are more intense, and the level of difficulty has increased. "I love the varsity routine this year," says junior Alayna Matern. "It is definitely more difficult than past years and it took a while to perfect, but the hard work paid off. It looked amazing at competition and always gets the crowd hyped at basketball games." Freshman Sandra Shvartsman agrees: "I had so much fun learning the routine, and feel I have heavily improved as a dancer doing so. Upping the difficulty only increases our ability and puts us at a level playing field with the other schools we compete against."  
As the kickline season is longer than most sports, keeping dancers motivated is a key component to success. "As coaches, Danielle and I try to keep the team motivated especially after the first competition. We are very lucky to coach a team that is so dedicated to dance. We all want to win, and we all want to do well. The drive and motivation come from within," varsity kickline coach Stacy Benson says. Varsity kickline Captain Alexi Deninno agrees, "I love how dedicated we all are to dance. We all show up to practice and work collectively to perfect every aspect of our routine, and when it is time to perform, we give it our all."
After taking home a second-place trophy this past weekend, the varsity kickline team is even more motivated to hopefully end the season with a win. They have done it once before, and with the preparation and work, they certainly can do it again. Goodwin and Benson are extremely proud of their girls for their performance, but they know that they have it in them to win their last competition. 
About the Contributor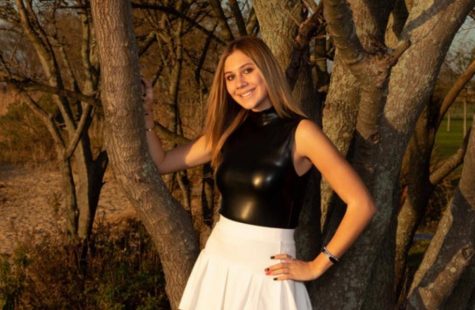 Alexis Raynor, Managing Editor
Hi! My name is Alexis Raynor, and I am a member of the Class of 2024 and a managing editor for Horizon. I love to dance and hang out with my friends. I...