Spotlight on U.S. Navy Veteran Daniel Rich
Veterans Day is federal holiday celebrated on the anniversary of the end of World War I to honor fallen, current, and retired soldiers of the United States military. Most people see it as merely a day off from work; however, people who served and their families see it as something so much more.
There are many different branches of the military including the Navy, Airforce, Army, Marines, Space Force, and Coast Guard. Daniel Rich is a former member of the United States Navy who served alongside my father when they were stationed in Hawaii. Rich then moved on to serve as an independent duty medical deep-sea-diving technician, meaning he was just below that of a person graduating with a medical degree. Since the Army cannot send doctors out into combat, they train people like Rich so they can save as many lives as possible.
"
I got to see some pretty gnarly stuff, but I also got to see some of the best parts of humanity and some of the parts of what it is to be an American…
— Daniel Rich
Master Chief Rich served in the U.S. Navy for 27 years. He was a part of the only Navy ice-diving team in existence, diving in 50-degrees-below-zero temperatures. He once remained in the Artic Circle for five weeks, being chased by polar bears and diving under seven feet of ice. During his military career, he dove off every continent except for Antarctica. Rich said, "I got to see some pretty gnarly stuff, but I also got to see some of the best parts of humanity and some of the parts of what it is to be an American because of how gracious the medical folks were to our enemies." He mentioned how the medical staff he worked with–even though the people they were helping had tried to kill them–still aided their enemies courteously and treated them humanely.
When asked about what his most fun and enjoyable experience was when serving, he described a time when he and his team of 14 Navy divers essentially adopted this orphanage of blind and deaf children in Bataan, Philippines. Sadly, in the Philippines, it is very common for children who are blind and deaf to be abandoned at this orphanage because their parents cannot afford the proper accommodations for them. Rich and his team were already in Bataan because they were recovering an aircraft that had crashed while carrying the vice president of the Philippines, along with his secretary, assistant, and two pilots. While there, Rich and his team were asked to visit the orphanage to teach the children how to swim. "Something as simple–and that we take for granted–as going swimming in the ocean was life-changing stuff for these kids… I don't think you've ever seen someone smile that big," Rich said about the experience. That memory really meant a lot, and he said he will take that with him for the rest of his life. As Rich put it, he and his team filled their "Karma jars" that day.
Social studies teacher Koren Pena commented on veterans and the celebration of Veterans Day. She said, "Veterans make up one percent of our population, yet they have chosen to be the ones to protect our liberties." Pena shows her gratitude and appreciation for veterans by advocating to her students to donate to the Veterans Day drive box in her classroom. She said, "We are not the nation we are without these people, and our liberties and securities would not be the same [without them.]" Student Katie Sharkey also shares admiration for veterans: "Two of my great uncles were in World War II, and I am truly grateful for their service. I hope all veterans know how thankful the citizens of the Unites States are that we have them to protect us."
Throughout U.S. history, veterans like Rich risked their lives to fight for its citizens to have the rights they do today. A small "Thank you for your service" to a veteran can go a long way.
About the Contributor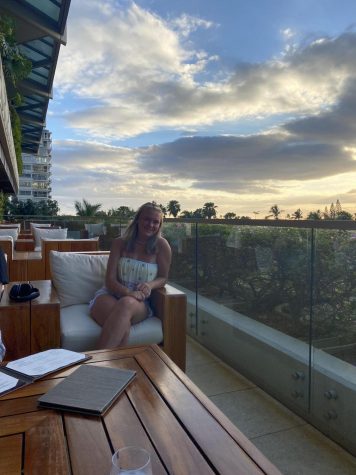 Mary Costello, Contributor
Hi! Thanks for checking out my profile page. I am a member of the class of 2024. I enjoy writing creative and interesting articles. I am a member of the...