Max Cordes: Lynbrook's Videography Phenomenon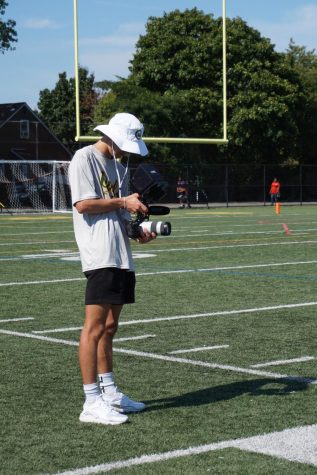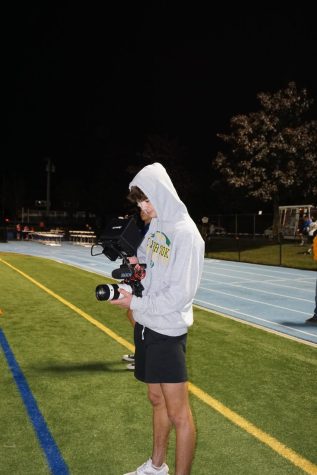 Last year, senior Max Cordes was asked by the players to film a football game, and he has been bringing his videography skills to Lynbrook sporting events ever since. From football to soccer, Cordes has put his passion for sports media towards filming and editing highlight videos, which he posts on his Instagram, @mrc_editz. As his following has grown, he has branched out beyond the world of sports to film the pep rally and Blue Ribbon Day. 
Cordes is an athlete himself, participating in varsity cross country, basketball, and lacrosse. He also serves as the treasurer of SGA Slate and founded the sports media club this year. His editing career was set into motion when he first learned how to edit on the app iMovie. From there, he enrolled in a video and animation class and learned how to edit videos on a more advanced computer. His editing skills were further strengthened during the initial wave of the pandemic, and during lockdown, he was editing nonstop. After he purchased more advanced equipment and a camera, his friends urged him to come and film the first football game of the 2021-22 season. Once the edit was completed, he posted to his Instagram."Editing became my biggest passion," he said.  
Each of his edits highlights key moments from each game, such as tackles, touchdowns, goals, and successful plays. Beyond these, he also includes pep talks from coaches and captains, clips of players getting ready, and footage of them celebrating. "I really love Max's edits because they really capture the true chemistry of the team," senior varsity football player Matt Loiselle shared. "Even if we lose, he always manages to capture the best moments from each game."
Transforming raw footage into an entertaining edit has proved to be a lengthy process. Cordes begins each edit with an initial idea, and then reconstructs it several times to produce the finished product. "The steps to making an edit always begin with making sure my equipment is charged and set up. Then, I need to travel to the game and get to work on filming," he said. "Once the game wraps up, I upload all the footage to my computer. This takes a while, so I will usually find a song to use and plan out my ideas for the edit. When that is complete, I begin to go through every clip and separate the ones that I am going to use." 
After deciding which clips and music to use, Cordes then puts everything together. "I chop up the music clips and line them up to create a flow, and I will go in and add visual and sound effects. Then I adjust the coloring of every clip and color grade the whole edit. Lastly, I export the edit and upload [it] to Instagram," he explained. 
In addition to his 800 Instagram followers, Cordes receives support from his family and friends. "My parents are the first people I think of when I think of supporters. They always support me by taking time to watch and critique my work while also showing their love for what I do. My brother Cooper also is a huge supporter of mine; he will always help me with creative decisions I find tough to make and will always let me know his opinion on things." He continued, "My friends always show their appreciation and love for what I do. They comment on and share the things that I post and congratulate me on my accomplishments. I know they will always be there for me, and that they love to watch me grow." One such friend is senior and varsity football captain Jake Lunati, who said, "It is remarkable how much progress he is making. Every edit he puts out just gets better and better. The team loves having Max around; he is one of us. We look forward to each post and edit he puts out and we cannot wait to like, comment, and repost to help him grow his following."
Cordes is motivated by his desire to pursue sports media as a career. "I am majoring in media in college, and I want to learn more and grow in this business. One of my biggest dreams is to work with a professional team like the NFL or NBA and film their games. As I get older, I plan to start a business related to this field," he explained. Lunati believes in Cordes' ability to achieve his goals: "Anything is possible with how much talent and creativity he has."
About the Contributor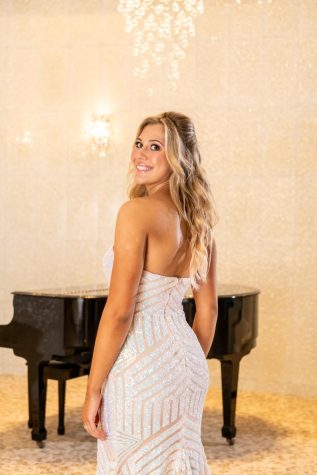 Alexis Raynor, Print Editor-in-Chief
Hi! My name is Alexis Raynor, and I am a member of the Class of 2024 and a managing editor for Horizon. I love to dance and hang out with my friends. I...