Mrs. Underhill Starts on a Good Note
This year, Veronica Underhill returned to the district as LHS's new orchestra director, a role previously filled by Alyssa White. 
Underhill has lived in Lynbrook for the past nine years with her husband. She grew up in Wantagh with her older sister, Aviana, and two dogs. She was a member of Wantagh High School's Class of 2007. 
Underhill's passion for music is rooted in these early years of her life. She began taking piano lessons in kindergarten and violin lessons in third grade. However, in middle school, Underhill started to gravitate more toward the violin. "Being in an orchestra was more exciting for me than playing as a soloist all the time," Underhill admitted. She joined the Gemini Youth Orchestra in middle school and the Long Island Youth Orchestra during her senior year of high school. She was also selected to perform at the annual All-County and Long Island String Festival Association (LISFA) festivals.
Though music played a large role in this stage of Underhill's life, she did not initially consider entering the music education field. Her dream job as a child, she shared, was a veterinarian; however, as she grew older, she learned about "some of the not-pleasant things you have to do as a vet." Then, in high school, her guidance counselor suggested that she become a medical illustrator. "I had very strong fine art skills, and I could really replicate things by freehand drawing them," she shared. However, she felt that she could use those fine art skills in other ways and decided to pursue music education in college. Now, Underhill believes "that was absolutely the right decision." 
After high school, Underhill attended SUNY Potsdam's Crane School of Music, earning her master's degree in music education in 2012. She described her college experience in three words: "Fun, chaotic, and busy." The fun part of college, she shared, was being able to meet like-minded musicians. "We all had the same weird sense of humor, and we all got the same references," she said. Additionally, Underhill enjoyed getting to play some of her favorite pieces, especially Holst's The Planets suite. "It was phenomenal," she exclaimed, because it was not possible to play music of that caliber "in a traditional high school ensemble." 
For Underhill, the chaotic and busy parts of college were having to juggle schoolwork with her music major. "Being a music major, there was so much more time that I had to put in than some of my friends who didn't go to Crane," she said. "[The hard part] was learning how to manage my time while doing classwork, plus homework, plus research papers, plus practicing violin." 
When Underhill first graduated from college, she began searching for teaching jobs. However, she did not immediately find a position she felt comfortable teaching. "We were in the middle of the recession, so there were a lot of jobs that combined elements. You're teaching orchestra, plus general music, plus chorus. That sounds like three people's jobs," she said. So, she ran a private studio out of Catalano Music Center in New Hyde Park for a few years before student teaching in the Massapequa School District.
In 2017, Underhill applied for a job in Lynbrook. While she did not receive the position she had originally hoped for, she was hired as a permanent substitute teacher at South Middle School and then as a leave replacement for White. After that, she completed two more leave replacements in Hicksville and Oceanside. In 2019, she was hired by the Bethpage School District as a middle school orchestra teacher, and, after the pandemic, she applied for—and earned—her current position.
Underhill is thrilled to be back in Lynbrook. One of her favorite parts of the job is getting to know her students "as people," not just based on how well they play their instruments. Additionally, she enjoys being able to see the progress of the orchestra. "I think about how much progress we've made [since September], and it's only now. We're going to sound really, really good for the Winter Concert," she shared. She especially looks forward to the upcoming music department trip to Walt Disney World. "I'm reliving my childhood," she shared excitedly. "Also, I love Star Wars!" 
Since her arrival at the high school, Underhill has implemented a new Orchestra Officers program in which students help to organize the orchestra room and ensure everything is in order. Jobs include making sure the rosin is put back in its place, loosening the bows of the cellos and basses, and organizing sheet music. "It helps to build a more teamwork-oriented community," she added. "It's a collaborative effort, and that's something I strongly believe in as a teacher."
Outside of school, Underhill plays with the South Shore Symphony Orchestra, which she has been a part of since 2014. "We play a fantastic repertoire," she said. "It's challenging. It keeps me on my toes." She also enjoys playing Dungeons and Dragons and recreational makeup artistry. 
Underhill's students have thus far enjoyed her presence in the classroom. "She brings energy to the class and makes it fun," said sophomore Eric Reilly. He also likes how students have the opportunity to play solos in class: "She features the talent that she encourages in her students." Junior Parker Sloan appreciates how Underhill is "very organized" and "picks fun music" that he enjoys playing. He also feels that Underhill has created a positive learning environment. "I feel very welcomed in the classroom," Sloan added.
About the Contributor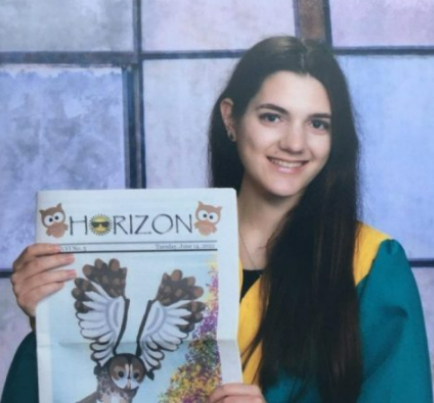 Kate Chiulli, Print Editor-in-Chief
I am a member of the Class of 2023 as well as one of the editors-in-chief of the print edition of Horizon. I enjoy reading, playing the violin, and using...