Jets and Giants Drafts Point to Successful Seasons in the Future
Over the past decade, New York football has seen a lack of professional conduct. From quarterback sneaks on third and ninth to men running into other men's backsides, the Jets, Giants, and their fans have experienced a great deal of pain on and off the gridiron. However, that all may have changed this April as the two organizations had drafts that have given their fans hope for the future. Each team added a plethora of young talent after having what experts consider to be two of the best National Football League (NFL) Drafts out of any of the 32 teams, not to mention some of the trades and signings made over the offseason. Though it has falsely predicted many years, this year may actually be the year that each team can finally end their struggles and change for the better.
New York Jets: 
Notable Acquisitions: TE Tyler Conklin, TE CJ Uzomah, CB Sauce Gardner, WR Garrett Wilson, RB Breece Hall, DE Jermaine Johnson II
Not having a winning season since 2015, the Jets have had struggles both on the field and in the front office, most recently concerning the issues involving coach Adam Gase. In his two years of coaching the organization, Gase won a mere nine games. The struggles were seemingly endless, as the Jets ranked close to last in almost every category offensively and defensively in 2019 and 2020. Star players, such as safety Jamal Adams, struggled to find any sort of rhythm under the direction of Adam Gase and ended up being traded away or released. 
Expectations were low heading into the 2021 season. Rookie QB Zach Wilson finished last in almost every possible category except interceptions, star receivers on the team came up short on several occasions due to mental errors, and kicking somehow became one of the team's biggest issues. 
However, there were many flashes of potential and bright spots to this relatively young Jets team that may be disguised by the numerical statistics and unfortunate circumstances. One of the most noticeable problems was that QB Zach Wilson was without his top two receivers for much of the season. Rookie Elijah Moore and Veteran Corey Davis went down with injuries, leaving Wilson to rely heavily on backup and third-string players. 
The Jets made sure to add much more depth to their receiving core, signing TEs C.J Uzomah from the AFC Champion Bengals and Tyler Conklin from the Minnesota Vikings. They also used their draft picks wisely, selecting WR Garrett Wilson (no relation to Zach Wilson) in the first round and RB Breece Hall in the second round. Freshman and Jets superfan Brady Rogan was very fond of what the Jets did to build a team. "My favorite addition to the team is Garrett Wilson. He is a good offensive playmaker that the Jets needed," he said. "These [draft picks] are going to be the future of the team and will have big roles in determining the status of the Jets this season." 
Sophomore Jake Schettini has also been enjoying the work of Jets General Manager Joe Douglas on the offensive and defensive sides of the ball. "My favorite addition to the team is Sauce Gardner. Cornerback was a massive need for the Jets since they had one of the worst defenses in the league. He has not allowed a single touchdown in college, which is insane," he commented. The Jets also beefed up their defense by pulling off what is considered to be one of the biggest steals in the 2022 Draft by trading up to select DE Jermaine Johnson II with the 26th pick. Jets fans have been waiting for over 10 years to see their team in the post-season, and if the team plays its hand correctly, they could be a fierce opponent next year as one of the most electrifying young teams in the NFL. 
New York Giants:
Notable Acquisitions: HC Brian Daboll, QB Tyrod Taylor, TE Ricky Seals-Jones, DE Kayvon Thibodeaux, OT Evan Neal
The last time the Giants put up a winning record was in 2016, when the team lost in the first round of the playoffs. Since then, the Giants have dealt with injuries, retirements, and very questionable front-office decisions that have ultimately crippled the team into a rebuild. The story of the rebuild of Big Blue is not as simple as that of their cross-town rivals. For starters, two players who were considered to be "futures of the franchise" when they were drafted have never truly blossomed into what they were expected to become. RB Saquon Barkley, who will be entering his fifth year in the league, has been seemingly unstoppable when he is healthy. The only problem? He is almost never healthy. After winning AP Offensive Rookie of the Year, Barkley has dealt with injury after injury, causing him to miss all but two games in the 2020 season. 
QB Daniel Jones, who will be entering his fourth year in the league, has also struggled; his biggest problem has been ball security, as he has 29 interceptions and 11 fumbles in his three years in the league. Many fans regard this season to be Daniel Jones' last chance, being that everything he needs to succeed is available for him. Similar to the Jets, the Giants' front office intends to build a team around Jones, giving him every opportunity to flourish. They drafted OT Evan Neal, giving much needed attention to a problem that has been seemingly impossible for the Giants to fix, and a problem that fans, including freshman Sean Strohofer, are tired of watching every week. "My favorite addition is Evan Neal. The Giants have had problems with their O-Line for many years," he commented. Strohofer believes the lack of upfront protection has been to blame for Saquon Barkley's lack of success during his time on the Giants. 
They also signed TE Ricky Seals-Jones, who expressed much eagerness in being a part of the "new era" of the Giants. Fans such as Strohofer are generally "pleased with how the front office tackled the draft as both a new GM and head Coach are taking over for us." Strohofer also expressed much interest and optimism in what this next generation of Giants players will be able to accomplish. "I'm looking forward to seeing how all of our rookies do, along with how Coach Daboll will be tackling this team. Giants fans shouldn't have their expectations too high, but in a few years, we should be competing for a Lombardi trophy if everything goes right," he said.
MetLife Stadium has been a sight of suffering for fans of the Jets and Giants for many years. However, for the first time in nearly a decade, there is great optimism surrounding these two teams. Can the Jets use their young talent and energy to have a successful season with statistics to back it up? Can the Giants protect their valuable players long enough to see them live up to their potential? Unfortunately, fans will have to wait until September to find out the answers to these questions, but signs have been pointing to incoming success for both franchises within the near future.
About the Contributor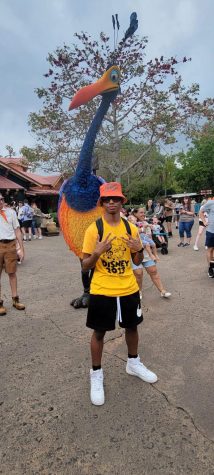 Justin Williams, Managing Editor
Hello there! I'm a member of the Class of 2025 and sports editor for Horizon. I love playing, watching, and writing about all things sports. My favorite...