LHS Says Goodbye to Ms. Malizia
As another school year ends, students and faculty bid farewell to revered teacher Susan Malizia. She has taught math within Lynbrook Schools for the past 33 years, most recently at LHS. Proven to be a favorite amongst current and former students, her presence will truly be missed. 
Junior Sophia Scorcia recalls having Malizia as a teacher freshman year. Scorcia said, "She was there to help me not only love math but also made me feel like I was understood." Being able to empathize with her students is one goal Malizia sees as very important when it comes to teaching. "When teaching, I want my students to know that I care," Malizia said. "I want them to feel that because that's really what people remember: how you make them feel." 
When Malizia started her teaching career over thirty years ago, she knew it would be the right fit for her; however, being a teacher was not always something she envisioned doing when she was younger. As a child, she knew she loved math, always excelling in the class. In addition to being a good student, she was also encouraged by one of her math teachers in high school to become an educator. However, as she entered college, she decided to pursue mathematics and computer science. "I quickly found out that was not the path for me," Malizia remarked. Ultimately, she realized her destined career path was right in front of her all along: "I knew I loved teaching math to others, so teaching was a great fit." 
Over the years, Malizia has worked with a wide array of students of different age groups and abilities, which she said has been a very rewarding experience. For Malizia, she says the most rewarding things about teaching are "when students reflect on our class, thank me, and share special memories." Some of the best memories of Malizia's career have been some of the school trips she has attended. When working at South Middle School, she traveled to both Greenkill and Frost Valley. In addition, she also joined the LHS Music Department on its trip to Walt Disney World in 2017. 
Malizia remarked that she thoroughly enjoys making memories with her students "through [her] puns and lame attempts at humor," and she is thankful for those who have indulged her in this respect over the years. 
Malizia feels thankful to have worked in Lynbrook. "I have worked in a school where the teachers are so caring and dedicated to their profession, and I have made many great friends here that I will keep after leaving LHS," she said. Malizia always enjoyed having lunch with her colleagues and being able to laugh with them and catch up on the day's events. 
Malizia is described by many as a very upbeat person. "She brightens my day whenever I see her," Scorcia remarked. "Her happiness is contagious."
Malizia's advice to students and teachers is to "be thoughtful of others." Junior Emily Pozolante, who is very fond of Malizia, said, "She always helped me out whenever I needed help with anything, especially during the pandemic." 
Malizia said she will miss personal interactions at LHS "with colleagues and students alike." Nonetheless, she is excited to see what retirement will hold for her. "I'm looking forward to finally having the time to work out regularly, help my kids become successful teachers, travel, volunteer, and enjoy life with family and friends." Scorcia added, "Mrs. Malizia left an imprint on my heart." Many at LHS find it bittersweet to see such an amazing asset to the staff embark on this next chapter in her life; however, she is more than deserving of it. 
About the Contributor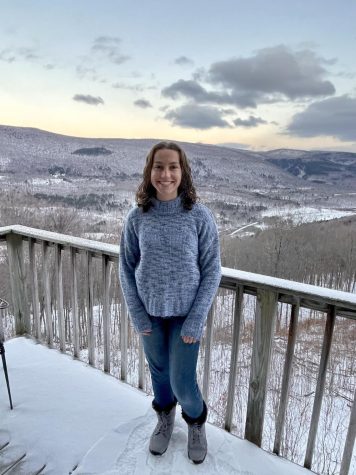 Alyssa Inserra, Driftstone Editor-in-Chief
I am a member of the Class of 2023 and the Driftstone editor-in-chief. Along with creative writing, I enjoy spending time with family and friends, getting...