To Infinity and Beyond, Looking Back on Toy Story Screenwriter's Illustrious Career
Modern psychologists contend that one's childhood often determines the path he leads in life: his career, passions, relationships with others. For Alec Sokolow, whose childhood was "nothing short of magical," it was only natural to grow up with a dream to create magic for others. 
Today, it is hard to come across a person who has not seen the animated film Toy Story, and even more challenging to find someone who has seen it and not adored it. Arguably Sokolow's most widely-known work, Toy Story, played a significant role in shaping the man he is today and the career he set out to have; but, as it goes for most screenwriters, this film is just a single part of Sokolow's own, greater story, a script that continues to write itself each day.
Born in 1965 and raised on the Upper West Side of Manhattan in an apartment overlooking Central Park, Sokolow was privy to experiences that for most, only come with age and a little bit of luck. His parents, both professionals in the entertainment industry, met through their work in television and raised their three children, Alec and his brother and sister, with the philosophy that life is meant to be lived. 
When they decided to send their children to private school, Sokolow's mother, Diane, quit her part-time job and earned a spot in the Warner Bros literary department. Within five years, she was a high-powered executive in the industry and well on her way to making a name for the Sokolow clan. Sokolow's father, Mel, a first-generation Eastern European, was "a larger than life" figure, a professional basketball player, and an active member in the 1960s counterculture movement. Antiwar protestors that became household names, like the Chicago 7's Abbie Hoffman and Timothy Leary, were common faces in the Sokolow home and good friends of Mel. These unique circumstances filled Sokolow's adolescence with movie screenings, trips to production sets, Broadway openings, book parties, and intellectual conversation, which were essential ingredients in his later decision to become a screenwriter. 
Sokolow's foray into the industry came in the form of teenage summer jobs as a production assistant. "I wanted to leap onto the screen of every movie I saw," Sokolow said. He attended college at the University of Pennsylvania and majored in communications, though he discovered that film classes captured most of his time and attention. "I couldn't get enough of it," he said.
After graduating in 1985, convention came knocking in all directions, with friends and family members persuading him to pursue a more traditional line of work. He even went so far as to apply and gain acceptance to law schools. However, Sokolow craved something more, a life of creativity, and it was then that he realized his vision for his future: he was to pursue a career in entertainment. 
At the age of 23, Sokolow successfully completed his first screenplay, and by 24, he was hired as a segment producer on The Late Show, a job that brought him to the holy land of the entertainment industry: Los Angeles. The next several years were more challenging than Sokolow expected. "I call it my eight years of abject comic failure," Sokolow said, "but it was then that I learned how to be a writer." Sokolow explained that screenwriters are "trying to exist in a marketplace where no one cares what they want," but that rejection taught him some of the most formative lessons of his career. He used to envy friends who found great success in their 20s, but as he entered his 30s, Sokolow realized that the struggle is what motivated him to work so hard in the long run.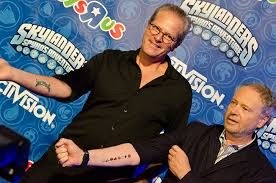 In the '90s, Sokolow began working with his writing partner Joel Cohen, forming a pair that went on to write several highly successful films. The two decided to focus their energy on "buddy stories," a type of story arc in which two characters are thrown together by circumstance, share a common goal but have different ways of achieving it, and need to find trust in order to work together.
Sokolow and Cohen wrote their first script for a movie called Money Talks, and their second for one called The Wooden Policeman. Money Talks was a box office success and featured high profile actors like Charlie Sheen and Chris Tucker. The Wooden Policeman never went to production, but it was not a total loss – in this script laid the origin of Woody and Buzz, who came to be the main characters in Toy Story. 
According to Sokolow, he and Cohen included one scene in The Wooden Policeman script that they "knew would never be put into a film," but they "just wanted to grab somebody." The scene featured a child opening a Christmas present thinking it is a toy gun; however, the gun is real, and he accidentally kills his entire family. This provocative move was what grabbed Disney and Pixar's attention, leading them to hire Sokolowv and Cohen to produce a more kid-friendly film, but this time, with toys taking the lead. "Pixar was relatively new, and they weren't good at drawing human hair and flesh, so they asked us to make a story about plastic things – two toys," Sokolow said.
Though they were excited for the new project, it could not have come at a worse time: both Sokolow's and Cohen's fathers died within their first six weeks on the job. Nonetheless, they continued on and produced the first draft of Toy Story, which looked much different than the finished product. It told a far more R-rated story about two toys with adult problems: Woody had abandonment issues, and Buzz Lightyear even tried to commit suicide when he realized he was a toy and not a superhero.
Six drafts later, as Toy Story morphed closer to what it would later become, Sokolow and Cohen were replaced –  "It's the nature of the screenwriting business," Sokolow said – but not before they could contribute some of the most famous lines from the Toy Story franchise, including Buzz Lightyear's motto, "To infinity and beyond!" 
The film hit theaters three years later, as Toy Story followed Sokolow into another of his life's greatest challenges; it premiered five days after Sokolow's wife had a miscarriage. Still, the couple decided to celebrate Sokolow's accomplishment. "I was as shocked as anyone when I saw it," Sokolow said. "It was like writing a paper freshman year in college and then several years later being given a PhD. It was better than I could have imagined." 
Toy Story was an overnight success, and in a matter of days, Sokolow's life was irreversibly changed. Suddenly, producers who ignored his calls for months were "throwing jobs" at him. When the Oscar nomination was announced, he and Cohen in the category for Screenwriting, his reality became even more surreal. "It was like they gave me the keys to the candy shop," Sokolow said. "The doors opened on my career."
The night of the Academy Awards finally arrived. Sokolow was filled with nerves and excitement, and although he did not win, he said it was an incredible honor to attend. On an emotional level, Toy Story meant so much more: "It got me through the death of my dad, and then it got me through the miscarriage," Sokolow said. Two days before the Oscars, Sokolow's wife learned she was pregnant again, and exactly one year after the misscarriage, Sokolow's first son was born. "Toy Story got me out of so many bad moments, and then brought so much joy."
Since the premiere of his first major hit, Sokolow has written a string of comedy block-busters including Cheaper By the Dozen, Garfield, Evan Almighty, and Daddy Day Camp, with a grand total of over 45 screenplays. A jack of all trades, Sokolow has also written children's books, musicals, animated shorts, and video game storylines. He has taught creative writing at his alma mater, UPenn, and is currently an adjunct professor of screenwriting at New York University. Sokolow's work has created global receipts of over $2 billion.
His most recent work has been focu]sed on producing documentaries, a field in which he has the opportunity to explore his passion for activism. One of Sokolow's favorite projects was the documentary I Am Jane Doe, which is about the child sex trafficking of American girls. The cast includes actress Jessica Chastain and late politician John McCain, and as Sokolow described it, "It is a call to action. It is so satisfying," he said, "to start a conversation or move the needle of a social issue."
"
Storytelling to me is elemental to human existence, as elemental as breathing. Stories are part of a bigger conversation of us trying to define who we are, where we're going, and where we've been."
Whether it is a romantic comedy, animated film, or documentary, Sokolow's passion lies in the magic of storytelling. "People never stop being interesting," he said. A good story, Sokolow said, reveals a truth about human nature. "Storytelling to me is elemental to human existence, as elemental as breathing. Stories are part of a bigger conversation of us trying to define who we are, where we're going, and where we've been."
The world, today, is saturated with stories. Everyone has access to unlimited information, with a constant flow of new content. This overwhelming amount of media, Sokolow believes, makes storytelling more important than ever before. "The tsunami of stimulation can create a lot of false narratives, a sense of isolation, but I think the need for storytelling has never been more urgent," he said. 
Sokolow's experiences in screenwriting have not always been a bed of roses. There have been days of rejection, loneliness, insecurity, and doubt. Yet, Sokolow has stuck with it, and tapped into success, because of one simple thing: his unwavering belief in the importance of telling stories. 
"I can't tell you why I've had the career I have, but I think it was the career I was supposed to have," he said. "I don't know where I'm going, but I know that I'm addicted to that internal conversation: How can we make something that connects people? How can we make a little magic?"
About the Contributor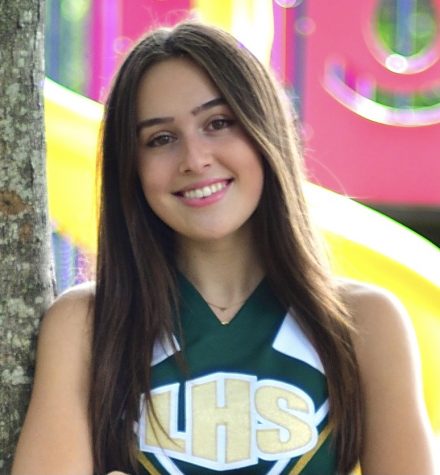 Julia Swerdin, Editor-in-Chief
I am the editor-in-chief of the Horizon newspaper and a member of the Class of 2022. I am also the captain of the LHS Speech, Debate, and Model Congress...