40 Days: The Un-retirement of Tom Brady
Since leading the 2002 Patriots to an unlikely Super Bowl victory against the Rams, Tom Brady has been a household name in football. He is often referred to as the Greatest of All-Time (GOAT), to say that his impressive stat line backs it up would be an understatement. Brady has seven Super Bowl victories, five Super Bowl MVPs, fifteen Pro Bowls, three All-Pro selections, and two AP Offensive Player of the Year honors to his name just to name a few of his many accolades. Not to mention that he is also the all-time leader in passing yards.
Playing in the NFL for 20 years takes a toll on a player's body, no matter what position he plays. Brady is now older, but his stat line defies the odds. In his 2016-2017 season with the Patriots, the year when he led a near-impossible comeback against the Atlanta Falcons in the Super Bowl, Brady threw for 4,577 yards in the regular season. This past season, Brady threw for 5,316 yards in the regular season. Unfortunately, this past season did not end the same way it did in 2017, as Brady and the Bucs were eliminated in the divisional round by the eventual Super Bowl champion Rams.
Many people thought that Brady's divisional round loss would finally be the end of an era. Many football fans across the country were glad that the same face would not represent the greatness of the NFL for another year. Buccaneers and Patriots fans thanked Brady for the greatness he had brought to their organization. It seemed that all was going well heading into the offseason and that the future of the NFL seemed bright. Unfortunately, this feeling was short-lived. Brady's retirement statements were often shadowed with doubt and rumors, but his un-retirement statement was quite the opposite. He said in a statement that his time would come, but this was not it. Brady, now 44, is the oldest player in the NFL, and said several times that he could play until 45 or 50, but like many others, I just do not think it is possible for him to continue to perform at the same level for any longer.
It is clear that Brady wants to end his career on his own terms. Most likely, another tremendous season that ends in a Super Bowl victory. However, football fans do not feel the same. While there is a great amount of respect for what Brady has done and for how long he has done it, people are starting to become tired of watching the same teams and players dominate the league. Brady is no exception to this. In fact, he is the prime example. Much of the new generation of football players grew up idolizing players such as Brady and Aaron Rodgers. New York Jets quarterback Zach Wilson, who tweeted his respect to Brady after their Week 17 matchup this past season, was only seven months old when Tom Brady was drafted. Chiefs quarterback Patrick Mahomes, who Brady beat in his latest Super Bowl appearance in Super Bowl LV, was six years old when Brady won his first. The league is changing. Defenders are getting stronger, and quarterbacks have adapted to these changes. Starters such as Lamar Jackson and Jalen Hurts are prime examples of sheer arm talent combined with the ability to outsmart and outrun the press. While Brady does not lack arm talent nor football IQ, his lack of mobility may end up costing the Buccaneers games, and may even put Brady's health at risk.
Brady's unretirement is more about him than it is his team. While yes, Brady is arguably the greatest quarterback in professional football history, there was a starting job up for grabs down in Tampa Bay. And while it did potentially remove the Bucs from the NFL quarterback carousel for now, that is one less opportunity for a young quarterback to step up and replace Brady. Granted, he would have been very big shoes to fill, but it is situations like these that make champions. For example, if you look back to the late '90s Patriots, their go-to quarterback was Drew Bledsoe. He had ended the Pats seven-year playoff drought, bringing them to the playoffs four times, clinching the division twice, and even winning a Super Bowl. Bledsoe seemed like the answer for a then-struggling New England team until a 2001 game against the Jets when linebacker Mo Lewis injured Bledsoe. In an interview with The Dan Patrick Show, Bledsoe recalled the injury "could've killed him" if he did not receive immediate medical attention. In for him, stepped a scrawny, second year quarterback by the name of Tom Brady. And from there, the rest is history. There could have been another version of this story this year. Who the heir to Brady's throne would have been is still a mystery, but Brady's un-retirement may have robbed a young quarterback of his chance.
While the game of football continues to evolve before our eyes, some things have remained constant, one of them being the dominance of Tom Brady. But because of this evolution of the game that we love so much, Brady's time as a player has run out, and the future Hall-of-Famer may be in for a rude awakening this coming season as he aims to win his eighth Super Bowl.
About the Writer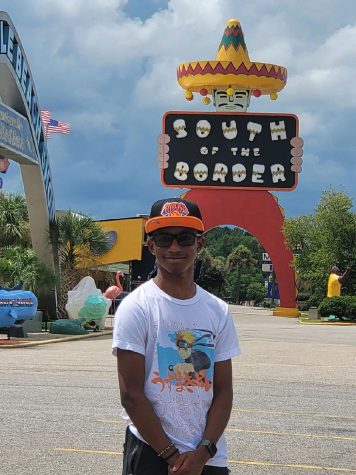 Justin Williams, Editor
I am a member of the Class of 2025 and an editor for Horizon. I love running cross country and playing basketball and baseball. I am also a member of the...