Songs of Love
Along with the usual activities of band teacher Brian White's music classes, such as warming up, rehearsing, and learning about key signatures and rhythms, student musicians recently dove into a new, contemporary topic: the production of modern music. White and the students discussed dynamic compression — the process required for all musical artists to decrease the contrast between loud and soft parts of their music — making many of today's songs sound like they are one volume. The classes listened to songs recorded with and without dynamic compression and decided which they liked better; interestingly, most students chose the songs that were not dynamically compressed. Then, the students got to view dynamic compression and the recording process firsthand through an original song that White had written, performed, and recorded himself.
         The song was a piece that White was working on for a non-profit charity called the Songs of Love Foundation. Founded by John Beltzer, the purpose of the organization is to use music to inspire children, between one and 21 years old, who suffer from an illness or disability, as described on its website (www.songsoflove.org). People, often parents, send requests to the foundation with a profile of the child. The foundation then contacts a volunteer singer-songwriter, who creates, performs, and records a song for that child. The song is written in whatever style or genre the child prefers, and the lyrics are personalized with the child's name, favorite activities, family members' names, and whatever else is meaningful to him or her. Once the child receives his or her "song of love," he or she can play it on difficult days, on the drive to a medical care center, during an uncomfortable medical procedure, or whenever he or she needs an emotional lift. Songs of Love has been very successful in its goal. The "About Songs of Love" page on its website reads, "As each child is unique, so is every 'song of love' composition. Since 1996 the Songs of Love Foundation has reached out to over 38,000 children in over 500 hospitals and health care facilities in all 50 states and the world."
         Prior to his work with Songs of Love, White explained, "I was looking to do some kind of volunteering…I feel very lucky, and when I look at the plight of a lot of the world, I wanted to give back more." When his wife, orchestra teacher Alyssa White, suggested Songs of Love, he decided it was the perfect way to accomplish that, as music and songwriting were already big parts of his life and creating them is something he enjoys. In 2019, White began writing "songs of love" from the requests he was sent, and now writes one about once a month.
     White said that the challenges of creating a "song of love" vary between requests. "Each one has its own, I would say, curveball. You never know exactly what it's going to be," he said. "It's almost like a math equation, like figuring out how I can make the lyrics work based on what I'm given, including when there's a curveball in there."
For White, the process of writing a "song of love" can involve listening to the child's preferred style of music beforehand, taking notes on the information given about the child, and creating a chord progression and melody. This is followed by the recording process, during which he plays and records each instrument, which is known as "overdubbing." He then must "mix and master" the recording, he said, editing the volume levels of each track.
         Challenges and all, creating these pieces is a process that White finds fulfilling and rewarding. He said he enjoys "just picturing the child and parents listening to the song and getting joy out of it." Occasionally, through the foundation, he has received a video of the child happily singing along with his or her "song of love."
 "The best part is, I know why I'm doing it, and I take it really seriously," White said. "It's a big priority for me because I feel like it's just something that I'm putting out into the world…. It's an energy, and I feel it back."
         White's students were excited to hear his composition and touched by the inspiration it would provide for a child through Songs of Love. Senior and saxophonist Emmie Paladino expressed, "Mr. White is actually the first and only introduction I have had to the Songs of Love Program. I think it's amazing, and it definitely is a great way to lift spirits of terminally ill children and their families."
Sophomore and trombonist Zachary Buxton agrees: "I think that the Songs of Love program is a great thing for both the musicians and the children," Buxton said. "Music therapy has proven benefits to calm and put people at ease, and the musicians get to do what they love and create beautiful music."
         The band students also gained a lot of knowledge about modern music as White explicated the recording process of today's artists. With his recording, White demonstrated the ability of an artist to edit out mistakes, change the pitch or intonation of a note, and even remove the sound of a singer's breath.
"Learning about Dynamic Compression was super interesting, and getting a program tutorial was as well," Paladino said. "Song recording and writing is definitely a skill that takes talent, dedication, and willingness for trial and error."  
"I appreciated how much thought, time, and artistry went into each line of the song," Buxton added. "I realized just how hard it was to create a melodic song that rhymes and fits with the background instrumentals. Overall, it was an eye-opening experience, allowing me to appreciate the music that I listen to and love even more than I already do."
From White and his involvement in Songs of Love, aspiring musicians can learn how to tackle the challenges of music artistry, as well as use their talents to strike a chord within others and bring a smile to their faces.
About the Contributor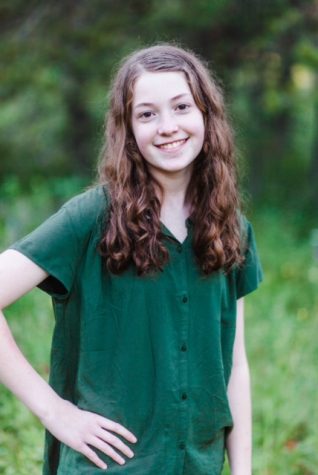 Madeleine Malinka, Editor
Madeleine enjoys reading, writing, and being artistic and creative. She has one dog and 11 siblings. She is a member of the Class of 2024 and is excited...