Celebrities Show Support for Ukraine Amid Russian Attack
Amid the chaos ensuing between Russia and Ukraine, the media has been flooded with overwhelming support for those in Ukraine that are affected by Russia's large-scale invasion. More than two million refugees have fled the violent explosive attacks and need essentials, according to Global Citizen (globalcitizen.org). There are many ways that one can support the Ukrainian victims, including joining a protest and donating funds. 
Some of America's favorite celebrities have been aiding the movement by spreading solidarity and humanitarian efforts using their enormous platforms. Here is a list of the top-five most philanthropic celebrities who have contributed to aiding Ukraine:
Mila Kunis and Ashton Kutcher
The former That 70s Show co-stars kickstarted a GoFundMe campaign for Ukraine and put down three million dollars as a base. The funds will support Airbnb, a vacation rental company that is supplying Ukrainian refugees with housing; and Flexport, a freight company that will ship supplies to refugees. Since Mar. 4, the fundraiser has accumulated over $18 million. Kunis and Kutcher advertised that the fundraiser holds a special place in their hearts, being that Kunis was born in Ukraine and immigrated to the US in 1991. 
Gigi Hadid
Supermodel Gigi Hadid recently announced on Instagram that she will donate all her earnings from the 2022 Fall Fashion Week to humanitarian relief efforts in Ukraine. She also revealed that she was also going to donate to people in Palestine affected by the Israel-Hamas conflict to show support towards her father's Palestinian heritage. 
" [My colleagues and I] don't have control over most of our work schedules, but we would like to walk 'for' something," Hadid shared in the Instagram post. "Our eyes and hearts must be open to all human injustice… At the end of the day, innocent lives pay for war, not leaders." 
Sophomore Alayna Matern, an avid Hadid fan, said she gained respect for Hadid after this announcement. "She was already one of my favorite celebrities, but I love to see someone with such a large platform using it for good," Matern said. 
Sophomore Marisa Parco agreed. "I especially love to see Hadid supporting her father's heritage. Fashion Week is such a large and well-known event, and it is amazing that she is using it to advocate for the people," Parco added.
The Weeknd
The "Blinding Lights" singer has remained at the top of the Billboard Hot 100 list since the release of his hit album After Hours, and he recently announced his tour. The Weeknd has donated one million dollars to the World Food Program to support the end of world hunger. Additionally, he has donated another $500,000 and he will match up another with the funds generated from his upcoming tour. These funds will be used to support Ukrainian refugees and citizens affected by other humanitarian crises around the world. 
Makism Chmerkovskiy
Chmerkovskiy, a Ukrainian choreographer, was in Ukraine working on the country's version of the reality show World of Dance. During his stay, Russia began invading Ukraine, and Chmerkovskiy was unable to return to the US. He was eventually able to return to the US solely because of his US citizenship. Since then, he and his brother have been actively trying to help their people. 
Chmerkovskiy announced in an interview with CNN (cnn.com) that he has survivor's remorse after being able to flee Ukraine. He is working on an opportunity to go to Poland to join the ground efforts.
Blake Lively and Ryan Reynolds
Actors Blake Lively and Ryan Reynolds promise to match every donation up to one million dollars for refugees fleeing the war in Ukraine. USA for UNHCR is a nonprofit organization that provides critical support to refugees in an attempt to save, protect, and rebuild the lives of those who flee violence and persecution. Over two million refugees have fled Ukraine since the initial invasion, according to Global Citizen (globalcitizen.org), and many more are anticipated to flee. Gaining support for refugee foundations is critical, and Lively and Reynolds have done so through ongoing social media posts.
Alongside these celebrities, anyone can be an ally and advocate support for the victims of the Russian invasion of Ukraine. There are many charities seeking donations other than the ones listed, like UNICEF, Global Giving, and UN Crisis Relief. Social media can also be a great platform for support, even without millions of followers. Sharing posts and educating others on this crisis is spreading the word and can encourage others to join the movement as well.
About the Contributor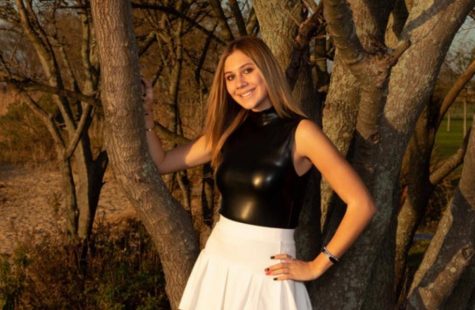 Alexis Raynor, Editor
Hi! My name is Alexis Raynor, and I am a member of the Class of 2024 and an assistant editor for Horizon. I love to dance and hang out with my friends....