Dining on a Budget: The Best Low-Cost Lunch Spots Near LHS
For high school students, there are not many opportunities to make extra money. Trying to balance schoolwork and activities can take up much of a student's time during both the school week and the weekend, meaning that lunch money is limited. On top of this, inflation has greatly increased the prices of food; according to The Wall Street Journal, "The average price of wraps is up 18% since last March, sandwiches are up 14%, salads have gone up 11%, and burgers are costing an average of 8% more."
Though having an open campus at LHS is a great way to give students more freedom, it also reveals just how easily money can be spent. Many restaurants around the school are costly and can drain one's bank account quickly. However, one does not need to spend a fortune to eat out at LHS. There are many places where students can get a bang for their buck. Here are the top-six:
Typical fast-food chains, such as Dunkin' Donuts and White Castle, are within less than 1,000 feet of the school and are not very expensive. Dunkin' offers a variety of foods such as donuts, coffee, muffins, bagels, refreshers, and a variety of breakfast staples. If one is looking for a cheap place to get a slider, White Castle is a go-to. 

Speaking of burgers, Burger Shack is an excellent place to go if a student is looking for a filling and delicious meal at a lower cost. While this establishment is not regularly the cheapest, it offers exclusive deals for students. The "student special," which includes an entree of one's choosing (e.g. burger, chicken fingers, wings), a side (e.g. fries, onion rings) and a soft drink, is $8. Burger Shack is also a great place to go with friends, as one can play video games at the booths while enjoying his/her meal.

Want a slice? There is certainly no lack of pizza places near LHS; SaVino's, Angelina's Vincent's, Gino's and Santorini's are all close to the school and offer a variety of pizzas for a decent price, with costs as low as $2-3 per slice.

7-11 has everything a student could want at lunch. From snacks to sandwiches to nachos, it is a close and a less expensive option if one wants a quick bite.

My Neighborhood Deli may be one of the best places to get an empanada in Lynbrook. This deli is quite close to LHS, and along with having an extensive menu, it offers more inexpensive and delicious food.

Last but not least, Union Bagel could not be any closer to the school and has a variety of snacks, drinks, and bagels to choose from. With its proximity and low prices, this establishment is perfect for when one is in a rush and still wants to save money when getting lunch.
Many students have certain favorite spots to go to. While she usually eats out at Savino's, sophomore Olivia Lanteri loves a lesser-known spot close to the school that she orders from outside of school: "Santorini's down the block from the Kindergarten Center is a hidden gem," Lanteri said. 'It has amazing Greek and Italian food at a great price. My family usually orders our Friday night dinners from there, and the quality is consistently great." 
Sophomore Sabrina Ostroff said she "usually goes to Burger Shack and sometimes Dunkin'."
Some places even go above and beyond in the quality of their food. Ostroff shared, "I really love Gallery Four. It's affordable, good quality, and the people who work there are so nice. I can literally buy a slice of pizza, a cookie, and get a glass of water for $3.50." Ostroff shared that Gallery Four even customizes their pizzas for special holidays. "They did a heart for Valentine's Day and then a shamrock for St. Patrick's Day," she said.
Although it may seem as if there are no cost-sensitive places to get lunch around LHS, there are some more affordable options.
About the Contributor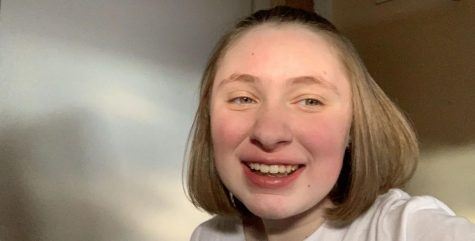 Kerry Cullen, Managing Editor
I am a member of the Class of 2024 as well as a managing editor for Horizon. I like to write, read, sing, and act. One fun fact about me is that I love...