Owls' Outstanding Football Season
The Lynbrook Owls may not have ended the season the way they wanted to, but it was still a season worth celebrating. In week eight, the Owls entered a win-or-go-home situation to make the playoffs, and their goal was no different than the opposing team's: the Valley Stream North Spartans. With both teams needing to win in order to advance to the playoffs, this game was the biggest of the season.
There were no real turning points in the game's first half, and, entering halftime, the Owls were up 14-7. In the third quarter, the Owls lost their quarterback, junior Chris Lucchese, which was a huge blow, but they were still able to keep the game close. Entering the fourth quarter, it was a brand-new game, tied at 21 apiece. In the fourth quarter, Lynbrook would allow a late touchdown to the Spartans, which ultimately ended the season. 
Despite ending on a sour note, the Owls had an amazing season. With a squad led by head coach Stephen LoCicero, seniors Christian Meszaros, EJ Ridings, Matthew Sollitto, Demetri Chambers, Olivia Vuotto, Tyler Ippolito, Harrison Kirby, Dimitri Marinos, Hayden Walsh, Manny Terry, Dylan Murphy, Jack Gaertner, Lucas Kiefer, Eric Shehata, Malachey Cavassa, and Nicholas Ficarra, this team was ready for a playoff run.  
"I love this senior class and the entire team," LoCicero said. "I am so proud to be their coach."
In total, the Owls scored 268 points this year, while allowing 178 total points. Last year, the Owls only scored 47 points total, and gave up 217 points. The Owls finished ranked 230/550 out of all New York high schools, 14/27 for New York Division III, and 25/53 for Section 8 rankings, according to the Max Preps website (maxpreps.com).
For LoCicero, the goal for this season remained the same as it has always been: "to create a team." LoCicero added, "We are trying to create a football family. We include everyone and find a role for each player. We win based on how each of us commit to the team." He added that he does not believe that there is anything he would have done differently this season: "Nothing would be changed. I am so proud of this team and the coaches."
Many of the players came into this season with an open mind and excitement for another opportunity, especially after last year's rather forgettable season. "Coming off an 0-6 season, we didn't know what to expect," defensive back Sollitto said. "From day one of camp, everyone bought in and did their jobs. Due to the senior leadership, everyone got involved and everyone got invested in this team, which led us to go 5-3." 
The players all agreed this was an intense season, and just a few plays could have completely changed its outcome. "There's a lot that could've been done differently. Everyone has 'what if' moments and questions that they ask. Unfortunately, we didn't make the playoffs, but we all knew that we would've been real contenders and could've pulled off an upset if we did," added Sollitto.
Kicker Vuotto made history by becoming the first female football player in Lynbrook history. "This season went great. I had the best time, and it exceeded expectations I had. Personally, I had so much fun and enjoyed being a part of the team," said Vuotto. 
Being one win away from the playoffs, the Owls knew what they would have to go through to make the playoffs. They battled many injuries throughout the season, but that did not stop them from finishing the season with a winning record. 
"It was disappointing not making the playoffs, but I think that the team worked extremely hard and had an amazing season," said Vuotto.
About the Contributor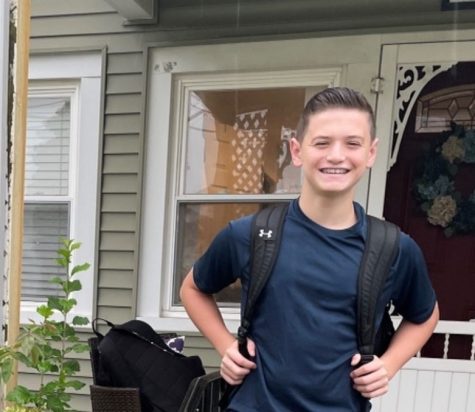 Sean Strohofer, Editor
My name is Sean, and I am a member of the Class of 2025. I have a deep desire for sports and writing, so you might see me at sports events around town!