Mourning the Loss of Prince Philip
Prince Philip, the Duke of Edinburgh and the beloved husband of Queen Elizabeth II, quietly passed away on the morning of Apr. 9 at Windsor Castle, at the age of 99. Philip was the longest-serving consort of any British monarch and spent 65 years supporting the Queen. There is an enduring love story that goes along with their marriage of 74 years. The royal family and people around the world joined together in mourning his death.
Philip was born in 1921. His father was Prince Andrew of Greece and Denmark, and upon his father's passing, Philip was crowned Prince Philip of Greece and Denmark. He played a large role in military services. He was in the royal navy and present in Tokyo Bay at the end of WWII when the Japanese surrendered. According to NBC News (nbcnews.com), his military career was central to his character, and he was known as an exceptional officer. After marrying Queen Elizabeth, he became a subject of Great Britain, leaving behind his previous title. Upon his wedding to Queen Elizabeth, he was designated the title of His Royal Highness, the Duke of Edinburgh.
Philip's relationship with his beloved wife, Queen Elizabeth II, began as a story of young love. The queen had always acknowledged Philip's influence over her, yet he had no official role. However, while not in the spotlight, he was her closest confidant. Their story is a beautiful one, some believe it is even "Disney worthy." Freshman Amanda McDonald commented, "I think this is truly devastating. To have a love story as great as Philip and the Queen is so amazing, but I really feel for the Queen currently during her time of mourning. I can't imagine what she is going through." Their relationship began in the 1930s, and they married soon after WWII, in 1947. Philip was actively involved in the war, and the two began exchanging letters overseas. Ironically, five years after they married, Elizabeth would abruptly take her vows as queen at the age of 25 and ascend the throne. Philip undertook official royal duties while simultaneously working hard trying to put aside the role's very traditional image. In the early years of their love, Elizabeth's relatives had openly spoken about her fondness for him. According to NBC News, she referred to him as her "strength and stay" on their 50th wedding anniversary in 1997. The two had four children, eight grandchildren, and 10 great-grandchildren. The two traveled the world side-by-side. According to NBC News, they always stayed committed to their duties and service and had the ability to lighten the harsh burden of public life with a little bit of laughter. 
Philip retired from his official role in 2017 and had stayed largely out of the public eye since. During his active role in the royal family, he helped set a new course for the monarchy under a young queen, and he touched on major issues like environmental issues, science, and technology. Philip was one of the most active royals and was still involved in the "behind the scenes" functions after his retirement. He always worked tirelessly to provide support for his wife. The prince will also be remembered for his early efforts to help modernize the royal family's image during the turbulent time during which the monarchy was transitioning from King George VI's reign to Queen Elizabeth II's reign. According to NBC News, Philip helped bring the royals' lives to the public as he was the first member of the royal family to do a televised interview and was said to have a hand in televising Elizabeth's coronation in 1953. Before his retirement, he had personally attended 22,191 engagements, delivered 5,493 speeches, and had been involved with over 780 different organizations. Freshman Olivia Lanteri shared that she was deeply saddened by the death of Prince Philip. She stated, "He was at the helm of many social projects, charities, organizations and so much more. You have someone who did a lot for Britain and the world. He will be deeply missed by myself and my family. I wish the royals the best during this time of mourning."
Philip was hospitalized earlier this year for a cardiac procedure and the treatment of an infection. His health problems were not out of the ordinary as he had a history of cardiac issues. He had previously been treated for a blockage in a coronary artery in 2011, a hip replacement in 2018, and underwent a treatment for a "preexisting condition" in 2019. At the age of 97, he was involved in a car accident, and following his involvement, he voluntarily surrendered his license. Former press secretary to the Queen, Charles Anson, told People magazine (people.com) that Elizabeth was prepared for Philip's death because of the many years of health issues. He revealed that she was always calm no matter what.
The plan for Philip's funeral was announced and began on the date of his death, Friday, Apr. 9.  The funeral arrangements and mourning period follow the traditions of the royal family. Philip's funeral was held at St. George's Chapel, located at Windsor Castle. There were many revisions made to the funeral plan because of the pandemic. Philip requested that his funeral be of minimal fuss unlike other royal funerals in the past. The bells of Westminster Abbey, London rang in honor of the prince. This was significant because Westminster Abbey was the location of Philip and Elizabeth's marriage more than 70 years prior. There were gun salutes fired across the UK, and ships at sea fired 41 rounds every minute for 40 minutes. Finally, Philip was laid to rest with his naval cap and his Royal Navy officer sword to honor his military background. 
Prince Philip, Duke of Edinburgh will be remembered and missed by not only the UK, but the world. He had a challenging role in the royal family and never neglected his duties. His life was marked by his extraordinary efforts to make change in the world and in the ways of the royal family. He gave up his promising naval career to become consort when his wife became queen at 25. Junior Elizabeth DiFiore commented, "Prince Philip will be remembered for his loyalty to the Crown and his wife, the Queen of England. He has obviously stood by her side for basically all his life and supported her in her role as the monarch of the English Commonwealth. He will be remembered as a loving husband first and an admirable servant of his country second."
Philip's grandson Prince Harry described Philip as "a rock with unparalleled devotion" for the Queen. He promoted British industry, science, supported environmental preservation, and frequently supported many charities. According to BBC News (bbc.com), Philip's grandson Prince William stated, "I feel lucky to have not just had his example to guide me, but his enduring presence well into my own adult life- both through good times and the hardest days." 
About the Writer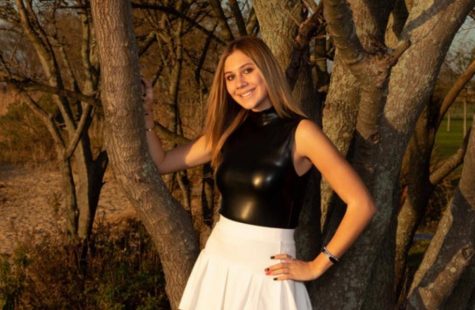 Alexis Raynor, Assistant Editor
Hi! My name is Alexis Raynor, and I am a member of the Class of 2024 and an assistant editor for Horizon. I love to dance and hang out with my friends....