Performance Friday: Gabriella Ramsammy
Gabriella Ramsammy, Grade 9:
I'm singing "Still Into You" by Paramore. This song is about two people who are in a relationship, and others didn't think it would last very long, but they were able to make it work, and their love has remained strong.
Q: How did you get started in music? Who are your greatest musical influences?
A: I have been doing music since I was in second grade. I really like to sing, so I did extra performances with the schools and joined music clubs. I do not really have any specific musical influences, but I really like some of Demi Lovato's music, and how she writes some of the songs herself such as "Heart Attack" and "Sorry Not Sorry."
Q: Do you aspire to do anything with music in your future?
A: I don't think music will be a main point in my future, but I hope to always continue singing and maybe learn how to play another instrument.
Q: What is your favorite part about Performance Friday and/or performing in general?
A: My favorite part about Performance Friday is that it helps me get over my stage fright. I get really nervous performing in front of a lot of people, but I'm much more comfortable on stage now than I was during my first performance.
Q: Do you get nervous to perform in front of people, specifically your peers? How do you quell your nerves?
A: I get very nervous performing in front of anyone, to the point where I will start shaking, my voice will be cracking, I'll be singing the wrong notes, and I won't be able to eat. I try and calm myself down by telling myself that I know the song, and I have practiced a lot, so I'll be fine. I also told myself that no one will remember my performance because it is right before break. I sometimes question why I am so scared when there's nothing to be scared about, as well.
Q: What do you love most about music? Has music helped you in any way through the pandemic?
A: The thing I love most about music is that it can put me in different moods. If I am in a bad mood and I listen to a song I really like, it can definitely put me in a better mood and calm me down. I also like dancing to songs in my room alone, even though I cannot dance. Music was not really a big thing for me during the pandemic. Instead, I discovered new interests.
About the Contributor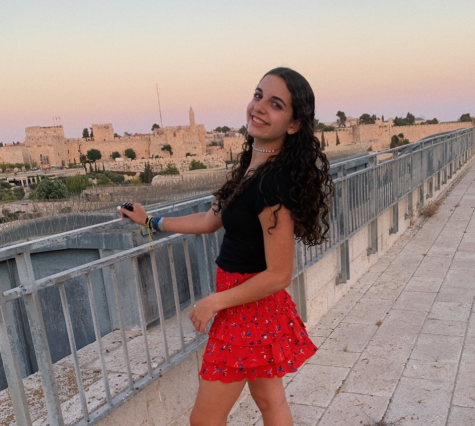 Sophie Ward, Editor
I am Sophie Ward, and I am a managing editor for lhshorizon.com. I am a member of the Class of 2022. I love playing tennis and working out. I also enjoy...