Performance Friday: Alicia Villadiego
Alicia Villadiego, Grade 12:
Marisa and I sang "Happy Days Are Here Again/Get Happy." It was originally sang by Barbara Streisand and Judy Garland on the Judy Garland Show. It is a mashup of two uplifting songs about feeling happy and trying to get others to feel happy, too. This song is really special because Marisa and I both idolize Barbara and Judy so much and have both sang songs by them individually during our time at the high school. It is just a very full circle moment to bring the two together, and we really enjoyed putting it together.
Q: How did you get started in music? Who are your greatest musical influences?
A: I've always had music in my life, but I guess I started learning the technicalities of music in elementary school, as I was in orchestra and chorus. I think my musical influences are Judy Garland and my chorus teachers. I think seeing Judy Garland as Dorothy in the Wizard of Oz really got me into performing because I loved that movie and her voice. Without my chorus teachers, I wouldn't be as well trained as I am today. They always look out for us and help us find ways to express our emotions through music.
Q: Do you aspire to do anything with music in your future?
A: Yes, I am currently applying to colleges with the aspiration of majoring in Musical Theatre. I think whatever happens in my life, I will always have music and want it to be a major part of my life. It has really made me who I am today, and I can't imagine my life without it. 
Q: What is your favorite part about Performance Friday and/or performing in general?
A: My favorite part of Performance Friday is getting to brighten people's days with music. Lately, school has been working us pretty hard, so I love getting to the end of the week and either hearing my talented classmates perform or performing myself.
Q: Do you get nervous to perform in front of people, specifically your peers? How do you quell your nerves?
A: Of course I get a little nervous, but over the years, I've learned to focus on the fact that I love what I'm doing, and it doesn't matter what anyone thinks.
Q: What do you love most about music? Has music helped you in any way through the pandemic?
A: I love that there is such a wide spectrum to music, and I can always find a song for any mood I'm in. Music has been incredibly helpful during this pandemic; it calmed me down when I was stressed, helped keep me happy, and so much more. It was also really interesting watching other artists post and have virtual events. It just shows that nothing can stop creativity.
About the Contributor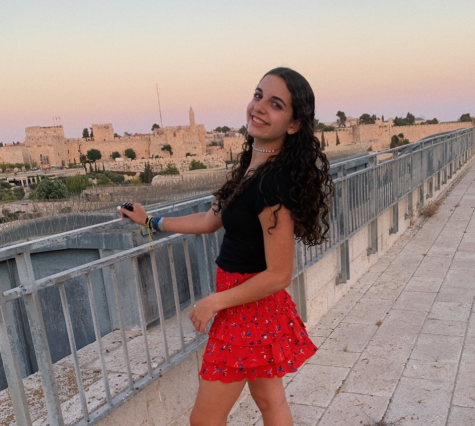 Sophie Ward, Editor
I am Sophie Ward, and I am a managing editor for lhshorizon.com. I am a member of the Class of 2022. I love playing tennis and working out. I also enjoy...