The Washington Football Team: An Inspiration to All
The Washington Football Team did not just battle coronavirus this season; its star quarterback overcame a life-threatening injury, a legal battle encompassed the organization, and its coach beat cancer. That is resiliency. What was already a challenging season was extra tough for this team, but the Washington Football Team did not let it stop them. They showed the world that perseverance is everything, and even the darkest times can bring out the bright light in anything. They overcame unfathomable obstacles, but the team did not stop there. Washington finished on top of its division with a record of 7-9 and made the NFL playoffs for the first time in five seasons.
It is a miracle that Alex Smith is playing football again; however, it is even more miraculous that he is alive. Two seasons ago he suffered a gruesome leg injury that left his career in question. After his first surgery to repair the compound fracture in his leg, a life-threatening flesh-eating bacteria infection caused dire complications, Sporting News reported. The bacteria caused Smith to produce many chemicals to combat it, which led the doctors to believe that they would have to amputate his leg. Luckily, they managed to clear the infection and transfer muscles in his leg before the amputation was carried out. At the time, the team doctor, Dr. Robin West, released the statement: "Right now, our first priority is we are going to save his life. And then we are going to do the best to save his leg. Anything beyond that is a miracle." 
Miracles happen; sixteen surgeries and almost two years later, Smith suited up to play for his new squad, The Washington Football Team.  He won four straight games but was forced to sit out for a few games because of a calf strain, USA Today shared. However, he returned for the last game of the season and carried his team to a 20-14 victory over the Philadelphia Eagles. Smith is a warrior, and he had a leg brace that he wore for most of his recovery shaped into the Vince Lombardi (Superbowl) trophy. His wife, Liz, explained, "Alex has already won. He beat the largest challenge life has thrown our way." The challenges were giant, but Smith rose to the occasion and overcame them, carrying his team to the playoffs. Wide receiver Terry McLaurin explained that he "can't give [Smith] enough credit" for getting through what he has. Smith influenced and inspired his teammates, giving them the strength to complete this challenging season. Junior Malachey Cavassa was also inspired, as he explained, "[What] I learned from this team is no matter what happens in life, if you never give up, you can accomplish anything." 
Ron Rivera, the coach of the Washington Football Team, coached through his cancer battle. ESPN reports that after Rivera was diagnosed with cancer in his lymph nodes on Aug. 20, 2020, he was only forced to miss three practices. He went through seven weeks of treatment consisting of three rounds of chemotherapy and proton therapy. This spanned from his diagnosis until Oct. 26, and he was coaching his team in practices and games the entire time. His battle was intense and painful, and he struggled to eat and swallow for many months. He slowly regained strength, and Rivera's resiliency was passed on to his team. His team was able to battle back from early-season losses and make the playoffs. Despite Rivera's personal challenges, he shared that, "It has been very inspirational…to watch [Smith]." This further displays the strength that the team gained from its many obstacles. Rivera's battle was treacherous, but he helped his team punch its playoff ticket. 
The offseason was already very hectic for the organization, and the craziness deepened, as its owner, Daniel Snyder, fought against his partners and was accused of sexual misconduct. Allegations were made against him in 2009, but a settlement was reached, and the woman who accused Snyder was paid a large sum of money to keep the story confidential, the Washington Post reported. However, this past summer, fifteen women spoke out about their experience of being harassed by staff members of Washington's organization. Over twenty more women came out with similar claims, weeks later. During this tumultuous time, the minority owners of the organization wanted to sell their shares of the team. The Washington Post explained that Snyder is attempting to block them from doing so. The franchise is still being investigated. 
Along with this, the team struggled to come up with a new name as it lost its previous one, and along with that, part of its franchise's identity. The previous nickname, the Redskins, has long been called inappropriate and offensive, so the team removed it, called themselves the "Football Team" for the time being, and searched for another name. With no other attractive options, the name "The Washington Football Team" stuck, ushering in a new era of pride for the organization. 
The Washington Football Team of 2020-2021 will go down in history. Quarterback Smith played for the first time in two years after almost losing his life, and the team's head coach, Rivera, fought a difficult cancer battle and coached while doing so. Off-field scandals also threatened the team. The team was inspired by its leaders, Smith and Rivera, and it did not let any obstacles get in its way, making the team an inspiration in itself.
About the Contributor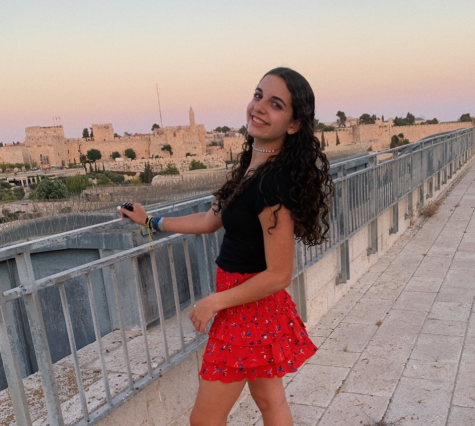 Sophie Ward, Editor
I am Sophie Ward, and I am a managing editor for lhshorizon.com. I am a member of the Class of 2022. I love playing tennis and working out. I also enjoy...