Winter Activities to Do This Winter!
With the start to the winter season, the weather becomes colder by the day, and it becomes more and more difficult to find socially-distanced activities. However, there are some great outdoor activities that are completely safe and responsible, even during a pandemic. For instance, snowy hikes with family are not only calm and beautiful, but they are also isolated. One can see scenic views and make memories that will last forever. 
If hiking is not exactly one's cup of tea, there are still fun ways to spend winter outdoors. One can make a snow pile and go sledding, or have a snowball fight in his own backyard. There are also the options of skiing and snowboarding, or making a bonfire outside to toast s'mores with and drink hot chocolate near. Whipped cream, marshmallows, and chocolate shavings are the perfect hot cocoa toppings for a cold day.
Since November, Jones Beach has hosted its annual "Magic of Lights," a 2.5 mile drive-through light show. The display includes LED-lit exhibits and digital animations, plus themed sections like "Winter Wonderland," "The Night Before Christmas," and "Blizzard Tunnel." Visitors can drive through from six until 10, Sunday through Thursday night, and until 11 on Fridays and Saturdays. Admission is $30 per vehicle Mondays through Thursdays and $35 Fridays through Sundays.
In New York City, stores on Fifth Avenue dress their windows up with impressive decorations. Window shopping is a great outdoor activity, and going into the city is a nice change of scenery, especially with all of the beautiful holiday preparations. Pop-up markets at locations such as Columbus Circle, Astoria's Bohemian Hall and Beer Garden, and Union Square are a great place to shop for holiday gifts.
One way to combat the cold is to invest in a heated or weighted blanket, and snuggle up with a classic Christmas movie. When one gets bored, he can revamp his room. Even just moving furniture around or adding some extra decoration can change the atmosphere and make the space feel really special. 
Junior Rachel Belmont thinks that it is okay if people still hang out with their friends, as long as they are safe and socially distant. She thinks that winter can still be fun with masks and a six-foot distance. "Maybe people prefer to be inside because of the cold weather, but that is no longer a safe choice because of the virus. People can continue to go ice skating and sledding with masks, of course. My family and I personally have transformed my backyard into a Covid-safe environment. We have bought many fire pits and heaters to keep warm and a projector to watch movies," said Belmont.
Others at LHS think that it is best to avoid social gatherings in person all-together this year and to stick to virtual activities. Junior Emma Ward said,"I am going to Zoom with my friends, cook, bake more, do Peloton classes that I really enjoy, and spend time with my family. It's not going to be easy, but I am going to try to make the best out of this situation." 
Some are simply spending the seasons with their families. Freshman Grace Loiselle said she will not let the pandemic stop her from seeing her family, as long as they use the correct safety precautions. "I'm just having celebrations with my immediate family instead of a lot of my family," said Loiselle.
Winter fun does not need to be cancelled just because there is a pandemic. It can still be a memorable year, whether it be at home or outside. In the coming months, be sure to stay safe, to socially distance, and to have fun, so hopefully by next winter season, the virus will not put a hold on any winter activities. 
About the Contributor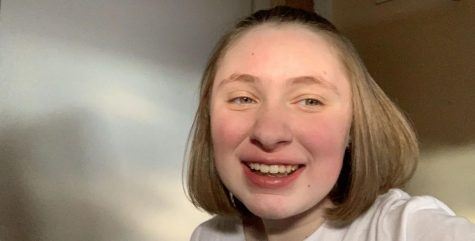 Kerry Cullen, Managing Editor
I am a member of the Class of 2024 as well as a managing editor for Horizon. I like to write, read, sing, and act. One fun fact about me is that I love...