Farewell, Mr. Shanker!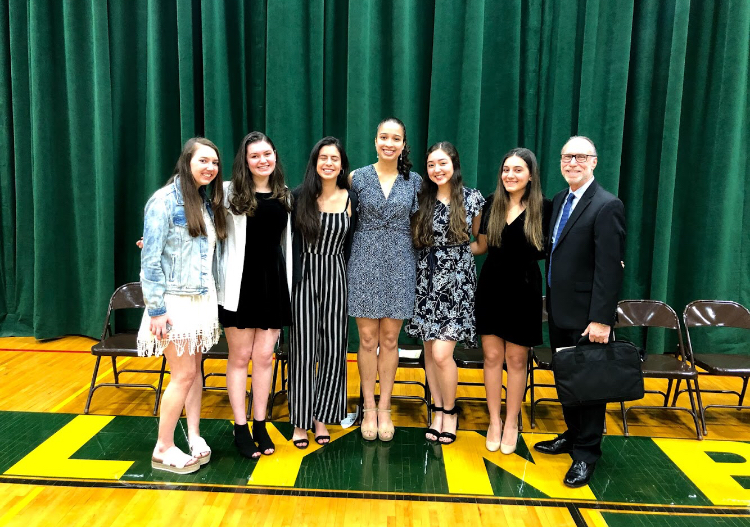 After working at LHS for 20 years, Science Research teacher David Shanker is ending his career as an educator. Shanker started teaching after receiving his Bachelor's degree from CUNY Queens College and his Master's degree from Columbia University. He had previously conducted oncology research before becoming an educator, which piqued his interest in making research accessible for students. 
Shanker created the science research program at LHS in 1999, which has paved an avenue for students to pursue their passion in STEM fields. The unique program allows students to gain laboratory experience and compete in prestigious competitions before attending a university. Fellow Research Teacher Charles Vessalico stated, "I am constantly amazed by the research program that Mr. Shanker built from the ground up. When he came to Lynbrook 20 years ago, there was no program. Now we have one of the best programs that consistently wins national awards." Since the research program's introduction, ten students have been named Regeneron Science Talent Search Semifinalist in the most prestigious research competitions for high school students in the nation. Senior Elena Grajales stated, "Mr. Shanker pushed his students to their full potential and we have seen a lot of success–whether it be in science competitions or even college acceptances–because of his guidance."
Shanker expressed that some of his fondest memories as a teacher involve seeing his students succeed: "Building a successful research program is an overall highlight. The other, more specific, is when our research student, Kaylie Hausknecht, won best project in her category at the International Fair. The 2018-2019 school year was one of the best for the research program. The Town of Hempstead recognized that class with a plaque that is on the staff parking lot fence today."
Teachers and students alike are appreciative of the knowledge Shanker has bestowed upon them. Vessalico stated, "Working with Mr. Shanker has taught me so much.  His depth of knowledge and ability to inspire students is unmatched.  I am so lucky to have had the privilege of working with him the last four years in the research program." Additionally, senior Arpie Bakshian stated, "Without Mr. Shanker, I would not have discovered my passion for research. The research program truly has opened multiple doors to my future that I am immensely grateful for."
Through the research program, Shanker has formed intimate bonds with students that will be missed next year. He stated, "I teach the same students from eighth to 12th grade, so I see students grow as researchers and as people. And then, they come back to visit as successful adults. I will miss that." In addition to his students, Shanker will miss the home he made at LHS: "I have taught in the same room for twenty years. The classroom took over a garage for an automotive shop. I have seen it mature into a cluttered lab filled with students doing research almost every period of every day. I will miss that and the construction of the new lab." While Shanker will certainly miss his time at LHS, he shared that he will not miss "cleaning up at the end of the year. Especially the fruit fly vials. Hundreds need to be cleaned out in June. Not fun."
Luckily for Shanker, his retirement plans involve very little fruit flies. "I just became a grandfather three months ago, so my life has taken a new and wonderful direction. I also plan on consulting for teaching research," he shared regarding his plans for the future. He hopes to spend his time enjoying nature with his new granddaughter Matilda; "I will also be spending more time out East where we have a house by the water, sailing, swimming, biking, boating and kayaking; and one day, I'll teach Tilly how to fish and get clams."
Though Shanker is not getting the in-person sendoff he anticipated, Vessalcio stated, "I hope we can get together in the future to celebrate his remarkable career and have a proper send off for such a deserving individual." 
Nonetheless, Shanker looks back at his time at LHS with nostalgia, "I feel fortunate to have worked with some of the brightest students in the district for over two decades. For that I am extremely grateful." Shanker's legacy in the LHS halls will not be forgotten and LHS wishes him luck in the next chapter in his life.