The Spotlight: Jessica Gavzie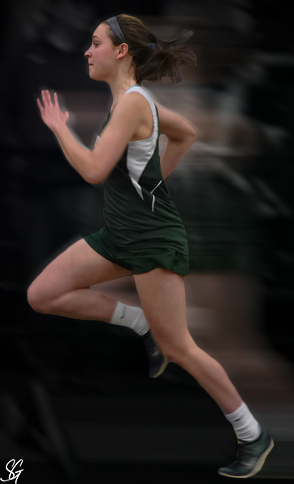 For some seniors, the end of the 2018-2019 school year will bring more than graduation; for many, this will be the end of their high school sports career. Senior Jessica Gavzie is among the many living out their final moments as Lynbrook athletes. After dedicating four years to the Lynbrook girls' varsity track program, the running sensation must now say goodbye.
Gavzie has been a key member of the girls' winter and spring track teams since her freshman year, most often running the 55 and 100 meter dash as well as the 4x100m relay. The team player has also participated in the long jump, 55m dash, 55m hurdles, 100m dash, and the 200m dash. Motivated by the goal to see her team succeed, Gavzie clearly is one to give it her all in any event.
While Gavzie is a notably proficient runner, her skills extend far beyond the track. Gavzie has been a driving force in keeping morale high, and her leadership skills have not gone unrecognized by her teammates. "Her leadership and commitment to track is truly inspiring. Her work ethic is unmatched," commented sophomore teammate Leanna Sullivan. Gavzie herself describes her captain style as a balance of fun and work, "I like to make track as fun as I can while also including the authority that it takes to tell 30+ girls what to do and when to do it." Gavzie believes this immense responsibility has really shaped her as a leader: "I'm not shy at all, and I think I've really grown into myself [through track], which I'm proud of as I leave the high school for good."
Gavzie's skill in sprinting has also caught the attention of her teammates and coaches. "Her 100 [meter] times are really impressive. She motivates us all at every meet because she just goes out there and gives it her all. Jess is really fast," commented Sullivan. And, as Coach Joe Beyrer put it, "She has the heart of a lion and the speed of a gazelle." Having once ran a 13.84 second 100m dash, Gavzie's "gazelle" description holds truth.  
Gavzie knew what it took to produce a winning track team, and she thanks those who taught her those skills: "I want to thank my original role model, Eve Moelis. She graduated when I was a freshman, but since she was my captain, I have strived to be like her." Additionally, Gavzie thanked her coaches and teammates for all the fond memories: "I want to say thank you to the girls who have become my super close friends through the four years I've done track…My coaches have really done what they can to make track enjoyable for me and also a priority in my life."
Although Gavzie's time on the track has come to an end, the track team's influence on her has not ceased: "As I prepare to leave for college, I have always had track to fall back on, and I know that I always will no matter where I go."
About the Writer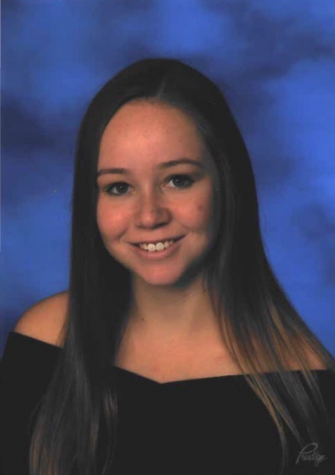 Jane Hoeflinger, Editor-in-Chief
I am a member of the Class of 2020. In my free time, I write articles for Horizon. I am the editor-in-chief for the print edition for 2019-2020.