Antonio "Clown": What Is Going on with the Star Wide Receiver?
The NFL offseason had no shortage of big stories, from Le'Veon Bell and C.J. Mosley signing with the New York Jets, to the New York Giants shocking everyone by drafting Duke quarterback Daniel Jones. However, none of them compared to the saga that was the Antonio Brown situation this past offseason. Week after week, the star wide receiver continued to make headlines for all of the wrong reasons, sparking the drastic changes to his so far storied NFL career. 
It all started towards the end of the 2018 NFL season, after Pittsburgh Steelers QB Ben Roethlisburger called out Brown for his performance, prompting Brown to sit out practice and miss that final game of the season that could have sent the Steelers to the playoffs. Brown then said his farewell to Steelers fans before requesting a trade. He would later take to Twitter to voice his displeasure in a spew of tweets criticizing Roethlisburger and the Steelers organization. "No conflict just a matter of respect! Mutual respect! [Roethlisburger] has an owner mentality like he can call out anybody including coaches. Players know but they can't say anything about it otherwise they [sic] meal ticket gone. It's a dirty game within a game," tweeted Brown.
The past offseason would start with Brown still being a member of the Steelers; however, the Steelers would try to move on from Brown quickly to avoid any more drama. But with Antonio Brown, that is never easy. The Steelers would agree to a deal that would send Brown to the Buffalo Bills. However, before any news outlet was able to obtain the details of the trade, Brown would tell the Bills that he would refuse to play for them. Thus, the trade died. Brown was still a member of the Steelers despite Pittsburgh's best efforts to get rid of him. 
Brown still had a huge trade market that were interested in his services, but the Oakland Raiders would be the ones that would finally strike a deal to acquire the disgruntled superstar, sending a third-round pick and a fifth-round pick to the Steelers. Brown would allow this trade, and all of the drama finally seemed to be over. But, then again, drama is never over when Antonio Brown is involved.
"
Will not be playing in the @NFL anymore these owners can cancel deals do whatever they want at anytime we will see if the @NFLPA hold them accountable sad they can just void guarantees anytime going on 40m 2 months will see if they pay up! [sic]"
— Antonio Brown via Twitter
Brown would threaten to retire during the offseason, among a variety of other problems, but that is not what made the big news. Brown would file multiple grievance reports with the NFL for not allowing him to wear the helmet he preferred because of the league's new safety policy. During this time, Brown would be missing Raiders practices, which was a clear violation of his contract. Thus, the end of Brown's Raider career began before it had really started.
Brown would be fined multiple times for not attending practice. He would call out Raiders General Manager Mike Mayock for the fines, which would then lead to an altercation between the two that would leave Brown suspended for the Raiders' first regular season game. Brown would then apologize to the team the next day, and just like that, his suspension was lifted, and again, all seemed okay in the land of Antonio Brown— for about five minutes. The Raiders would take away over $30 million worth of guaranteed money because he was a distraction to the team. Brown would then record a conversation with his coach Jon Gruden, as well as being involved in another altercation with Mayock. Brown would eventually be released by the Raiders before even playing a single game. But, it does not end there.
Brown would then sign a one-year deal with the New England Patriots that same day, teaming up with Tom Brady and Bill Belichick, which would lead to many people comparing the Patriots to the 1972 Miami Dolphins and the 2007 Patriots, both of which went undefeated in the regular season. 
The drama would not end for Brown, as he would then be accused of sexual assault by two different people, one of which is his former trainer. Brown would then be released by the Patriots, after playing just one game for the team, in a game in which he scored a touchdown. Brown would then take to Twitter to continue to voice his displeasure, apparently announcing his retirement from the NFL, tweeting, "Will not be playing in the @NFL anymore these owners can cancel deals do whatever they want at anytime we will see if the @NFLPA hold them accountable sad they can just void guarantees anytime going on 40m 2 months will see if they pay up !" [sic]
Many people around the sports world have not been shy about voicing their opinions on the controversial superstar, with TV star and former NFL tight end Shannon Sharpe taking shots at Brown on Twitter, while ESPN personality Stephen A. Smith as well as now ESPN personality and former NFL coach Rex Ryan both saying that they believe Brown's career is over. Senior Mike Plumer, an avid Patriots fan, had this to say about Brown: "When [Brown] was on the Raiders, to start complaining about the helmets and then threatening the coach was out of line. As a Patriots fan, I knew from the start he was going to be trouble. I think now it was for the best that Bill Bellichick decided to release him." Senior Jake Belmont agrees: "I think he is a wasted talent. Skill wise, he is one of the best to do it and proved that year in and out, but clearly he has an inflated ego or mental issues that prevented him from reaching his greatness." Junior Nick Capibianco added, "Antonio Brown has shown to be a danger to the league, with his multiple rape allegations, as well as many trainers and artists who have complained about his inappropriate behavior." Capibianco continued, "Even if he is an all-pro wide receiver, he should never step on a football field ever again."
Everything has seemed to spiral out of control for Antonio Brown, as prior to his Steelers issues, last season, he was not usually one to cause any distractions or trouble. The former sixth-round pick from the small University of Central Michigan was never in the limelight; now that he is in the spotlight, he is surely making the most of his appearance. No one knows what the future holds for Antonio Brown, who has now returned to college to complete his degree. But with everything that has happened in the past 10 months, nothing should surprise anyone when it comes to Brown.
About the Contributor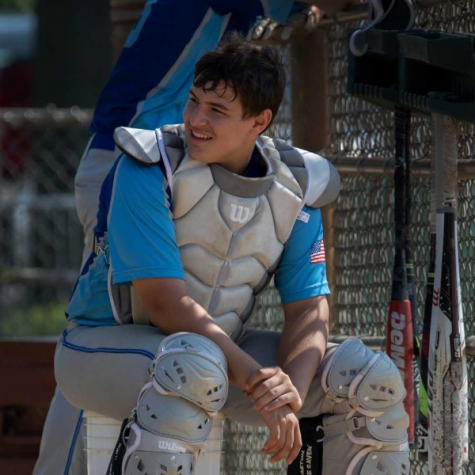 Dylan Burfield, Managing Editor
I am a student in the class of 2020. I have been writing for Horizon, both online and print, since my freshman year. I am now a managing editor on the...