Girl Up Club Finds Inspiration at Girl Up Coalition Summit
A few members of the Girl Up club, including myself, took a trip to the SAP America building in Hudson Yards for the annual Girl Up Coalition Summit on May 19. There, we heard several speakers tell their stories, which all connected to empowering women and what we need to do in order to make our voices heard and have more prominent roles in the government.
The first speaker we heard from was a young woman named Deja Foxx. She is from Tuscan, Arizona; she is 19 years old; and she just finished her first year at Columbia University. She shared her story of what it was like growing up with a single mother who struggled with substance abuse, being a first generation American, and being the first in her family to go to college. She went on to tell us about her experience of moving out of her house at fourteen years old and moving in with her boyfriend and his immigrant Mexican family. When she was sixteen, she was sitting in her health class and listening to the sex education segment of the class, and she realized that there needed to be reform in her school. So, she spoke at her school board meeting and was able to persuade them to change the sex education curriculum and include the teaching of consent. She also spoke at a town meeting when Arizona's senator Jeff Flake threatened to stop funding for Title X, which is a bill that allows low income women access to free birth control. She was able to successfully prevent Senator Flake's plan of taking away funding for the bill and blew up after that; she was interviewed on CNN and is on Teen Vogue's "21 Under 21" list. Currently, she runs Gen Z Girl Gang, which is an Instagram page created to unite and empower young girls, no matter where they are. When we spoke to Foxx, she said, "The message that I usually say when people ask me what I tell other people is that you're deserving. I think that is a message I needed to hear when I was younger… and to own it and to not sell myself short, and then, the other piece of advice is to just be fearlessly authentic and to hold onto you and your message and then things will come your way." Elizabeth Ratkiewicz, senior and member of the Girl Up club who was present at the event, said, "It was really inspiring to hear her [Foxx's] story." Ratkiewicz continued, "Even though she was just a kid and had absolutely nothing, she still got involved with her community and was able to create a real impact. It just goes to show how important it is to speak up for your beliefs regardless of where you come from because politics affect all of us."
Next, we heard from our very own president and founder, Angelica Almonte, who spoke about advocacy and how she first began talking to her representatives about things she believed in.
The third speaker was Nitiya Walker, who is the founder and executive director of the non-profit organization called Seeds of Fortune. This organization helps underprivileged girls accomplish their goal of going to college. She was one of my favorite speakers because of how relatable she was and how honest she was about her struggle. She spoke about when she first applied to college and was completely lost because she had no idea where to begin, but luckily, her friend's mom helped her in that process and helped her to accumulate several scholarships, to the capacity that she essentially went to college for free. She continued to explain how that experience inspired her to want to do the same for other girls who are having the same struggle of being lost in the college application process. "I think it is really important for young women to go to college because I feel like college provides you a network of other like-minded individuals as well as a structure for you to be able to start and pursue your dreams and self-realizations for yourself, but I also feel like you shouldn't have a life time of debt to be able to have that experience," Walker said.
We then ate lunch and heard from a few more speakers. One of the speakers, Ezinne Kwubiri, works for H&M and spoke about representation in the workplace and its importance. The last panelists were Raagini Lalwani, Jaclynn Brennan, and De'Anne Kennedy, all of whom were there to speak about the need for more women in STEM. STEM stands for science, technology, engineering, and math. Lalwani is the vice president of the engineering division in Goldman Sachs in India and moved to New York. Her piece of advice was the following: "Your support system doesn't need to look like you." She further explained that there are already very few women, let alone women of color, in the STEM field, so you cannot be picky with who you allow to assist you. However, the other two panelists, Brennan and Kennedy, strongly disagreed with that statement. They made the point that it is not that they do not want the help of men or dislike the men in their field, but considering Lalwani is the only woman in her division, and this not being uncommon in STEM jobs, it would be nice to see other women in her workplace being more motivating and relatable. Brennan, Founder of Creative Duality, stated, "Women aren't applying to STEM [jobs], not that we don't want to hire them." She had a presentation of an app that her company created called What's My Size, which makes ordering clothes online easier. You simply place your phone on the ground, step into a body silhouette, and it gives you your custom measurements. Finally, Kennedy, a STEM student at NYU Tandon and computer science major shared her experience of being one of five girls in her engineering class of sixty and being the only black female.
"The coalition summit was a great experience, and I met many inspirational women. I had lots of fun!" commented Logan Roberts, sophomore and member of the Girl Up club. Hearing the speakers was a very enjoyable and inspirational experience. My biggest takeaway was not to be afraid to ask for help and that some of the most successful people are successful because they asked for something when they wanted it.
About the Contributor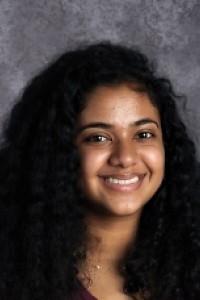 Faith Singh-Koobial, Contributor
I am part of the class of 2021 at LHS. I am in Key Club. I have a dog named Bandit, and I went to elementary and middle school in Queens.