Rideshare Safety: A Growing Concern
Rideshare safety concerns are becoming more of an issue due to the growing popularity apps such as Uber and Lyft. Such companies offer new, convenient, and often inexpensive ways—compared with traditional cab companies—of receiving rides. While Uber was founded in 2011, its popularity has soared in recent years, and the company now offers over five million rides per day worldwide.
In South Carolina, on Mar. 29, Samantha Josephson, a senior at the University of South Carolina, was killed after entering a stranger's car whom she mistakenly thought was her Uber driver. She was found dead in the woods after a night out with her friends near downtown Columbia. Her story quickly took over the Internet, raising new concerns about Uber safety and that of other ride-sharing apps.
Josephson's parents immediately took to Twitter and other social media apps to share their daughter's story. After one of Josephson's parents commented "What is my name?", students at the University of South Carolina started the new hashtag: #whatsmyname. This hashtag has taken over Twitter as a new safety campaign. #whatsmyname started as a movement to get riders to ask drivers for their name before getting in the car in order to ensure they are actually getting into the correct vehicle.
People of all ages around the globe use Uber and other rideshare apps for transportation, and, unfortunately, Josephson is not the only victim of assault as a result. Others have made similar mistakes to Josephson and have ended up with the same fate. People are becoming more concerned about their safety when using such services.
Jeanette Meszaros, science teacher and mother, rarely uses Uber. After the most recent tragedy with Josephson, Meszaros says she refuses to let her children take Uber: "I do not let my kids use Uber because I do not trust the drivers. I only use Uber when I am with other people; I will not take an Uber alone because I do not feel safe." Meszaros only represents a small percentage of parents who are concerned with their own and their children's safety. Meszaros also commented on Josephson's recent death: "She did not know what she was doing. I do not blame Uber at that point; she did not make sure she was getting into the right car."
Freshman Max Moscheni and junior Emily Morris each occasionally use Uber. Moscheni commented, "I mostly feel safe when with others, but when I am by myself, I feel a bit uncomfortable. I do not know anything about the driver besides the name and other basic info." Morris added, "I always pay attention to my surroundings [when in an Uber]; I do not want to get killed, lost, or worse."
In 2018, as a safety measure, Uber joined with RapidSOS. RapidSOS will send a passenger's location to police when a rider uses the emergency button. Uber also stated that it would start doing background checks on its drivers; however, people question how thorough and effective these checks actually are. Although these features have been around for some time, passengers still argue that their safety is not as high a priority as it should be with these rideshare companies. Meszaros stated, "Uber should display the driver's history."
Uber passengers can manage their trusted contacts while using the app, so their trusted contacts can see where they are while in the car. To ensure safety, passengers should also look at the license plate to see if it matches the description of the driver on the app. To make sure a car is in fact an Uber, passengers can also look for the Uber decal that is displayed on the windshield of most cars (although this is not a foolproof measure).
Uber expanded its transportation industry to deliver food to people's doorsteps in 2014 with Uber Eats. Some may be apprehensive to have food delivered by a stranger, and perhaps they should be. As opposed to using a delivery service affiliated with a restaurant, Uber Eats sends its own driver to one's doorstep. A driver affiliated with a restaurant directly is, perhaps, better vetted and more accountable because he/she is more likely to have his/her background known by that restaurant. To address this concern when using services such as Uber Eats, consumers should ask their driver to leave the food at the doorstep. The app allows people to pay online, which can ensure that no social interaction needs to occur, and no driver ever needs to know if someone is alone in the house, which could place him/her in a more vulnerable situation.
Uber has tried to address the recent concerns of safety by adding new features to make passengers feel more at ease. Although these features have been added, the service is still not perfect, and incidents with drivers have still occurred. Customers of such services need to be attentive and alert, and they need to take responsibility for making sure they are getting into the right car.
About the Writer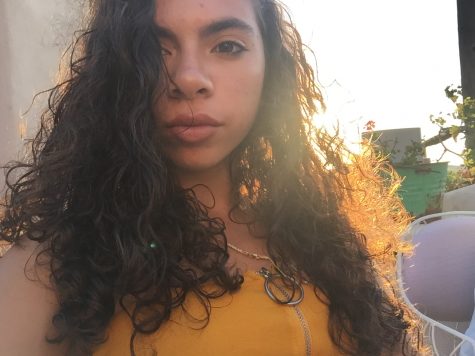 Amintta Ragavanis, contributor
I am a member of the class of 2022 at LHS. I love to draw and paint. I look forward to contributing and writing articles for Horizon.