From first falling in love with doodling, the artistic ventures of senior Kristina Ligai have gone far beyond occasional sketching. When Ligai entered her sophomore year, she became more involved in composing quality art pieces, encouraged by art teachers Tom Sena and Michael Kunz. "[Sena and Kunz guided] me in the right direction while giving me space to explore and get out of my comfort zone," Ligai explained. Taking Drawing and Painting 2 also introduced Ligai to more advanced artistic techniques, while AP Art encouraged her to produce quality pieces very quickly. 
Ligai enjoys using acrylic paint the most because of its texture; she loves the feeling of brush on canvas. When creating pieces, she often looks to Pinterest or Instagram for inspiration, but natural concepts, like the weather, play an important role in her pieces, influencing the tone of the piece and color themes. The styles of the many artists Ligai looks up to (such as painter Ruth Fitton's softness and illustrator Ed Fairburn's intricacies) deeply influence her own pieces. Music also helps influence her color palette, and she thus strives to listen to different genres as she creates her pieces. "[Bands like] Lana Del Rey and Cigarettes After Sex [result] in my art pieces appearing a bit gloomy with a darker palette. However, listening to bands like Rainbow Kitten Surprise led me to create more colorful pieces with a lighter tone," Ligai mused.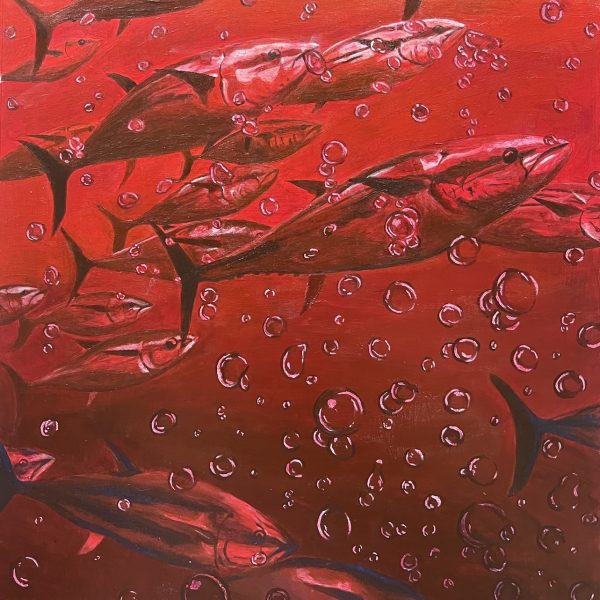 Ligai cites her father as one of the driving forces encouraging her artistic development. "As a kid, I used to sketch, and my dad has always told me to continue to explore my skills," Ligai explained. "After becoming more involved in art, [he has supported] me when I felt like my work was not good enough, which is a feeling a lot of artists struggle with."
Though Ligai still experiences the nuances of perfectionism that come with being an artist, she feels she has become far more confident and comfortable. If one takes a glance at the evolution of her artwork over the years, her use of varied materials broadened widely, as did her technique. She used to rely solely on graphite, producing almost exclusively black-and-white compositions. However, her willingness to experiment was strong, and she began to explore other media, such as colored pencils, acrylic paint, and oil pastels. Kunz remarked on Ligai's willingness to expand her skill set: "[She] is an incredibly talented, hardworking, and motivated student…Kristina's work continues to grow and improve because she puts the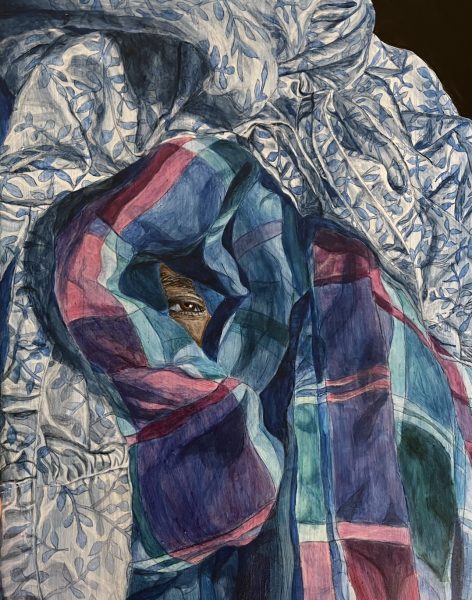 time and effort into challenging herself and advancing her technical skills." This can be seen as done enthusiastically in her recent art pieces, often sticking to vibrant color schemes or specific colorful motifs that evoke the mood of her pieces. "[As] I began to grow, I fell in love with color," Ligai explained.
Art also allows Ligai to express herself in all areas of life, even in other academic subjects. She makes an effort to think outside the box and broaden her creative horizons, often trying to incorporate her artistic skills into history or English projects. Ligai also loves to read and explained that the tone of the book she is reading matches with the connotations of the art piece she is currently working on. "I love reading dark fiction and drama, so when I have the freedom to choose the composition [based] on the idea of the piece, it might seem somewhat somber." However, Ligai further remarked that when she reads happier novels, they too influence the moods of her art pieces. Ligai's peers have noticed the influence of her techniques and eclectic inspirations behind every piece; senior Jasmine Ostroff, a peer of Ligai's, explained, "Her concepts behind her art are very unique and visible in every aspect of her pieces…Her details are always intricate and look amazing in the final product because she knows exactly when to use a softer touch of graphite or when to paint sharper and bolder."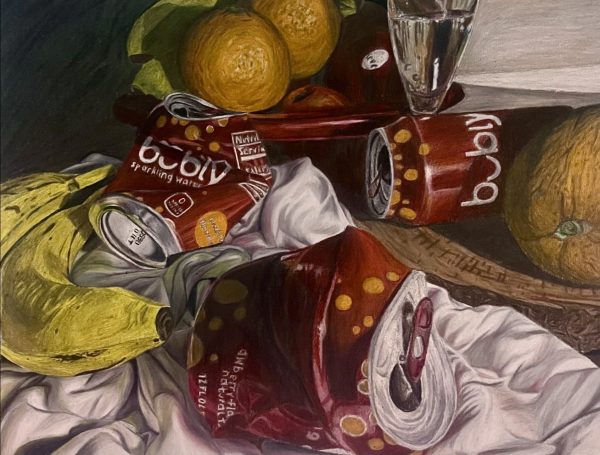 In college, Ligai plans to continue taking art classes, eager to explore new techniques and mediums such as pottery, graphic design, and sculpting. Though she stressed the importance of taking inspiration from other artists, she would also like to be able to reflect more of herself in the pieces that she creates. She aspires to continue pushing herself and getting out of her comfort zone – the same openness that originally encouraged her to move beyond black-and-white pieces.