Packers and Jets Finally Agree to a Deal for Aaron Rodgers
Jets fans across the country can finally rejoice. Packers fans can finally breathe easy. The wait is over. After nearly three months of rumors, false reports, cryptic tweets, podcast appearances, and trade talks that seemed to be going nowhere, a deal is done. Aaron Rodgers has officially been traded to the New York Jets.
According to Adam Schefter, details of the trade are as follows: The Jets received: QB Aaron Rodgers, 2023 First-round Draft Pick (#15), and 2023 Fifth-round Draft Pick (#170). The Packers received: 2023 First-round Draft Pick (#13),  2023 Second-round Draft Pick (#42),  2023 Sixth-round Draft Pick (#207), and 2024 Conditional Second-round Pick (becomes First-round Pick if Rodgers plays 65% of the snaps this season).
The compensation received by both teams shocked many fans and analysts in the NFL world. Analysts and fans described the scenario as a "leverage battle" and believed one team would be the clear cut "winner" of the trade; however, others agreed that this may be one of the most mutually beneficial trades this off-season. The Jets only moved back two slots in the first round this year, and while they did lose their second-round selection, they also gained one from the Cleveland Browns via the Elijah Moore trade earlier this off-season. The only high value pick lost will be the 2024 conditional pick, and based on the Jets' recent draft success with young superstars (Garrett Wilson, Sauce Gardener, Breece Hall, and Jermaine Johnson), they should be content with losing one first- or second-round selection in exchange for a chance at a championship.
As for the Packers, Rodgers's departure marks the end of a nearly two-decade long era in Green Bay. Third-year quarterback Jordan Love has shown great potential in his few appearances, and Packers fans feel that it is his time to shine. Sliding up two spots can be crucial in this year's draft, and with the conditional second-round pick that is likely to turn into a first next year, the Packers will have the ability to build around Jordan Love, or select a new quarterback if Love's performance is not up to par.
The long-awaited news broke after several months of rumors and uncertainty swirling in the football world, and four long weeks of what seemed to be a stalemate between the Jets and Packers front offices. Trade talks had reportedly stopped between the two teams, as it seemed they could not come to an agreement on the compensation that Green Bay would receive in return for the 39-year-old future Hall-of-Famer. According to Ian Rappaport, trade talks had only resumed on April 23. The trade was finalized on April 24.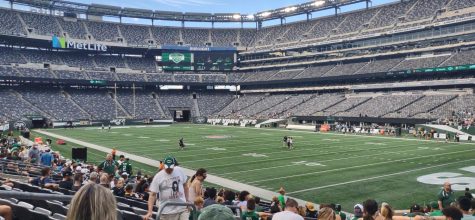 Despite receiving permission from Joe Namath, the only Jets quarterback to win a Super Bowl who famously wore jersey number 12, Rodgers will don number 8. He wore 8 during his college days at University of California, and with the recent departure of Elijah Moore, the jersey has become available once again.
Rodgers becomes the second Packers veteran to be traded to the Jets in 15 years, as the Jets made a deal with the Packers to bring in the man Rodgers was drafted to replace, Brett Favre. Obviously with this coincidental occurrence, fans and skeptics around the NFL are having their superstitious beliefs about what this will mean for the performance of Aaron Rodgers and Jordan Love, but with superstitions aside, this mutually beneficial trade will segue both franchises into a new chapter.
About the Contributor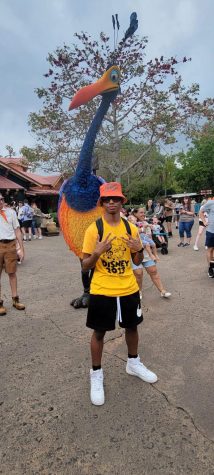 Justin Williams, Managing Editor
Hello there! I'm a member of the Class of 2025 and sports editor for Horizon. I love playing, watching, and writing about all things sports. My favorite...